Visiting the famous Douro Valley is definitely a must do for someone visiting Portugal. Whether you stay there for a couple of days or just visit it on a day trip from Porto, I am sure you will have a fantastic time in this amazing wine region.
To help you plan your trip I wrote this Ultimate guide to Douro Valley. Here you'll read about:
How to plan your trip to Douro Valley
If you don't feel like taking care of anything (transportation / restaurants / activities etc) then I strongly suggest you to join a tour to Douro Valley. You have two options: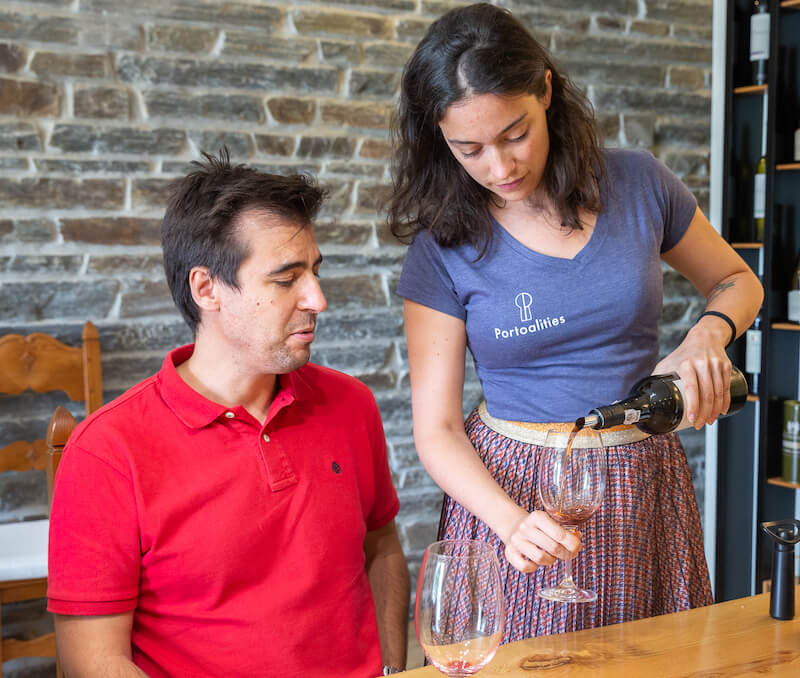 For those of you that prefer to explore the region on your own, read this article on how to plan your trip in Douro Valley, and make sure to book your rental car on AutoEurope – or you will have to rely on taxis (there are no Ubers in Douro Valley) to move around. .
But keep in mind that the roads in Douro Valley are very windy and narrow, and that you shouldn't drink and drive!
Why visit the Douro Valley?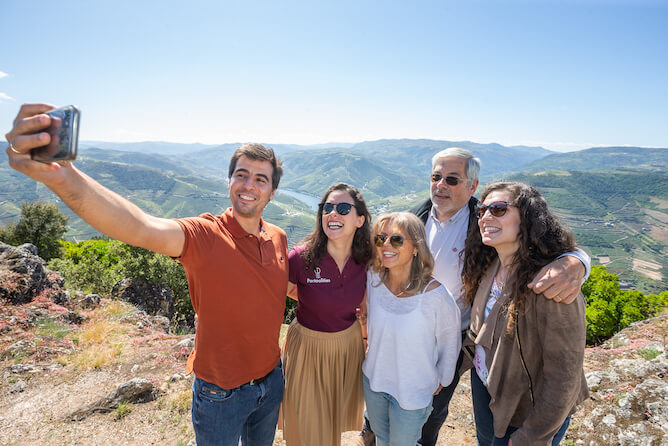 In short, these are the reasons why you should visit the Douro Valley:
When to visit the Douro Valley
The usual answer to the question When is the best time to visit Douro Valley? is during the harvest season, but I am not quite sure that I agree with that proposition.
In fact, I think we need to consider several factors when deciding the best time to visit Douro, such as:
Climate
In general, the average temperatures are very high during the Summer months (mostly from July to the end of September). During this period, one can easily face temperatures around 35ºC (95ºF) to 40ºC (104ºF) and humidity ~70%, which can be rather uncomfortable.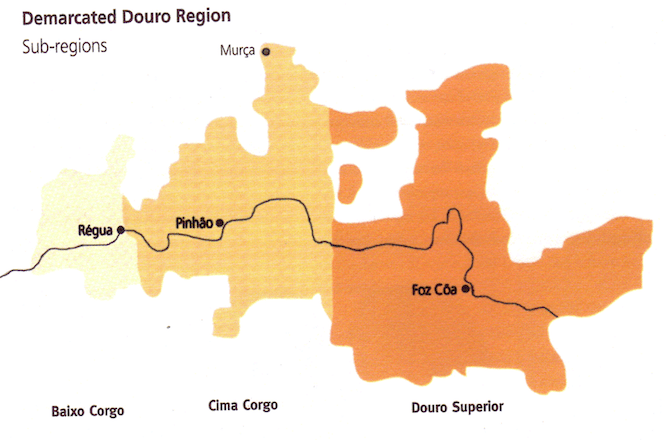 The Douro Valley runs through a 150 km straight line from Mesão Frio (on the West, close to the Atlantic Ocean) to Freixo de Espada à Cinta (on the East, close to Spain). The more you move from West to East the further away you are from the ocean and hence the more extreme the temperatures will get, and less rain throughout the year.
Therefore and based on climate alone, I would actually recommend you to visit Douro during Spring (late April & the beginning of May) or in the middle of Fall (mid October & the beginning of November).
Harvest season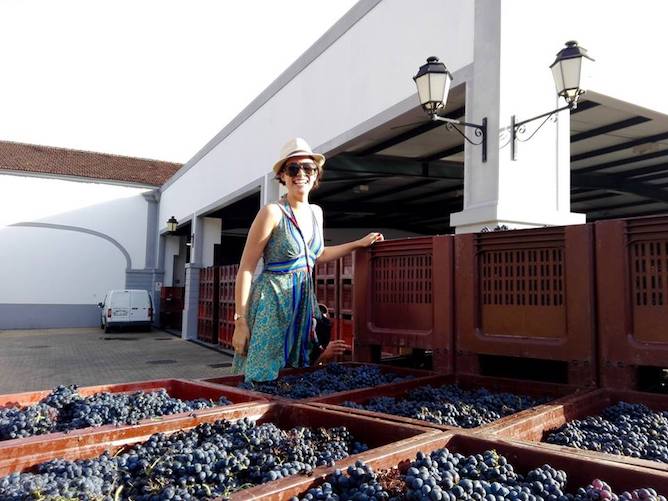 Most people prefer to visit the Douro Valley during the Harvest season, but it is not easy to predict when it is going to take place due, precisely, to the huge influence of the climate on the growth of the vines.
For instance, in 2016 I still witnessed the Harvest season in mid October (true story!); 2017 was the hottest year in the last 50 years and hence the harvest season took place at the beginning of August and in 2018 it started after September 20th.
Therefore if your goal is to participate in the harvest season in Douro Valley then your safest bet is somewhere between mid August and late September – but please be aware that this highly varies according to each year's climate!
Tourist peak
For me this is one of the most important criteria when travelling: when is the best time to escape the crowds? Crowds imply traffic jams in Douro Valley's narrow roads, higher prices in hotels, required bookings at hotels, vineyards and boat rides… uf, I get tired just by thinking of it!
If you face the same struggles in the high season, then I recommend you to visit Douro during Winter time (between December and March).
Yes, it is going to be very cold and there are not as many outdoor activities to be done. Yet I find it truly special to watch the growing vines from the rainy window whilst enjoying a fireplace inside a lovely hotel.
Douro Valley: day trip or stay overnight?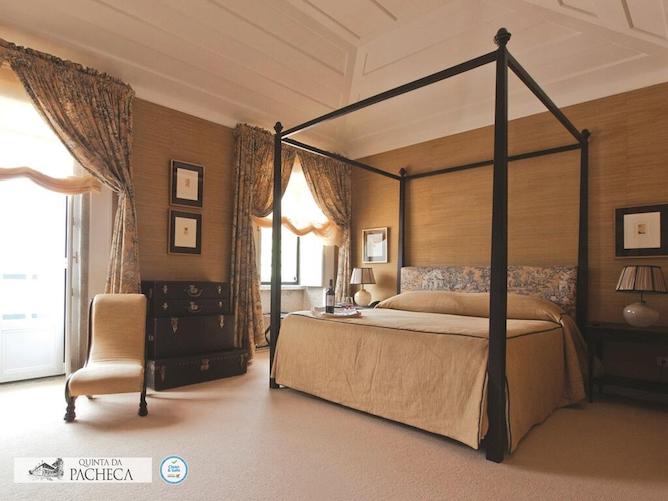 I receive this questions sooooooo many times that I decided to write an article named Douro Valley: day trip or overnight?, that you should read right now 🙂

If you are a city person and not that much into wines, maybe it is better to organize a day trip to Douro Valley. If so, make sure to check my article about the best neighborhoods to stay in Porto, where I teach you how to discover the best place in the city for you.
If, on the other hand, you love wines, the countryside and really want to dive deep into the Portuguese wines, then you might want to spend a night or two in this wine region. I have written three very detailed articles about where to stay there:
How many days should I stay in Douro?
That is a tricky question as the answer depends on how many days you are spending in Portugal, your interests as a traveler and who you're traveling with.
If you are a wine buff like myself, then I recommend you save three days to the Douro Valley because this wine region is divided in three subregions: Baixo Corgo, Cima Corgo and Douro Superior, and I find it interesting to visit two or three properties in each one of them.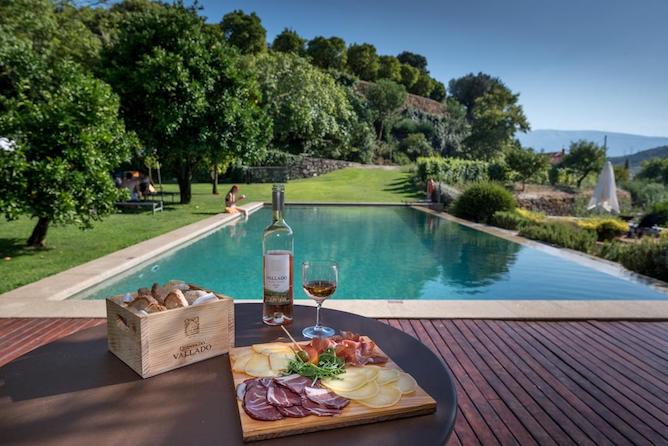 If you want to simply relax after some busy days in cities like Porto and Lisbon, just choose a hotel with a swimming pool and preferably a restaurant as well, like Quinta Nova, Quinta do Portal and Quinta do Vallado and stay for a couple of days.
If you don't have so much time, if you are traveling with kids or with friends that do not share your wine passion (why would you want friends like that?! :P) do not worry – you can perfectly organize a day trip from Porto to Douro.
If you don't want to have any trouble in organising your trip in Douro you can simply get in contact with me on sara@portoalities.com. Make sure you check our private tours in Douro Valley to know what you can expect from our services 🙂
How to get to the Douro Valley
There are several options to get from Porto to Douro Valley, depending on convenience, your budget and most of all, your driving skills 😛 Therefore, I am going to write all the options according to my own personal preference, but providing you with enough criteria to make your own decision.
Car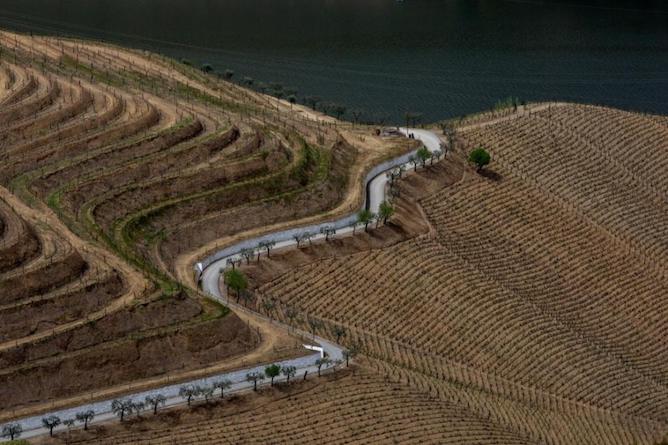 Driving is by very far my favourite option to get to Douro, but I reckon that it is not for the faint-hearted. The roads are narrow and curvy, and most of them don't have lateral protections, so you get the impression that the slightest mistake will throw you off the cliff in the direction of the Douro river. However, the views are stunning and having a car gives you plenty of flexibility to explore the less touristy vineyards, the unknown viewpoints over the Douro river and other hidden treasures of the region.
Also, there are some roads there are less critical than others. EN 222, the national road that connects Régua to Pinhão and that has been elected the world's best road, is fairly easy to ride.

If you want to rent a car to drive to Douro Valley, read our comprehensive guide on How to rent a car in Porto. You should also use a price aggregator like AutoEurope, where you can not only get an overview of the cars & prices but also handle the booking.
Train
This is the most popular option among backpackers, students and other budget like travelers. In fact, getting from Porto to Douro by train is by far the cheapest option.
There are train connecting Porto to Peso da Régua ranging from 7,55€/ ticket (you need to take two trains and the trip takes approximately 2h15) to 9.85€ / ticket (one single train, 1h45).
From Porto to Pinhão you have less connections, all for 11,10€ / ticket, and the trip takes around 2h25.
Travelling by train to Douro Valley has two major disadvantages though:

– You are highly dependable on the train schedules, and you have to plan your trip around it. You can check the schedules of the trains.

– You won't be able to get away from all the touristy vineyards and visit the hidden gems in the region, because they are not close to neither Peso da Régua nor Pinhão (the major cities in Douro Valley). Don't get me wrong, there are fine vineyards close to those cities and hence to the train stations, but they are always flooded with tourists.
Boat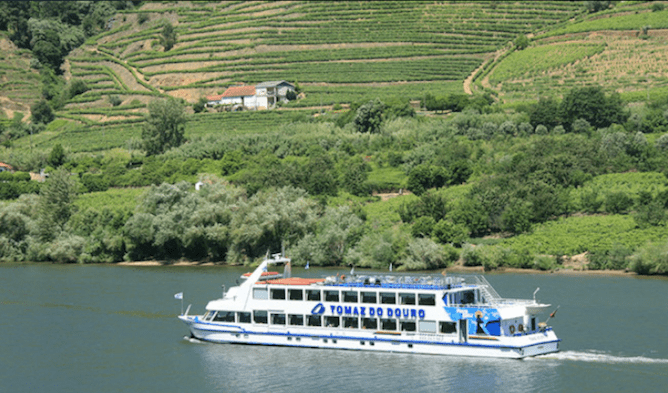 This is my least favourite mean of transportation to Douro Valley as I have already explained on my article about the Douro river cruises. To sum it up, it is a very slow transport and hence it takes away the flexibility to do whatever you want in the region. However, this is still a popular choice among those who are planning a laid back day trip from Porto.

They are good panoramic rides that are great for relaxing and taking photographs. If you would like to try one of these, you can buy your ticket for a 1h Douro river cruise in Douro for only 12.50€ (which is an absolute bargain!). You can also try out a longer ride and enjoy a complimentary glass of Port wine on your journey for 25€ –  buy your ticket for the 2h Douro river cruise.
What to do in Douro Valley
Do a guided tour & wine tasting at some lovely winery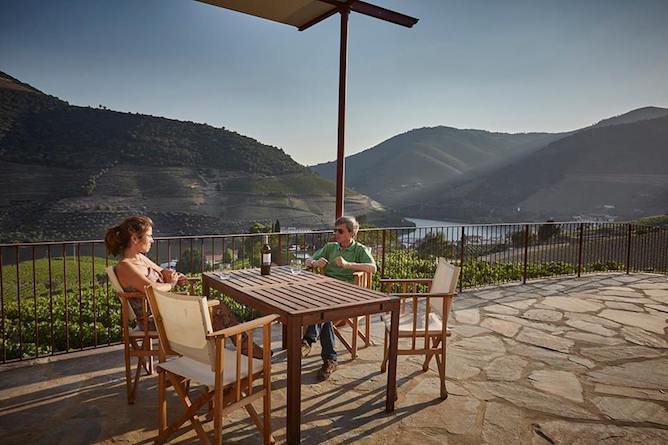 I have already wrote a list of the best vineyards to visit in the Douro Valley, and hence I recommend you read that article to get a few ideas. I always use a few criteria to choose the vineyards to visit:
Besides some these famous properties, in our tours in Douro Valley we always include family owned small scale producers as we find them much more interesting – the wine tours are conducted by a family member (not by a guide) and the wine tastings usually involve much more wine – and better wines, indeed. Therefore, feel free to explore our private tours in Douro Valley.
Join a Douro river cruise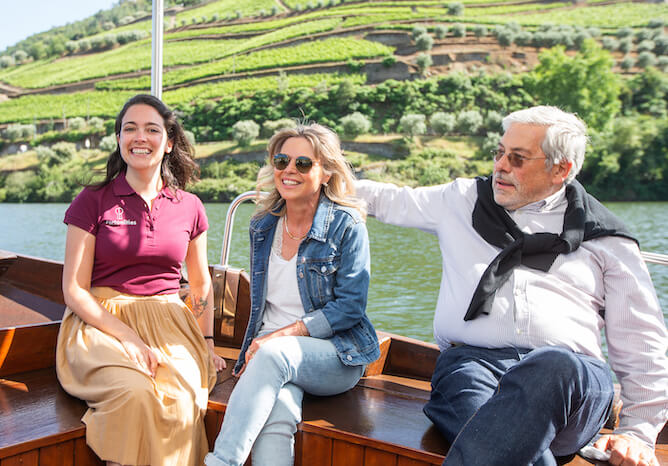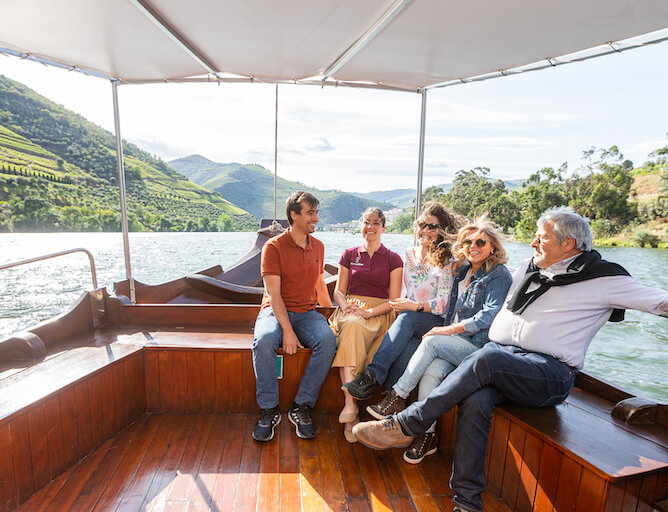 One of the best things to do in Douro Valley is to join a leisurely 1h river cruise in a traditional rabelo boat. For those of you who don't know: the rabelo boat was used for centuries to carry Port wine, down the Douro river, all the way from Douro Valley (where it was produced) to Porto (where it was aged, bottled and then shipped all over the world).
It is an activity that everybody likes, from young kids to older visitors, people who love wines and people who don't give a fig about them. It is also a great way to relax for an hour in between wine tastings. It is such a popular activity that we always include it on our river cruise and private wine tour in Douro Valley.
If you prefer to have a private river cruise, I suggest you to book this private yacht river cruise, as it departures every hour of the day and you can book it for groups up to 14 people, which is great 🙂
Discover some stunning viewpoints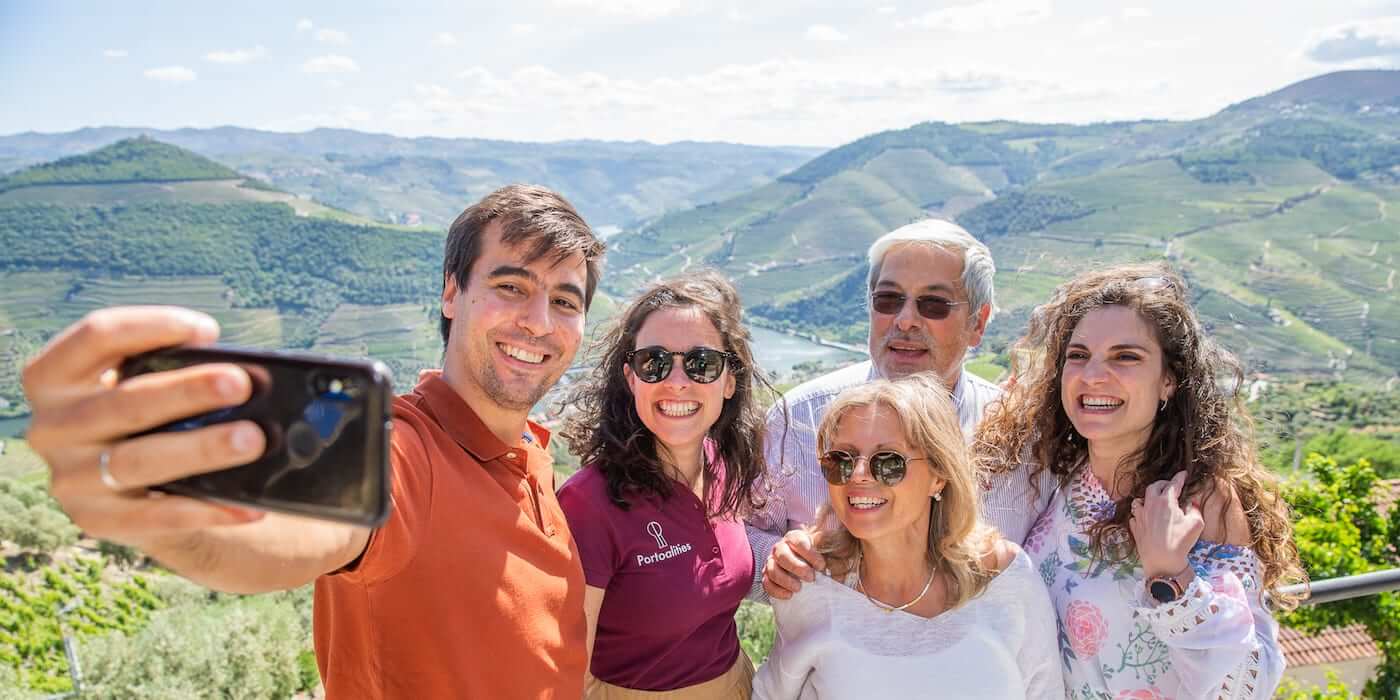 If you are on a romantic getaway in Douro I highly recommend you to visit one of the stunning viewpoints in the region. The most famous ones are São Leonardo da Galafura (28 minutes driving distance from Peso da Régua), Casal de Loivos (10 minutes driving distance from Pinhão) and São Salvador do Mundo (10 minutes driving distance from São João da Pesqueira). They are all stunning and all provide for great photos opportunities 🙂
Do a picnic in Douro Valley
My third recommendation is to do a picnic at a lovely vineyard!
There are several properties that organise picnics in Douro Valley, but my favourite one (and most affordable as well!) is the picnic at Quinta do Tedo. The picnic basket includes local cheeses and charcuterie, homemade jam, marinated olives, fresh salad with organic veggies, traditional codfish cakes, bread, fruit (or a proper dessert, if you have a sweet tooth), orange juice and a bottle of wine.
The picnic at Quinta do Tedo is quite affordable and it includes the picnic, a winery Guided Tour and a wine tasting. Oh, and if you bring a kid < 8 years old, you don't need to pay an extra ticket, it is for free!
Moreover, this winery has one of the loveliest viewpoints in the region, so don't wait any longer and grab your ticket for the picnic at Quinta do Tedo!
Quinta do Pôpa (25 minutes driving distance from both Peso da Régua and from Pinhão) as well as Quinta da Roêda (6 minutes driving distance from Pinhão) provide picnics in beautiful settings.
Visit some wine villages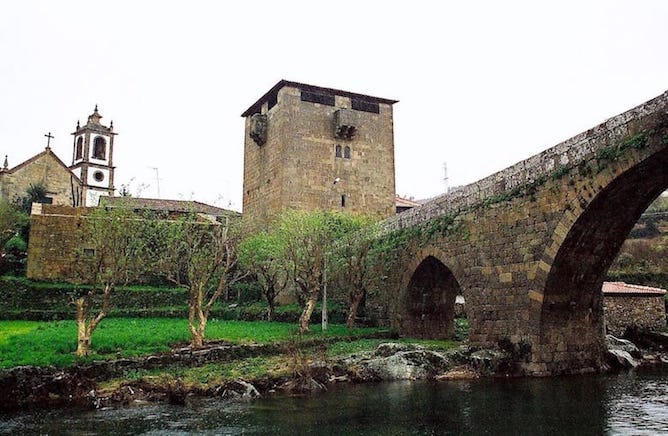 If you need a break from all the wine tastings, you can visit one of the six wine villages in Douro Valley. There, you will discover the Portuguese religious heritage at the Monastery of Salzedas, be amazed at the aromatic garden built on the ruins of Monastery of São João de Tarouca or walk on the medieval fortified bridge of Ucanha.
Another place that I particularly enjoyed visiting is the tiny village of Tabuaço, where you can find the most complete watch in the world – I kid you not, it is a massive watch that occupies three large wardrobes, all made by hand by a wonderful local artisan. 
Do some physical activity
Before I dive into this section of the article, let me make a disclaimer: I don't enjoy doing physical activities in the Douro Valley due to the high temperatures. Nonetheless I reckon that this is becoming increasingly popular in the region and so I made an honest effort to make a compilation of (the few) physical activities to do in Douro Valley.
Cycling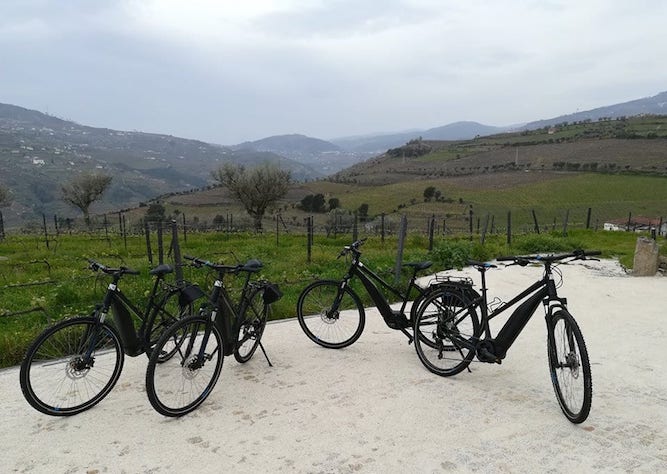 Cycling is a popular option in Douro Valley due to the scenery.
I do have a trustworthy friend that owns a company called GoOnBike that organizes cycling tours in Douro, that range from a 4h pleasant ride in the vineyards to a 6 day extreme cycling tour in the region. You can read more about GoOnBike programs.
Canoeing & Paddling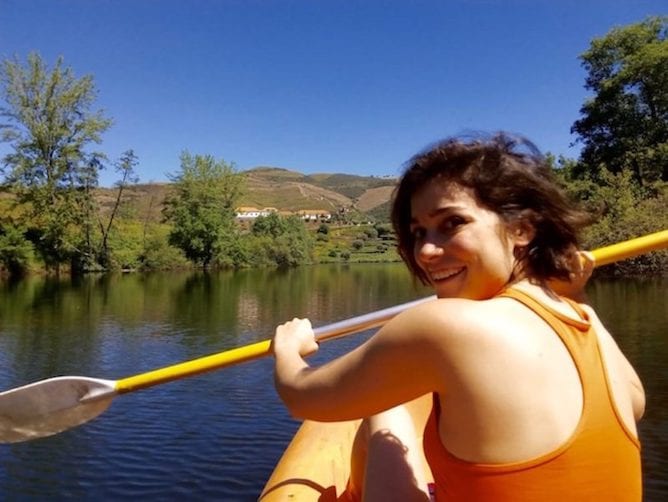 Unfortunately it is not easy to go canoeing or paddling in Douro river or its affluents. There are a few tour operators but they do not seem very reliable, based on the reviews available on TripAdvisor. There are some estates, like Quinta do Tedo, that allow the guests that stay for the night at its property to go for kayaking, but this is something private and not available to the public.
Traveling to Douro Valley with kids? Worry not.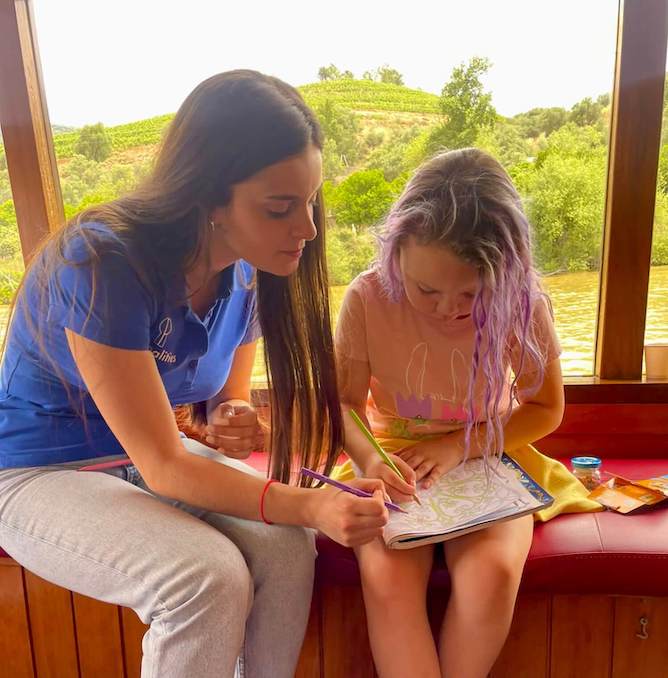 Organizing a trip to the Douro Valley with kids is always challenging because they are (obviously) not interested in wines. However, you don't need to skip visiting the region: you simply need to include activities that they might like more than watching lengthy wine tours.
This is why we organise custom tours to families with children, that usually include a picnic at a scenic winery followed by a relaxing river cruise. If that sounds good to you, just fill in this form and I'll reach out to you as soon as possible 🙂 Me and my guides LOVE having children on our tours, and it will be a pleasure to guide you and your family in the region 🙂
Where to Stay in Douro Valley
I have made a very complete guide to all the accommodation options in Douro Valley, so I recommend you to read it carefully and make the best decision for you and your fellow travelers. Enjoy it! 🙂
Save this article for later: