After the article about the best cafes to work in Porto, its time to introduce you to the top 8 coworking offices in the city. Whether you are a freelancer looking for a place to work for a couples of days / weeks, or you have a startup that needs a proper place to work and interaction with other companies, here is my list about the top coworking offices in Porto. If I missed one that you think it's worth being on the list, drop me a line on the comments section 😉
Typographia Cowork
Campo Mártires da Pátria, 144-A. Porto | Contact: (+351) 220 936 589
This coworking space is just fantastic – besides it's superb location at a restored house at downtown Porto, it has quite large areas which make it perfect for people who would rather work in a more relaxed and silent atmosphere (such as myself). Moreover, it has a lounge area with a gorgeous view towards the cathedral – what else can you ask for? Typography's website is only in Portuguese, nonetheless you can check its prices here.
Schedule: Mon – Fri from 9.30am to 8pm
Porto i/o
Rua Cândido dos Reis, 81 AND Rua do Infante Dom Henrique, 73. Porto | Contact: hello@porto.io
Porto i/o is a reference when it comes to coworking spaces in Porto. It all started in 2014, when Nuno and his partner decided to restore a building in downtown Porto using solely the skills of locals architects, builders and carpenters. Porto i/o provides you with an amazing environment through the regular events they organise with digital workers, creating a community feeling that is hard to replicate in other coworking spaces. Some digital projects were born from the synergies of coworkers of Porto i/o and there was even a marriage between two people who met there – that is what I call a synergy! Porto i/o has two locations, on at downtown Porto (where you have the possibility to have a shower) and another one at the riverside, where you can enjoy amazing views towards ribeira, Mercado Ferreira Borges and The Stock Exchange Palace. You are all very much welcome with a free tour to both their facilities, which are open 24/7 for digital nomads that decide to work from Porto i/o for longer than a week 🙂 You can check this coworking office pricing here.
OPO'Lab
Rua D. João IV, 643. Porto | Contacts: + 351 91 322 43 95 and info@opolab.com
For all architects and designers out there: OPO'Lab is for you! This coworking space opened in 2010 with a clear focus on architecture, design and construction workers, and as such it is has a FAB LAB (fabrication laboratory) equipped with a 2D CNC machine, a 3D CNC machine, Lathe / milling, sandblasting machine, compressor / guns, handcraft machines and a video projector. So if you are in the creative industry and heading to Porto, keep in mind this rather unique coworking office! You can check the coworking prices here and the prices for using the FAB LAB here.
Note: Pay attention to the schedule of each OPO'Lab's plan, because they vary according to the price.
CRU – Cowork
Rua do Rosário, 211. Porto | Contact: (+351) 935 600 904 or cru.cowork@gmail.com
CRU is another interesting space for freelancers of creative industry, as it is both a coworking office and a (very tempting) store. It provides the common facilities of other coworking spaces as well as photography studios and a silkscreen workshop, so it doesn't come as a surprise that it attracts mostly photographers, hand crafters and illustrators / designers. CRU is a rather intimate coworking space but I should warn you about two aspects: the access to the coworking space itself is through the store (so it might be a bit loud once and a while!) and the meeting room is located at the basement, which you can only access through the storage room of CRU's store. To compensate such troubles, it has a very nice patio on the back 🙂 You can check the prices of CRU coworking office here.
Schedule: Mon – Fri 10am to 8pm. Sat from 2pm to 8pm.
Facts Coworking
Rua 5 de Outubro, 156. Porto | Contact: (+351) 226 061 260 and info@factscoworking.com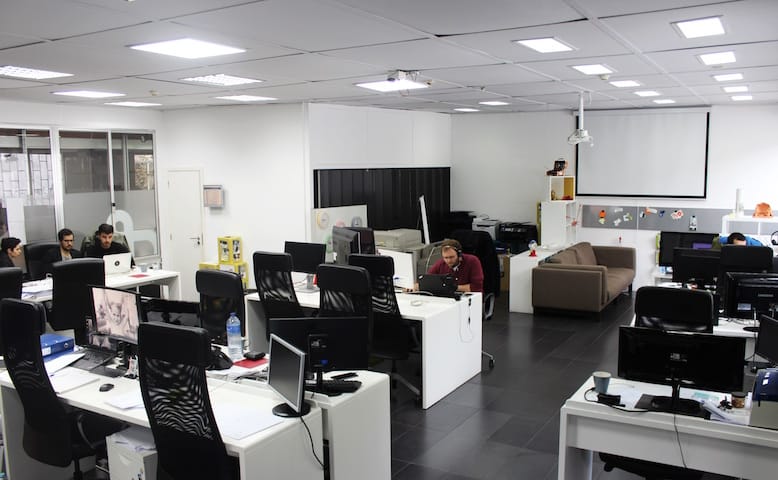 Facts Coworking was one of the first coworkings spaces to open in Porto. It has an excellent location, right next to Casa da Música's subway station, which makes it ideal for those of you who would like to stay way from the rush rush of downtown Porto. This coworking office has a meeting room, a kitchen that also works as a lounge area and showers, which I find quite useful (specially for those who like to workout during lunch break and the like). Moreover, it has a ping pong table for those moments when you really need a break 😉 Its website is only in Portuguese but you can find its prices here.
Schedule: Mon – Fri 8am to 10pm.
Cool.Office
Rua Costa Cabral, 2075. Porto | Contact: +351 220 046 140 or info@cooloffice.pt
As some of you might be interested in coworking spaces outside downtown Porto, I present you the Cool.office, a coworking space located close to the faculty of Engineering and to the faculty of Economics. Cool.office is a small but comfortable coworking space, and it regularly organises handcraft / photography workshops, which I personally find quite cool 🙂 To check the price of Cool.office coworking space, check here.
Schedule: Mon – Fri 9am to 7pm.
UP! – Unidade Empresarial de Paranhos
Rua do Tâmega. Porto | Contact: (+351) 925 671 850 and uep@jfparanhos.pt
Another coworking office close to the faculties mentioned above is UP! Centro Empresarial de Paranhos.  At UP! you'll be able to find an environment in between a coworking space with a more formal approach to business. You can either choose to stay at their coworking open space (the one you can see on the left hand side of the picture above), or rent a private office if you'd rather have some privacy. Besides the lounge, there is a huge events room (non equipped though), a large kitchen and a beautiful garden in front. As their website is only in Portuguese, I recommend you to contact via mobile (+351) 925 671 850 or by email at uep@jfparanhos.pt.
As some of you might be interested in coworking offices outside Porto, I also included one in Gaia:
Officelab
Rua Dr. Ferreira Macedo, 42. Vila Nova de Gaia | Contact: +351 223 791008 and info@officelab.pt
Officelab is an excellent choice for those of you looking for a coworking space in Vila Nova de Gaia but with excellent access to downtown Porto, as it is just 5min walking distance from the subway station Câmara de Gaia. The coworking area itself is quite large and it provides additional spaces such as a fully equipped kitchen, a shared library and a lounge area. A big plus of this coworking office is that it has access 24 / 7, all days of the week. They welcome startups at an early stage by providing them with a free pack of consulting services in addition to services such as marketing and management advise at lower rates. It is definitely a coworking space to consider either you are a freelancer or starting a new business in Porto! Its website in only in Portuguese but nonetheless you can check the prices of their coworking services here.
Uptown Guest Office
Rua Sá da Bandeira 612, 1º Andar, Esquerdo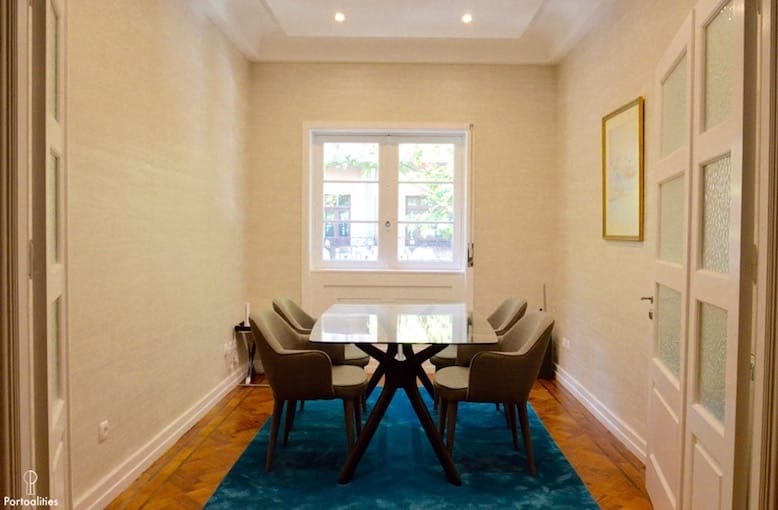 If you'd rather go for something that combines the sharing environment of a coworking office with the intimacy of a private office, then I strongly suggest you to try out Uptown Guest Office, a new space that opened donwtown Porto. To know more about the concept of the space, read my article on Uptown Guest Office: a new coworking concept in Porto.
Expert tip: When comparing the prices of each coworking space, check if it already includes the VAT! Most coworking offices in Porto advertise the prices without VAT, but some already include it and if your strongest decision criterion is the price, the value of the VAT can make the difference.