I organize private tours in Porto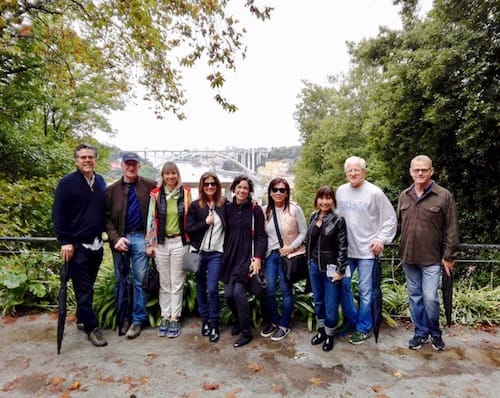 Check this page for more information or send an email to sara@portoalities.com.
Get to know the best urban terraces in Porto, ideal for a sunset party or to simply grab a beer after walking in the city.
Before reading this article: have you already decided where to stay? If not, read my article about the Best neighborhoods to stay in Porto! There I give you plenty of recommendations of great hotels and apartments in Porto.
The best urban terraces in Porto are:
Miradouro Ignez
Rua da Restauração, 252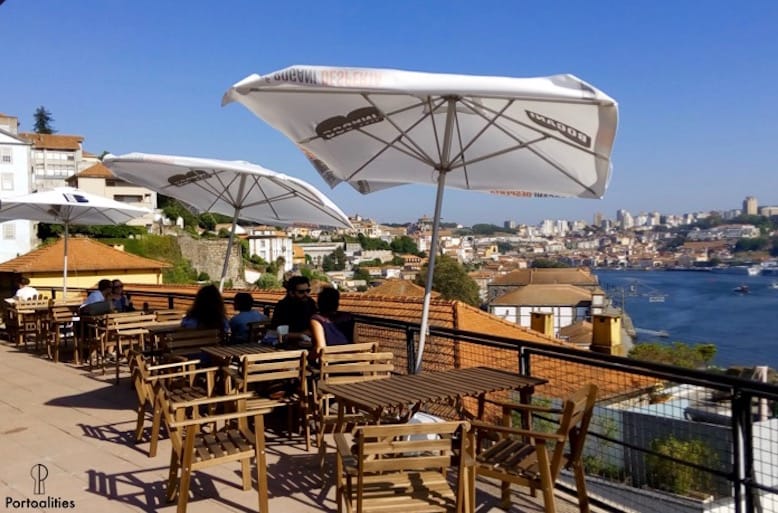 Miradouro Ignez  was a recent discovery but it already won my heart. Let's see: a fa-bu-lous view, an amazing location (behind the Crystal Palace gardens), hamburgers made in pão do Caco (a typical bread from Madeira island) and refreshing drinks perfect for a lazy afternoon. It is definitely one of the best urban terraces in Porto!
BASE
Passeio dos Clérigos
BASE is the versatility in the form of both terrace and garden. Next to the terrace itself there are long tables ideal for larger groups, but during these hot Summer days we are tempted to just look for a puff and enjoy the warmth while indulging ourselves with a fresh drink from BASE. No wonder tourists always consider BASE as one of the best urban terraces in Porto 🙂
Livraria da Baixa
Rua das Carmelitas, 15
If we only paid attention to the terrace of Livraria da Baixa we would miss the story of an ancient library, called Fernando Machado, that opened in 1922. We can still feel it in every decor detail of Livraria da Baixa, and all the love & care that the owner, Rui Guerra, placed in the renovation of the space.
But today let us focus just on the urban terrace, which has a great view of Lello bookshop, the so-called Harry Potter bookstore.
Aduela Taberna Bar
Rua das Oliveiras, 36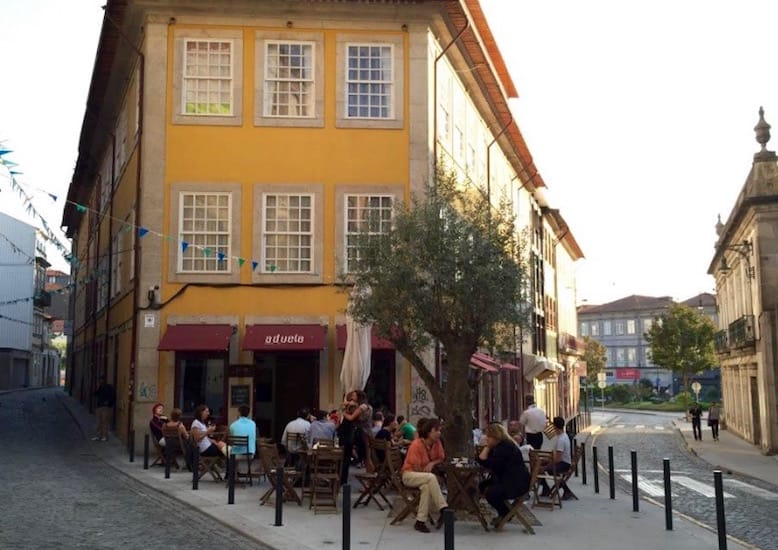 Aduela is a cafe/bar full of character, built in an old warehouse of sewing machines. In between the main arteries of the nightlife district, this top urban terrace in Porto could easily be ignored; but a good wine list coupled with real Portuguese snacks (that tapas thing is Spanish, my friend!), ensure that this will never happen 🙂
Moustache Coffee House
Praça Carlos Alberto, 104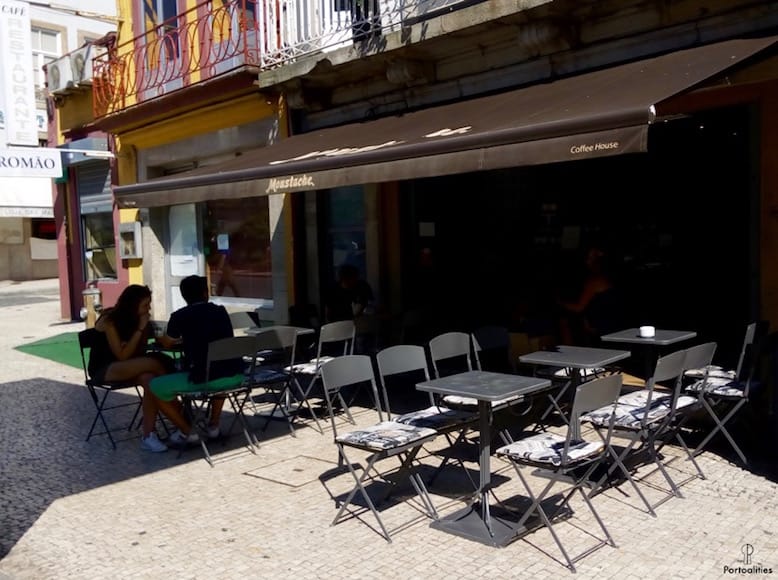 Another excellent urban terrace in Porto, where you can find not only a wonderful 100% Arabica coffee taken by professional baristas, but also a wide selection of sweet temptations. It has a small outdoor terrace, ideal for these days of intense heat but also for Winter days, as it has heat on the outside (and some cute blankets too!).
Champanheria da Baixa
Largo de Monpellier, 1 / 2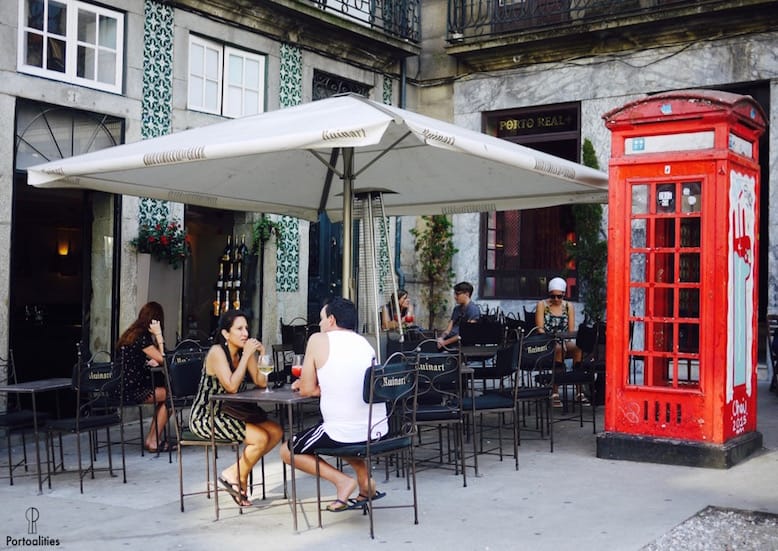 Champanheria da Baixa is well known by all people of Porto due to its strawberry champagne sangria, a wonderful choice for hot Summer nights. Moreover, it is at the intersection of two streets of Porto's movida: it is definitely an excellent venue for a Saturday night!
Candelabro
Rua da Conceição, 3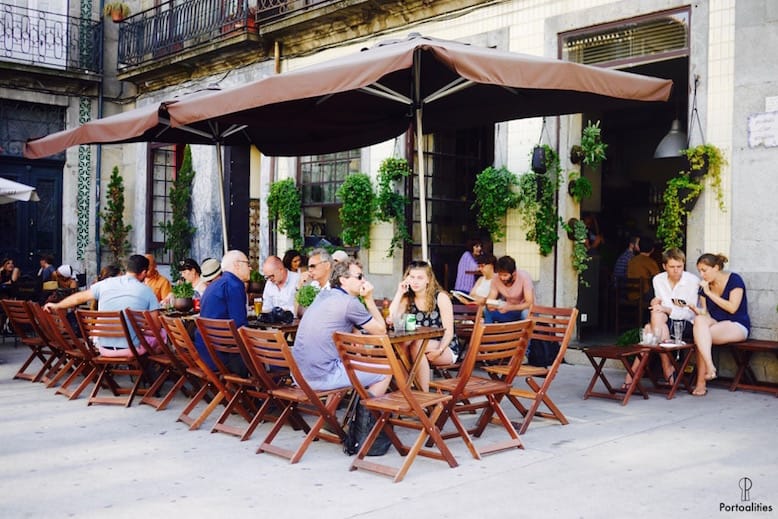 I have excellent memories of Candelabro, right next to Champanheria da Baixa:it is a relaxed yet cosmopolitan bar, with a good selection of drinks that you ask at the counter and enjoy on the outside. During the day it is also a great place to have a few cold beers, so for me it is one of the best urban terraces in Porto.
Tuareg Baixa
Rua da Laje, 46
I don't know about you, but I love Moroccan Shishas and therefore I am easily seduced by Tuareg da Baixa, close to the wonderful viewpoint of Virtudes. In between a Shisha and a cold beer, you can spend a sunny afternoon in this cozy terrace without realizing it. I recommend this place both during the day and at night.
Breyner85
Rua do Breyer, 85
Breyer85 hosts concerts, jam sessions, karaoke nights, … the list is endless. But today I leave the music aside because my intention is to tell you about its fabulous terrace, in the garden, away from street noises. It is great for a relaxed drink or to organize a private event 🙂
If you're enjoying this article, don't forget to pin it for later: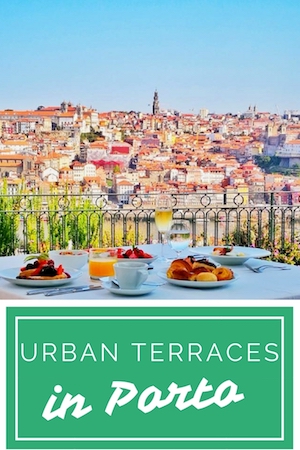 Maria Bôla
Rua de Cedofeita, 516
Maria Bôla has an immaculate girly style, its delicious "bôlas" (a typical savoury cake prepared with great care and love) and also… its terrace, of which we don't even suspect when we walk down Cedofeita Street. Moreover, it has a delicious brunch every Saturday and Sunday from noon to 4pm. Do you need more excuses to get there? 🙂
Terraplana
Avenida Rodrigues de Freitas, 287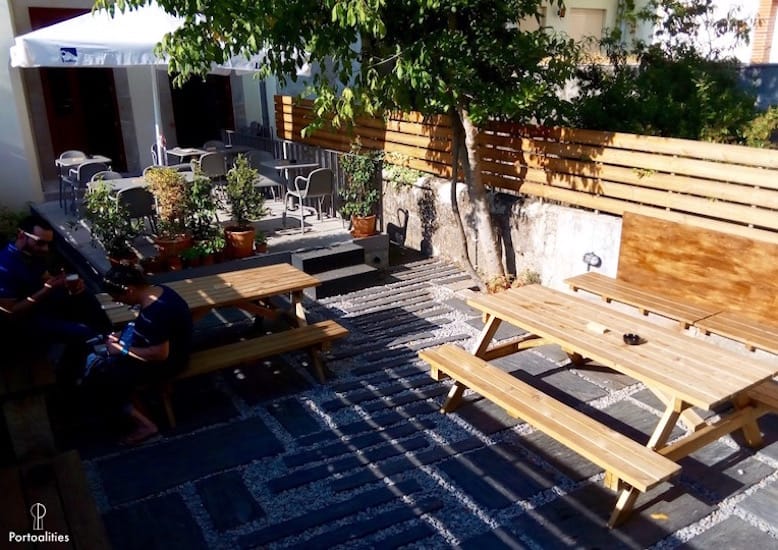 Terraplana won me over with its cosmopolitan mood and its cocktails that, frankly, are very unlikely to be found in other bars in Porto. It also organizes DJ sessions, live music, beer tastings, … it is a really special place!
Guindalense Futebol Clube
Escadas dos Guindais, 43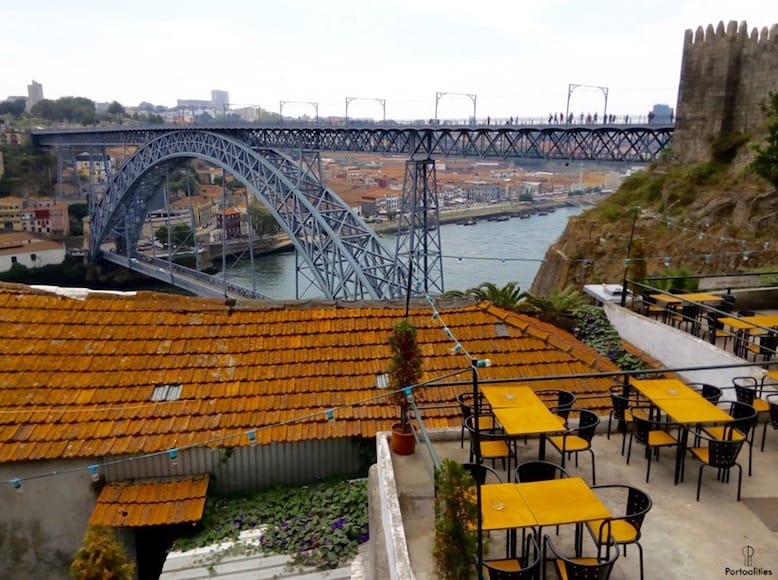 Guindalense is a space that presents itself  "from and for the community of Porto", not as a "coffee house" or as a "bar". It is the arrival point of those taking the trip of Guindais' funicular, the favourite viewpoint of tourists, the coffee spot of students. It is an invitation to long coffees and refreshing beers, a game of cards, or its famous party during St. John's festivity, the most important night in Porto. We just love our Guindalense, period.
Galeria do Largo
Largo de S. Domingos, 45 – 55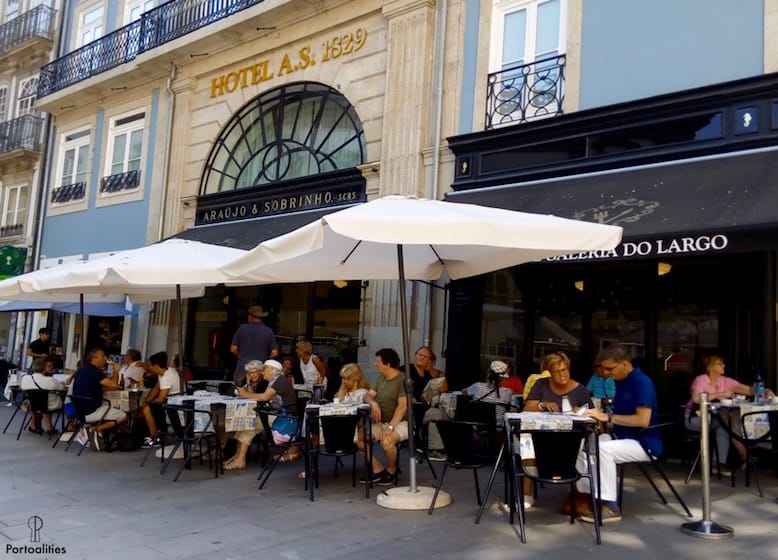 Galeria do Largo is right at the tourist heart of Porto, aka Largo de S. Domingos, precisely under the Hotel A. S. 1829. Even though it is a restaurant, during the afternoon it works as a coffee place, so it is one of the most popular urban terraces in Porto among tourists.
N'O Mercado (Hard Club)
Praça do Infante, 95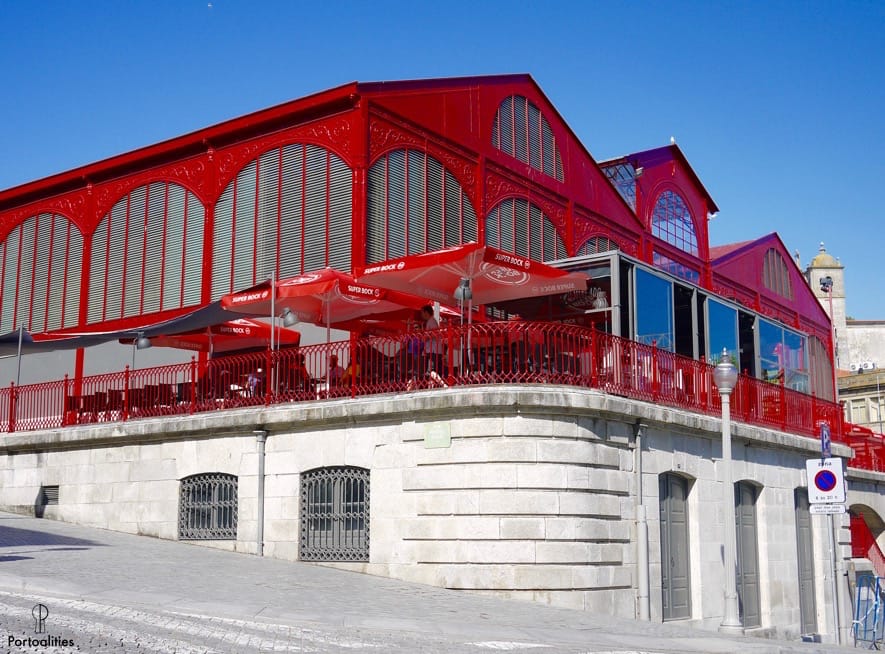 I've already told you the story of Ferreira Borges' Market, a beautiful building made of glass and red iron, close to Ribeira. What I didn't tell you  is that right at the entrance of the market there is a "glass box", which is actually a cafe with a nice urban terrace outside.
Bar Ponte Pênsil
Right next to Luiz I bridge
Location, location, location. It is the main asset of this terrace, built precisely on a pillar of the old D. Maria II suspension bridge, that was dismantled in 1887. The service is not particularly fast and don't have high expectations regarding the menu of this urban terrace in Porto, but the fabulous view of the Douro river, Ribeira and the stunning iron bridge Luiz I outweighs these disadvantages.
BB Gourmet Bolhão
Rua de Fernandes Tomás, 174
BB Gourmet is a restaurant chain known particularly for their meals prepared in vacuum, which are very convenient when you are hungry and in a hurry. Despite having several locations (like the one on Cedofeita Street), I've chosen BB Gourmet Bolhão because it is, as the name indicates, located in front of our dear Bolhão's Market. In addition to the large terrace, you can also enjoy its beautiful interior.
Casa Agrícola
Rua do Bom Sucesso, 241
Casa Agrícola has been and continues to be one of my usual "landing places". The stupendous location – right next to the renovated Bom Sucesso's Market, with the simple Chapel of Bom Sucesso welcoming you at the entrance, it has not one but TWO terraces: one outdoors and another one indoors. Moreover, it is one of the best bars of Porto to watch football games.
Casinha Boutique Café
Avenida da Boavista, 854
Casinha Boutique Café is a love at first sight. Two steps away from Casa da Música, the discreet entrance conceals a renovated old house with a terrace inside. It serves delicious sandwiches, quiches, home made ice creams and a fantastic cheesecake.
Casa Vasco
Rua do Padrão, 152
Casa Vasco, in Foz, combines a relaxed atmosphere with a sophisticated menu, that is not only focused on the ordinary boards of cheese and sausages.
The Bird
Rua da Agra, 143
The Bird has a simple yet inviting decor, a good tea menu and some delicious cakes, with the advantage of being also in West Porto. A small hidden paradise.
Extra: Go on a private tour in Porto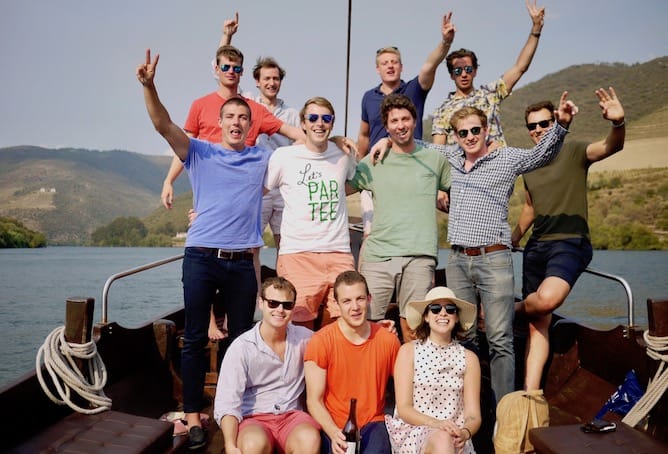 The best way to get to know Porto is to go on a private tour with me!
Check this page to learn more about my tours in Porto, or simply send an email to sara@portoalities.com. I will shortly get back to you with a tailor made tour designed specifically for you.
It will be a pleasure to welcome you in Porto!