Afurada is a wonderful fishermen village just outside Porto which is still not damaged by tourism. I would not recommend it as one of the best neighborhoods to stay in Porto, but it's a great place to spend an afternoon during your break in the city.
On this post you'll find all the Must See's in Afurada, as well as how to get there. Enjoy! 🙂
Top things to do in Afurada

Afurada is a tiny village so you will be able to see everything during half a day (or perhaps a full day if you go on a private river cruise).
These are the best things to do in Afurada:
1. Have lunch at one of the restaurants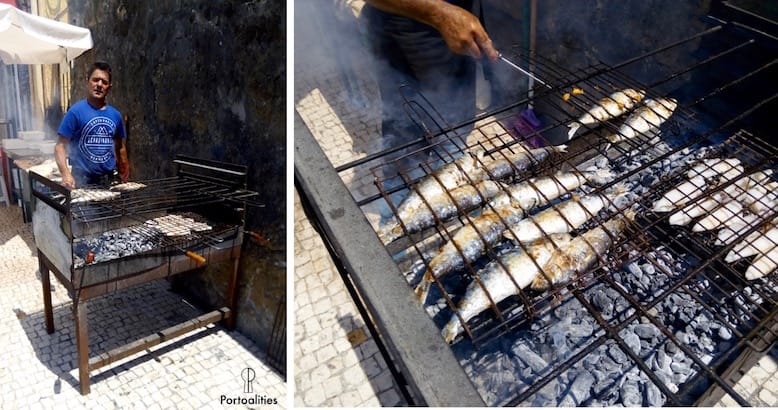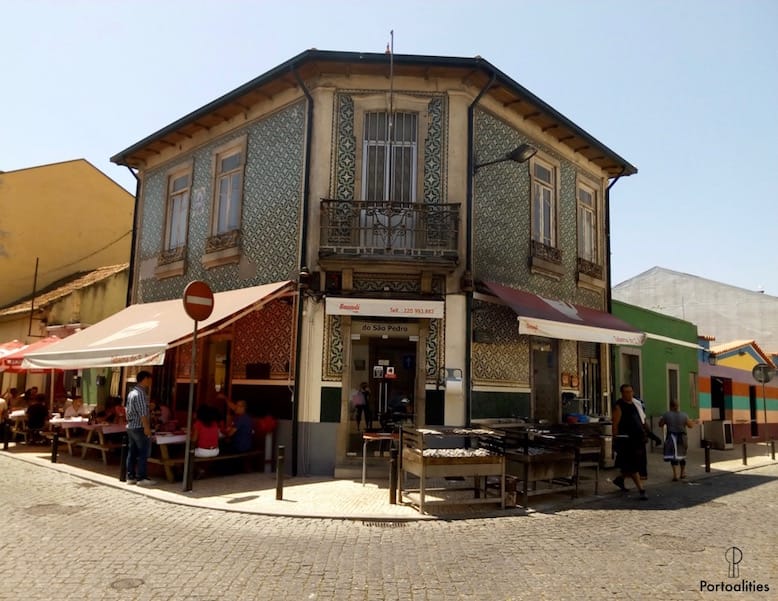 In Afurada, it is quite common to see large grills on the street where all kinds of fish, from sea bass, cod, shad… are grilled in broad daylight.
That's precisely where you want to be! Pick any restaurant that is packed with locals and go for a grilled fresh fish or a beautiful seafood stew, accompanied with a chilled green wine. It is absolutely superb!
If you are a fish lover, then I recommend you to read my article about the best seafood restaurants in Porto.
2. Visit the Interpretive Center of Afurada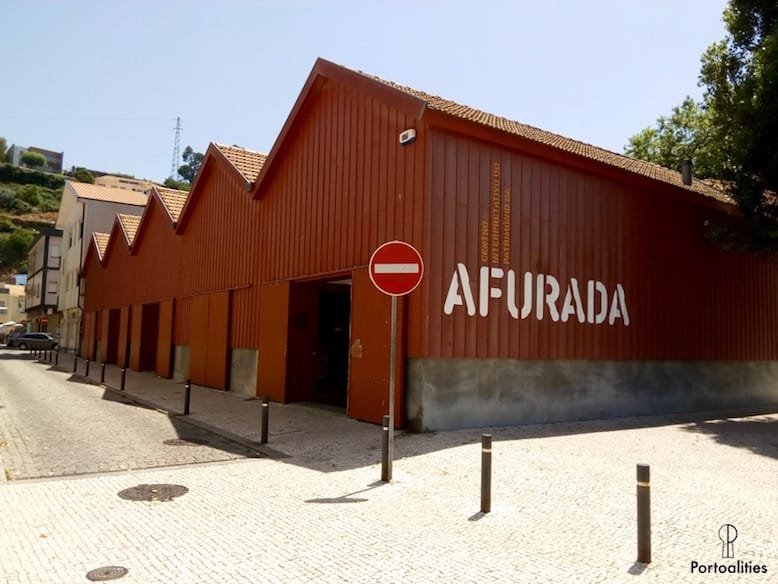 The Interpretive Center of Afurada is not really a museum, but more like a tribute gallery to the people of this fishermen village. Most of the objects on display were donated by former fishermen, fishmongers and washers, and have proper English explanation of its use on cardboards.
It also has interactive panels that explain the various crafts of the people of this fishermen village, the evolution of the parish and well known Portuguese feelings like longing, faith, nostalgia, but unfortunately those are only in Portuguese. Admission is free and it's worth to take a quick visit!
3. Take a look at the ancient washing tanks and clothes' ropes


I could not believe when I saw ancient community washing tanks in Afurada, still being use. I entered in a universe that I hadn't visited since my childhood with my grandmother.
Luckily there were two ladies, D. Palmira and D. Maria, washing vigorously. "We have washing machines at home, of course. But I prefer to wash a few things here, such as sheets and carpets. They are better washed, aerate better under the sun… it's better."
It was a strong lesson about humility – sometimes, we just need to sit down and listen to the reasoning behind the "odd" habits of other people, instead of simply looking at it as a picturesque picture.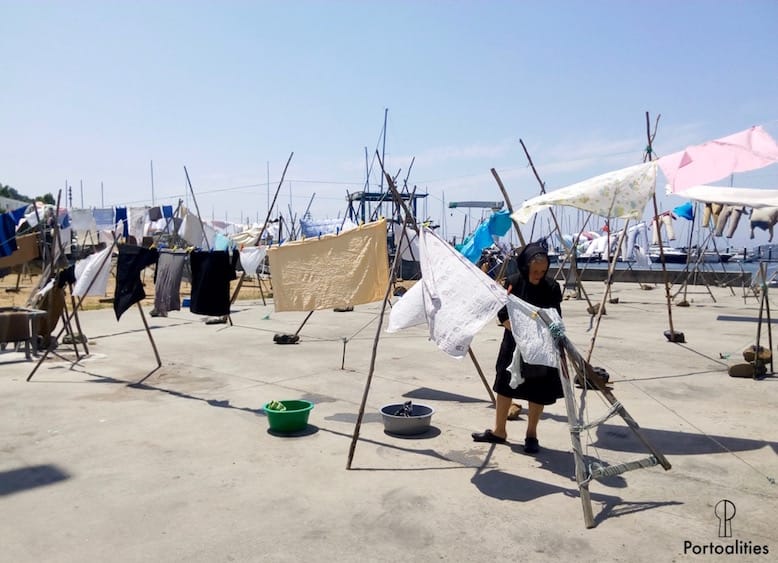 Outside, there was an apparent confusion of ropes and clothes flapping in the wind. Each lady has "her" rope where she hangs her clothes, "but we're not savages, we will not take the clothes away if someone puts them hanging on our rope." The clothes hang for a day or two, if the weather allows it, fluttering under maritime sun without being stolen. A small daily miracle in Afurada.
4. Go on a private river cruise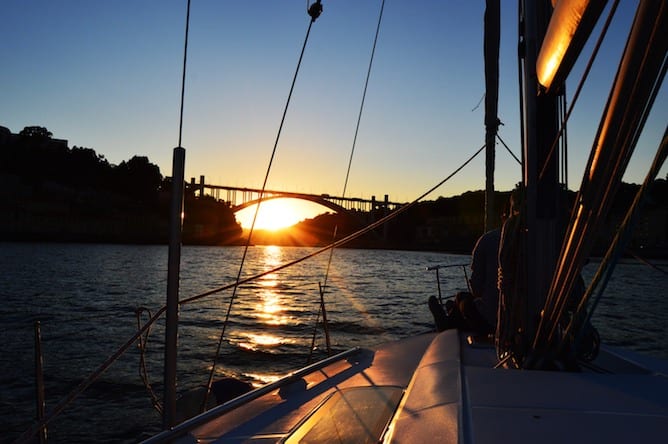 One of the best things I have done in Afurada is to go boat sailing! During two hours you'll be able to see the famous Ribeira neighbourhood and the beautiful bridges of Porto from the middle of the Douro river whilst sipping a glass of sparkling wine and eating some delicious Portuguese cheeses and sausages.
I have already taken the 6 bridges cruise and this is a completely different experience as you'll be on your own, enjoying the company of your better half or with a group of friends in a privacy of a sailing boat. The food and wine is simply delicious and it is a good addition on warm days. Because it is a private experience you can be completely relaxed, sunbathing on your bikini, or whatever pleases you.
I enjoyed it so much that I decided that I challenged the boat sailing company to provide my readers with a 5% discount. All you have to do is to send an email to flyflip@flyfishinginportugal.com telling them the date, number of people (it can be up to 6 people) and what kind of activity you are interested in (they have several packages).
Don't forget to use the code PORTOALITIES5 to claim your 5% discount! 😉
5. Go for a bike ride on the cycle lanes
As I told you on a previous post on bicycle friendly places in Porto, in Afurada starts a bike lane that will lead you all the way to Espinho, almost always along the seafront. You will pass through the Douro Estuary Natural Reserve and the Chapel of Senhor da Pedra, which is the most mysterious chapels I know, built directly on the sand. It's really, really worth taking this journey.
If you don't have your bicycle with you, you can simply rent a bike in Ribeira and cycle your way through Afurada. 😉
How to get to Afurada
The funniest way to go to Afurada is by taking the boat "Flor de Gás" on the deck of "Lordelo do Ouro". It you leave you in front of the restaurant "A Margem"). I made you map – the blue pinpoints show you exactly where to take Flor de Gás on both Porto and Gaia's sides. It is possible to take your bike on the boat. The trip lasts a few minutes, it is very cheap and the schedules are: Mondays – Saturdays: 6h – 21h, Sundays: 8h – 21h.
From Ribeira, cross the D. Luis I bridge and then go all the way riverside until you reach Afurada. It's about 6km (20 minutes drive, about 1h30 walk or 30 minutes by bicycle).
From Arrábida bridge, take the first exit that says Gaia (Afurada), and immediately follow the exit that says Afurada / Canidelo. Go down through a narrow street, and when you reach the river, turn left and you'll be in Afurada in no time.
Save this article for later: