Every city has a list of mandatory activities, and Porto is no exception.
Nonetheless, if you are 1) looking for a typical and quieter experience, 2) don't appreciate to wait hours in line and 3) wish to take more than what is "obligatory" home, you should keep reading this article.
What not to do in Porto – and the best alternative solutions.
Not to do in Porto: visit Café Majestic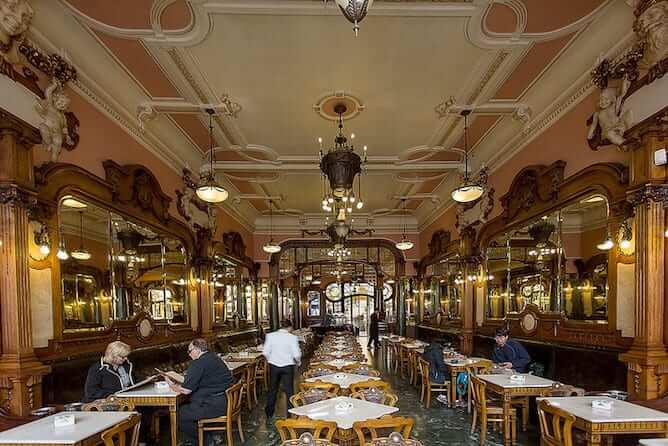 The Café Majestic is a landmark in Porto for its antiquity (it opened in the 20's), refinement and luxury. Inspired by the French Belle Époque, it was the stage of multiple gatherings of the most diverse personalities of Porto's cultural and artistic life.
Today, it remains one of the most representative examples of Art Nouveau in the city and a testament to that past. But, if you don't want to wait in the queue your turn or if you prefer to avoid above-average prices, it's definitely a not to do in Porto.
What to do instead: visit Café Guarany.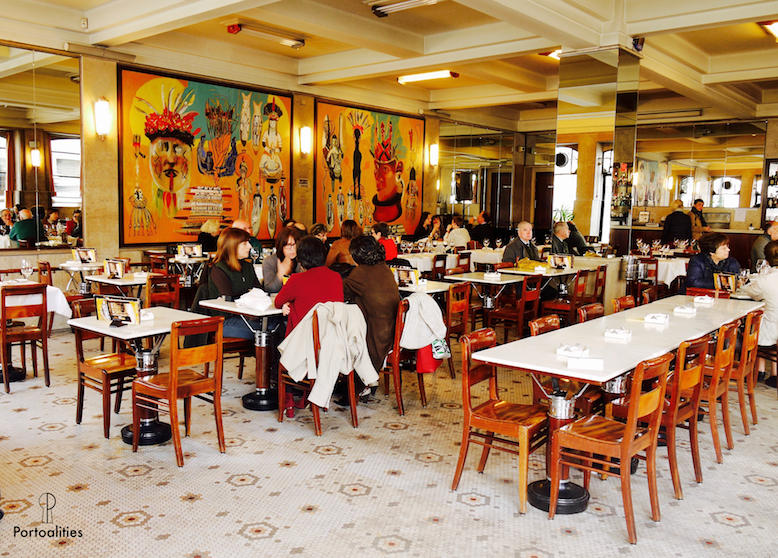 Founded in 1922, and with a privileged location, the Aliados square – our entrance hall – Café Guarany retains much of its original look and provides a service of excellence. In the past, it was the meeting point of intellectuals and businessmen, that went there to exchange ideas and firm commitments, always with a resident orchestra in the background
It is also known as the Café dos Músicos, and lives up to that reputation, since it is possible to enjoy live music in several evenings. Curiously, Café Guarany and Café Majestic have the same owners.
Not to do in Porto: visit Lello bookstore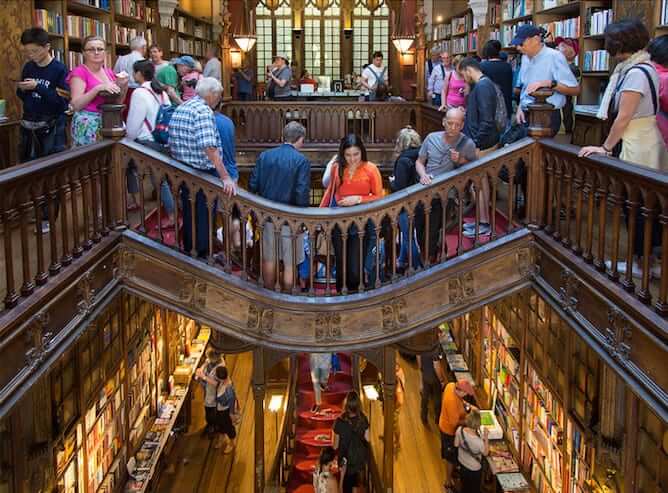 Lello bookstore is an ex-libris of Porto and has been recognized as one of the most beautiful bookshops by several entities and personalities. It is also associated with the Harry Potter saga, since its staircase inspired the author, J.K.Rowling, to create the Flourish and Blotts.
However, Lello bookstore no longer serves its original function of bookshop, as admission is subject to payment and due waiting in line. It is always packed with people so you won't be able to take decent photos.
So, if you are an unconditional fan of Harry Potter, visit it. If you have a particular interest in architecture, visit it, as it is surely one of the most emblematic buildings of Porto's neo-Gothic. If you don't meet any of these requirements, visiting Lello bookstore is definitely a not to do in Porto.

What to do instead: visit a second-hand bookstore
For books' lovers, who are in search of a bit more than commercial bookshops at every corner, I highly recommend a visit to some of our second-hand bookstore.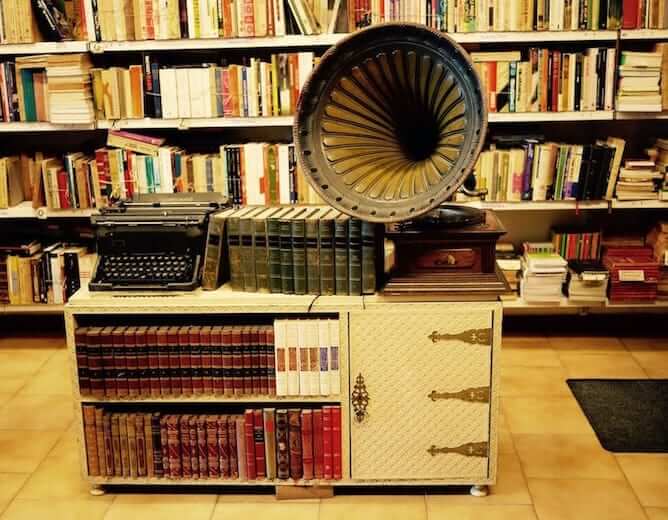 Be carried away by the charm of old, used books, and by the history that inhabits each of these places. Plus, if you want to take a souvenir out of the ordinary, know that in some of them you'll find real bargains.
Not to do in Porto: don't stop at the azulejos tiles in São Bento train station, go further!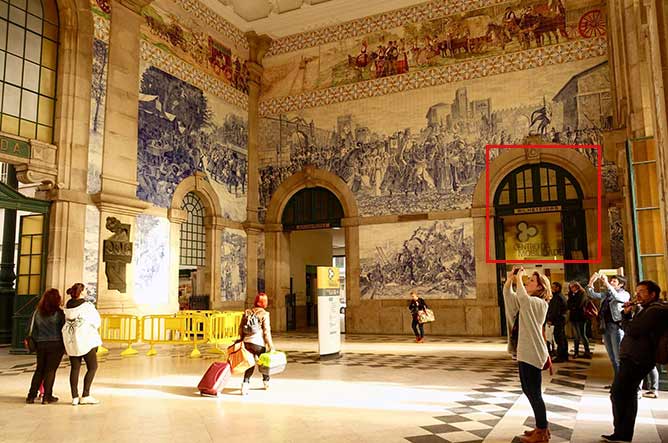 Visiting the inside of São Bento train station is a must, and not a straight not to do in Porto. The traditional azulejos tiles that cover its walls are an authentic visual encyclopedia of several key moments in the history of Portugal.
This being said, I strongly recommend that you keep your eyes open for other azulejos tiles' panels of equal beauty and importance.
In fact, it is an excellent leitmotif to discover different points of the city, and you can even do it on foot, since most of them are very close. You won't even notice the effort.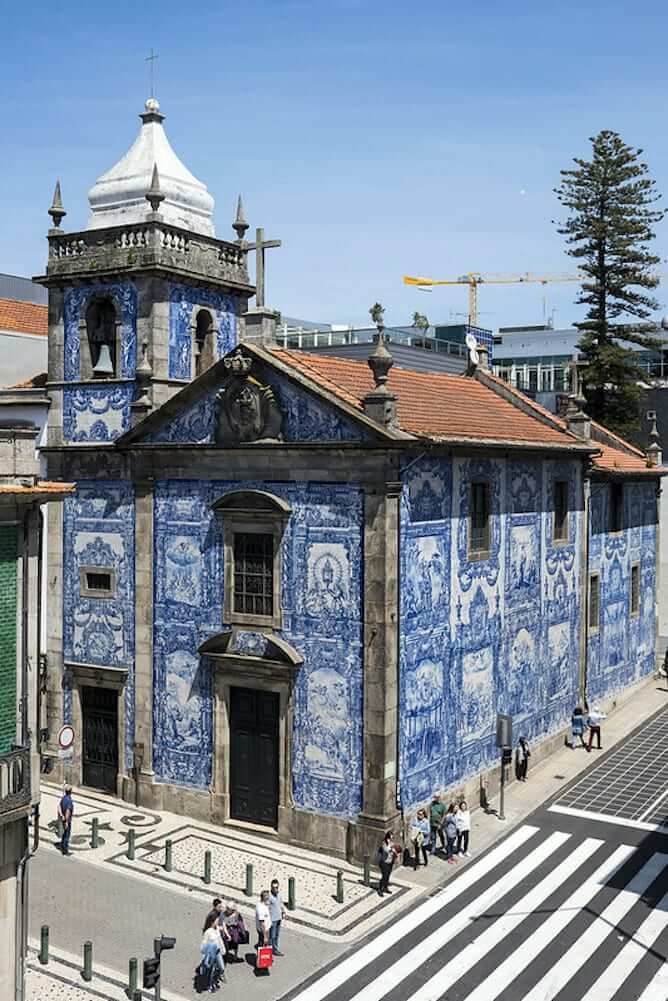 For example, climb the mythical Rua 31 de Janeiro – not as scary as it may look -, right next to São Bento train station, and soon you'll find the Church of Santo Ildefonso, whose azulejos tiles share authorship with those you'll see at the station. There, you'll be two steps away from the historic street of Santa Catarina. If you follow that street, you'll stumble into Capela das Almas, whose façades are, of course, tiled.
I also recommend a visit to the Church of Carmo, at the intersection of emblematic places like Cedofeita and Praça dos Leões, under the close vigilance of Clérigos. It is a baroque church, from the 18th century, with the typical gilded carving (another of our original expressions of art, alongside the azulejos tiles) in its interior. Outside, you'll admire an outstanding tiled façade, which was my initiation to this artistic trait of the city.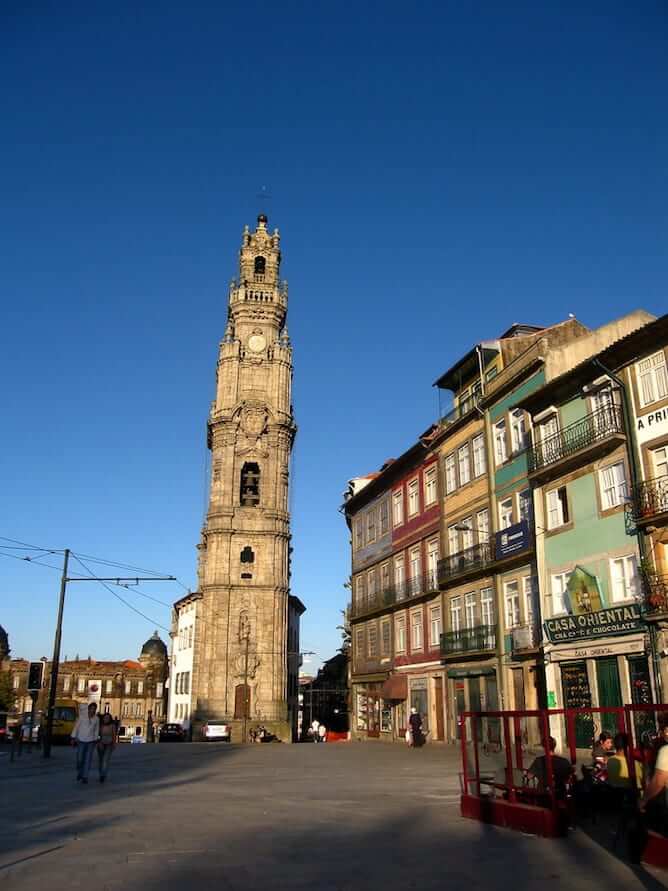 Clérigos' tower, alongside the bridges, is a postcard image of Porto. And don't get me wrong, the 360º view over the city is absolutely stunning (especially at sunset) and quite unique. But you need to climb 225 narrow steps to get there, so it is not for everybody 😛
So if you are claustrophobic or simply don't enjoy overcrowded places, climbing the Clérigos tower is a no go to you.
What to do instead
Porto is abundant in official and causal viewpoints, and you don't have to work too hard to find them. One of the most famous is located in Porto's cathedral, where you'll have at your disposal different perspectives over the city.
Then cross the iron bridge D.Luiz I, whose entrance is right next to Sé, and enjoy the view over Porto and Douro river (especially, Ribeira, our riverside neighborhood) from Jardim do Morro.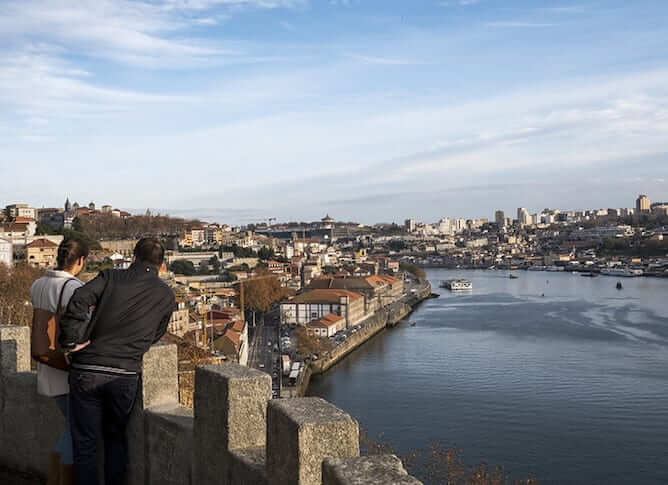 If you are not pleased enough, go up to Serra do Pilar (also, next to Morro). Elsewhere in the city, stroll around the Crystal Palace gardens, another essential stop in any tour, and keep enjoying the view over the Douro river. Jardim das Virtudes (Gardens of Virtues), not very far from the Clérigos tower, is also an excellent viewpoint, especially at sunset.
Not to do in Porto: shopping in Rua Santa Catarina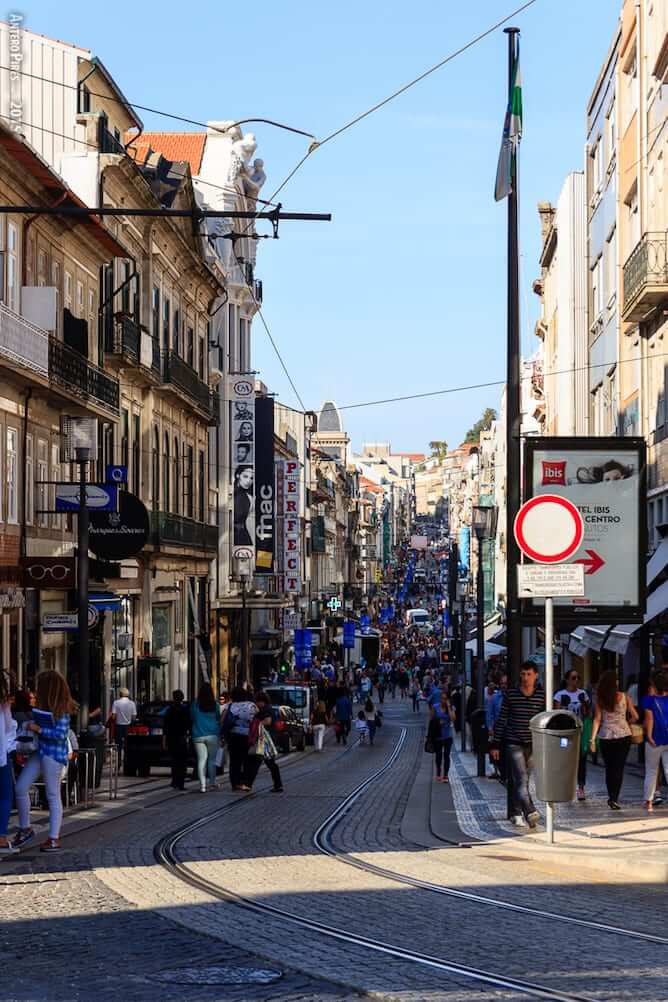 Rua Santa Catarina is one of the most emblematic commercial streets in the city of Porto. Here, you'll also find the Café Majestic – if you really wish to visit it – and Capela das Almas.
However, alongside these attractions, you'll find all those stores that you, probably, have at home, like Zara and Mango. So, walk by this street, but don't go shopping.
What to do instead: visit other picturesque streets
Like Cedofeita, still full of traditional retail stores, among several coffee shops and restaurants, and beware of the various street markets.
At these markets you can find second-hand items and handcraft, usually with food stalls, and music in the background. You'll discover different and unique objects while enjoying a more intimate and local experience.
One of my favourites is Porto Belo, which takes place every Saturday, at the doors of Cedofeita.
The only negative here is that all of them happen exclusively at some days and hours, but it is worth paying attention, so read carefully our article about the best markets in Porto.
Not to do in Porto: take the tram 1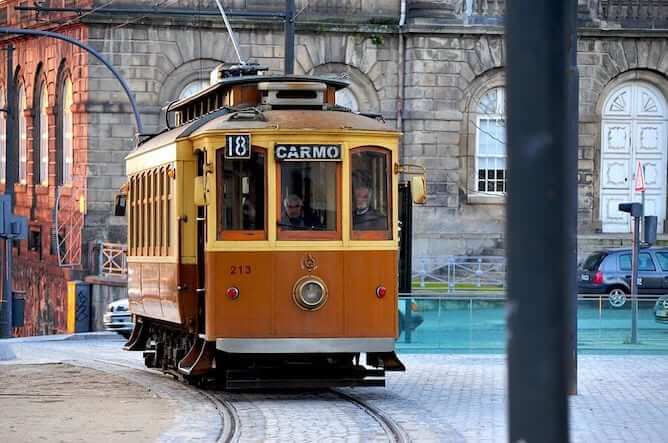 I have written countless times about taking the tram 1, but that was back in the days when taking a tram ride was not a thing in Porto.
Unfortunately, if you want to take the tram 1 these days you have to wait in line for a long time under the inclement sun (ok, maybe I am exaggerating a little bit – it is not so warm in Porto!).
Then you'll be inside a tram packed as a can of sardines where only a few lucky bastards get to be sit. Tough.
What to do instead: take other tram lines!
I have two solutions for you. If you really want to take the tram, there are two other lines that are less crowded – read my article about how to take the tram in Porto to discover them.
Moreover, you can combine the tram ride with the picturesque Guindais Elevator – another ancient transport in Porto – if you buy the combo ticket for the Tram in Porto + Guindais Funicular + Hop On Hop Off Bus.
Not to do in Porto: use Guindais Elevator in both directions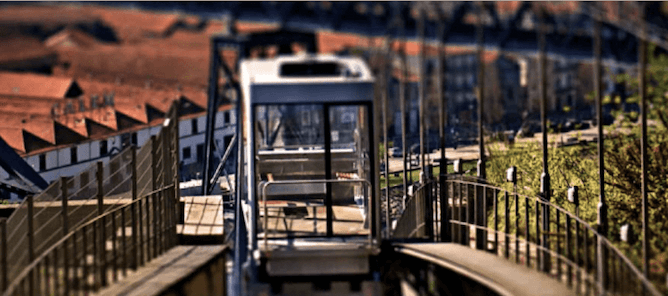 The Guindais Elevator connects the areas of Batalha and Ribeira, and there is nothing wrong with its use per se. In fact I recommend it, if you are short in time, tired or have some sort of health physical problem. It is actually a pretty ride and a fast way to go from the lower to the upper side of the city.
But it is not worth it to do it in both directions, so take my advice and use the Guindais Elevator to go from Ribeira to Batalha, and from there…
Take traditional staircases in Porto!
Venture downwards using the staircases of Guindais or the staircases of Codeçal, which escaped the erosion of time, are the living proof of an antique and fortunately still typical Porto.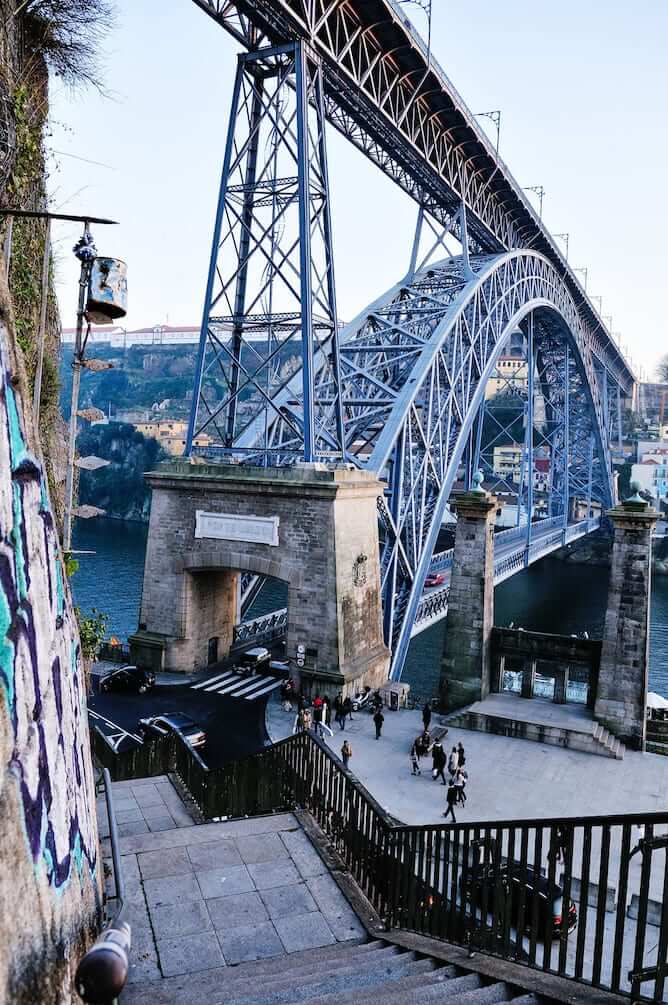 Go down the stairs and get lost on in the everyday scenes, in the colours of the extended clothes, in the geometric shapes and the unexpected examples of urban art (namely, in Codeçal). Conquer the bridge of D.Luiz I at every step, every angle of vision. Return home with secrets of Porto, the kind of secrets that you really tell no one.
Save this article for later: