The rainy season is inconvenient for many travelers, but in Porto, it could turn into a magical experience.
Not to mention, the city has a great metro system that will shelter you in its tunnels until you get to your desired destination.
So if you already decided where to stay in Porto, come along and I'll show you what to do on a rainy day in Porto!
There are also fun activities to do indoors when you want a break from the rainfall. But first, let's talk about the rain season in Porto. Here's an index to help you navigate this article:
Rainy days in Porto: An overview


The rainy months in Porto (see graph) are stronger in the winter, but they're also unpredictable. Even if you think you have booked your ticket according to your "weather plans", it's always good to prepare for a rainy day in Porto, as I have pointed out in the article about the best time to visit the city.
So here is our advice on what to bring and what to avoid when it's raining in Porto.
What to bring when it's raining in Porto
I advise you to bring:
A pair of good rain boots. Seriously, I hike for a hobby and it makes a HUGE difference to have proper boots. The end of the world might be happening but if your feet are dry, all good.
A raincoat, to fight both the rain and the wind (another thing I learnt from experience!)

A sturdy umbrella – DON'T get a bad umbrella because it won't last 5 minutes on a rainy day in Porto!




Shop for good quality umbrellas at Casa Lima (Rua de Santa Catarina, 231) or at Decathlon (Rua de Fernandes Tomás, 508), where you can also find affordable rain boots.




Don't purchase umbrellas from the variety stores (we call them Chinese stores) unless you're desperate, because they will easily break.
What to AVOID on a rainy day in Porto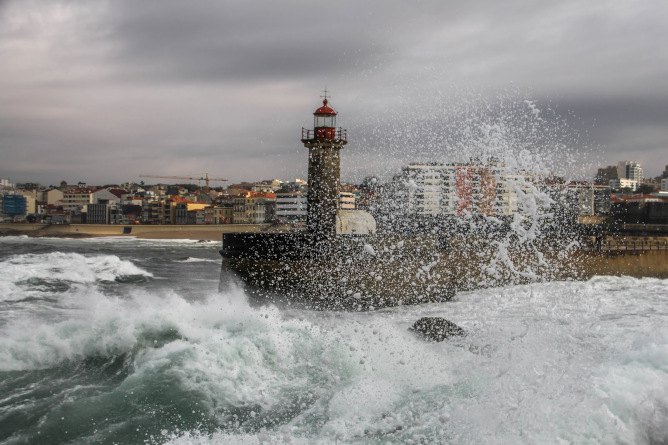 Other than the standard things to be mindful of, some activities must be avoided on a rainy day in Porto, such as:
Climbing

the Clérigos tower

– for real, if it is rainy it will feel very cold and windy at the top.

Going near the Felgueiras lighthouse

, in Foz neighborhood. The waves are gigantic and you can easily get carried away and drown. There were so many idiots going near the lighthouse to photograph it on a rainy day that the police decided to close the access to it. True story.
Get the 6 Bridges cruise. I mean technically you can do it, because it is not dangerous and the boats have a covered area, but it is not very comfortable nor pretty.
Now that you've learned about the rain season in Porto, I want to help you take advantage of every day you spend in this magnificent city, so I hope you enjoy my suggestions 🙂
These are the top things to do on a rainy day in Porto:
Do a wine tour at a Port wine lodge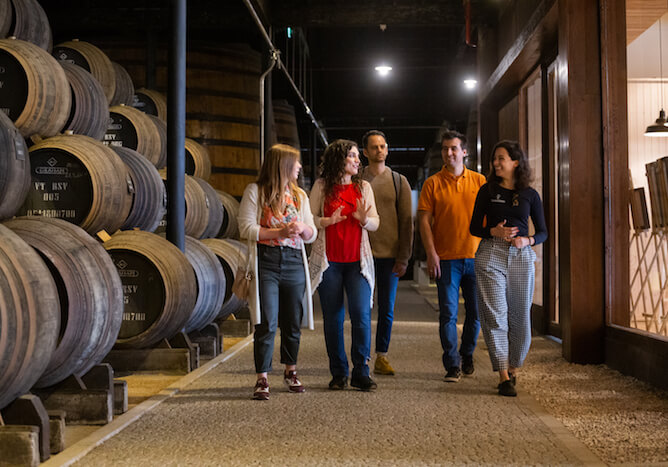 Honestly, is there anything better than booze to fight the cold blues?😁 It is cold outside, it is raining cats and dogs and you're sitting in a beautiful room, calmly sipping a glass of Port wine.
In all serious mode now: in my opinion, visiting one of the best Port wine lodges is truly one of the best things to do on a rainy day in Porto. Port wine is one of the most unique wines you will find in Portugal, and at the lodges you will understand how it is produced, as well as its history.
Then, you will have a proper wine tasting, while you wait for the rain to pass.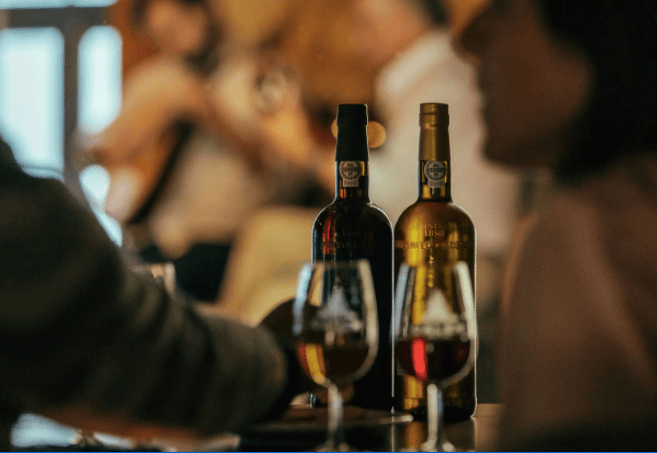 There are many Port wine lodges, but I particularly recommend these ones:
Graham's lodge has THE BEST wine tour, hands down. It is well structured and the guides are very well informed. At the end, you will enjoy a Port wine tasting at a beautiful room overlooking Luiz I bridge.

Calém's lodge is the most fun for families, as they have an interactive museum with experiences for the entire family. I don't particularly like the main tasting room though; I think the one where the Fado show takes place is much cosier and intimate. Therefore, in this particular lodge, I would recommend to book a wine tour & tasting with a Fado show included.

If you are looking for a small, Portuguese producer, then Poças is the right Port wine lodge for you 🙂
Prices for a guided tour & wine tasting at the Port wine lodges (2023)
The price really varies according to the Port wine lodge you go to AND, more importantly, the wine tasting you chose. But they usually start at 20€ / person, with entry level wines.
Enjoy a live Fado show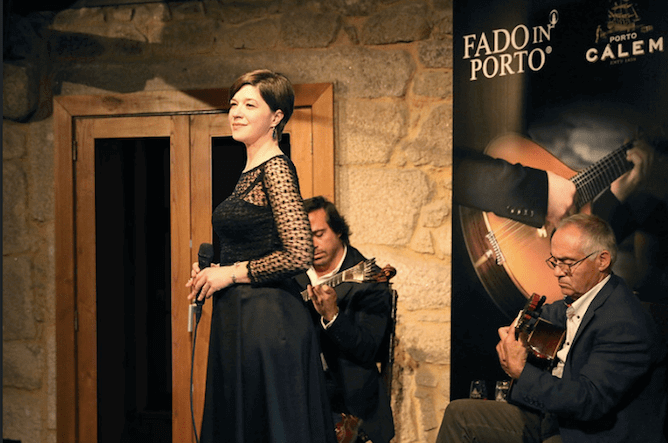 There are great venues in Porto for music enthusiasts, which are excellent places are excellent for those who like to stay indoors when it's raining outside. There are also several places to listen to live Fado for those who are curious about this unique Portuguese genre that you won't be able to listen to anywhere else in the world.
If you are interested in listening to Fado, I recommend you to buy the online ticket for the Fado show at Ideal Clube de Fado, which is a proper Fado house, where the experience is at its absolute purest. I am good friends with the owner, Ricardo, who was the person that truly showed me what real Fado is, and that made me fall in love with it.
Another nice way to do it is to get an online ticket for a Fado show taking place at a Port wine cellar, which is a very interesting experience as it combines a guided visit to a Port wine lodge + wine tasting + fado concert.
Prices of a live Fado show in Porto (2023)
The price really varies according to the Fado house you go to but it usually costs around 15/20€ per person.
If you want the cheapest fado concert, buy the online ticket for the Fado show at Casa da Guitarra – only 15€ / person.
If you want the purest expression of Fado, with the best musicians in town, then book your concert at Ideal Clube de Fado because it is phenomenal.
Visit the Stock Exchange Palace (Palácio da Bolsa)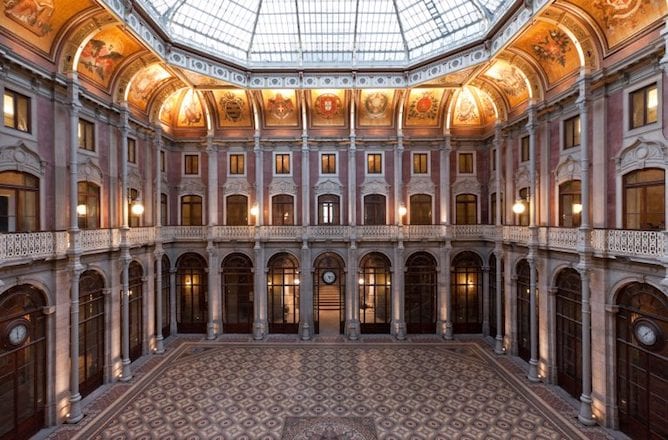 In the past I didn't like to go to Palácio da Bolsa because I thought it was too touristy, but the truth is that it is impossible to resist the charm of this building. From the impressive hall to the monumental staircase, the famous Arab Hall and the other noble rooms, all the features of the Palácio da Bolsa are unforgettable and well worth a visit. It is also one of the best places in Porto to take good photos for Instagram, regardless of the weather outside.
As it is a very popular monument, I recommend you to book your online ticket to Palácio da Bolsa (at no additional cost).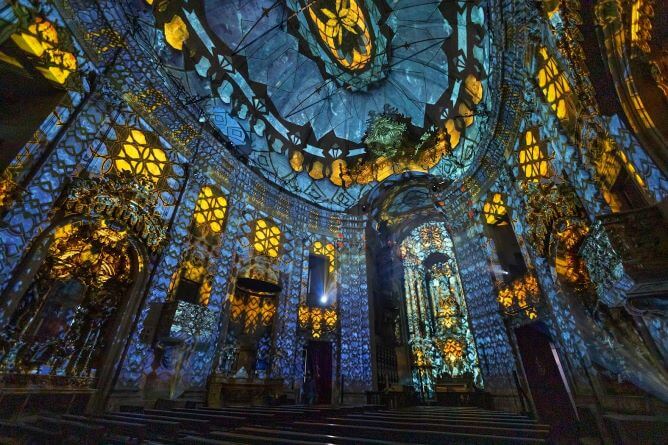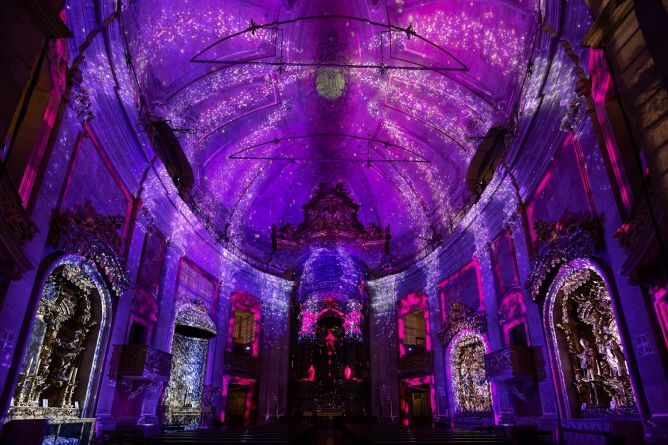 Everyone who reads my blog knows that I LOVE the Clérigos church, as it is, in fact, the most beautiful church in Porto (by the way, I don't recommend you to climb its tower on a rainy day in Porto!).
Therefore, I was very happy when I discovered that a multimedia show is taking place at the Clérigos Church! 🙂
It's a lights & sounds show that plays with some of Fernando Pessoa's most famous poems, and I must say that seeing the succession of images reflected in the Clérigos Church is one of the most beautiful things I've seen recently in Porto.
The show lasts half an hour (which is great because the kids don't even have time to get bored), and there are several times available: 6pm, 6:45pm, 7:30pm, 8:15pm, 9pm and 9:45pm.
If you go in the afternoon, I suggest you play a little with the kids first in Jardim da Cordoaria. Near the Clérigos Church there is also the Amorino ice cream shop 😉
Both the Clérigos Church and Tower are always full of tourists, so I highly recommend you to buy your online ticket for the multimedia show at Clérigos Church.
Here are the prices:
Young people and adults [11 years old and above]: 10€
Children [0 – 10]: free ticket
Smart tip: arrive early to sit in the last rows of the Clérigos Church, so you don't have to constantly look everywhere to try not to miss something great!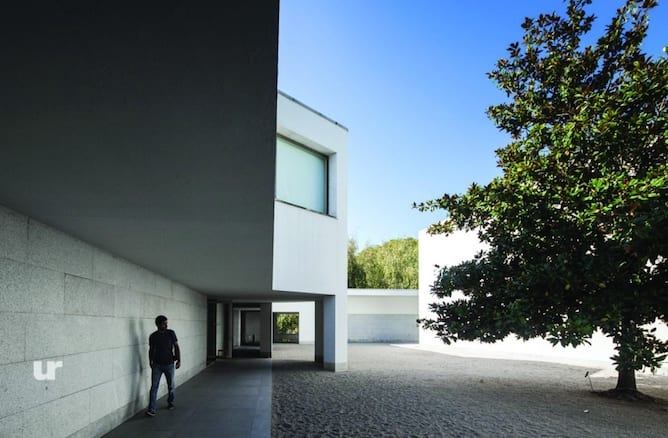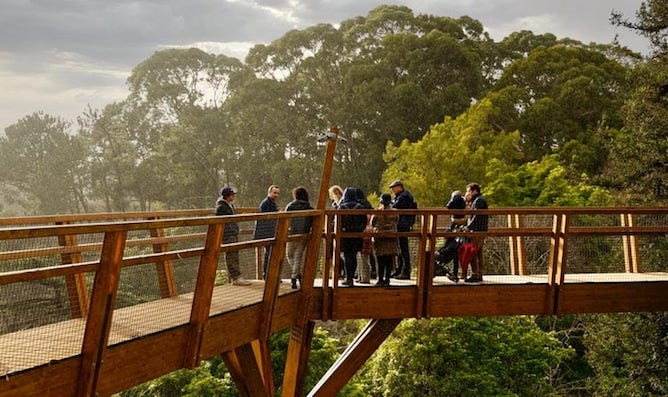 I think I have written this at least a dozen times on this blog, but here it goes again: Serralves Foundation is my FAVOURITE place in Porto, for real. It is such an incredible and diverse foundation, because in the same space you have:
one of the best contemporary art museums in Portugal,
an 18 hectares garden that has trees blossoming throughout the year,
an Art Deco building designed by José Marques de Oliveira, one of the best Portuguese architects of all times,
a fantastic library, where I used to study for my college exams,
a great restaurant with a view towards the park.
Most recently, Serralves Foundation also opened a fantastic Treetop Walk which, as the name suggests, is a high walkway that allows you to walk through the treetops. It is an incredible experience, specially during Autumn (and yes, even when it is raining in Porto!).
Tickets to Serralves Foundation (2023)
Some people complain that the ticket to Serralves is expensive (20€), but honestly I really think you get the value for the money, given all the spaces that I have just described 🙂
Explore the BEST wine museum in the city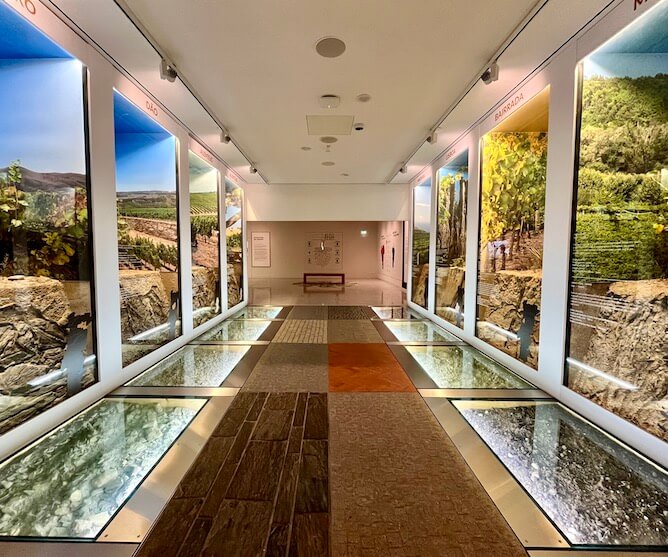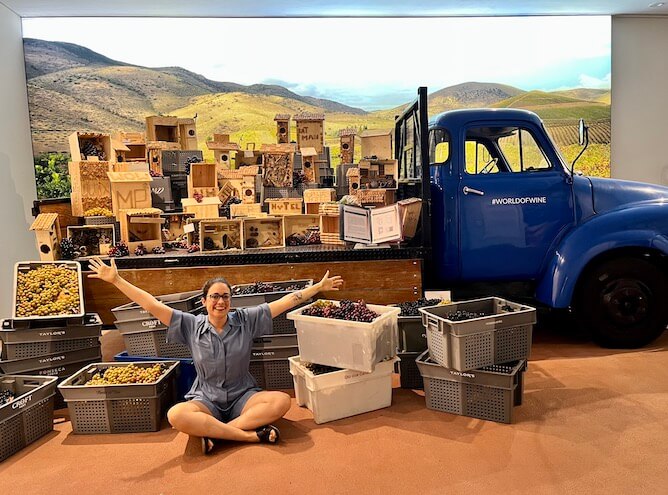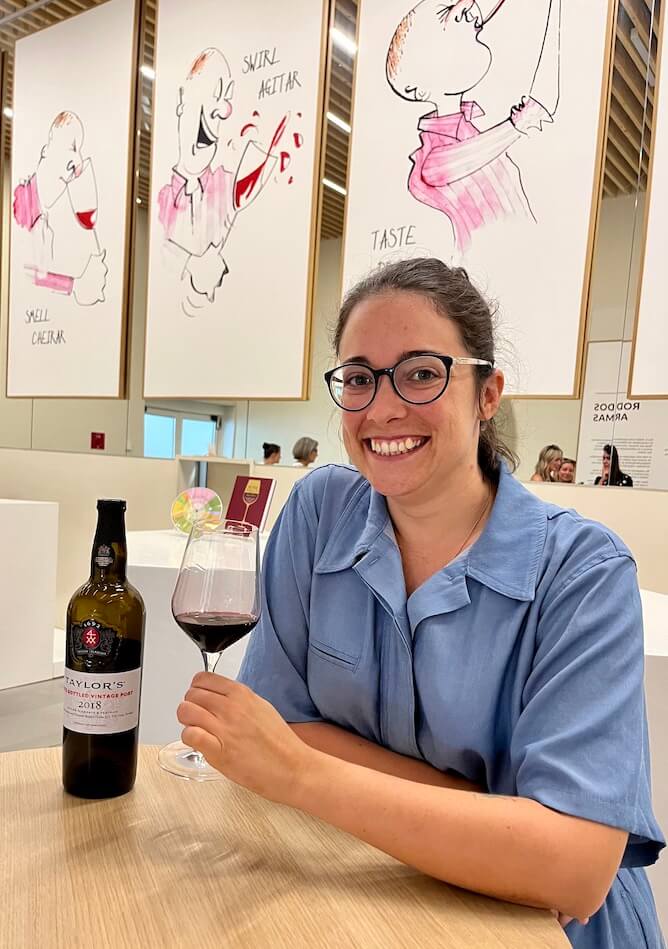 There is a new fantastic wine museum in town called World of Wine. I was a little bit sceptic at first – I mean, there are already so many Port wine lodges in town, most of them with guided visits, so what could possibly a new Wine Museum add up? But the truth is that World of Wine is a fantastic place for those of you that really want to learn not only about general wine production processes but also the different Portuguese wine regions.
Moreover, World of Wine is a very interactive museum, where you'll be able to take a few tests to discover what is your style of wine, what is the grape variety that best suits you, etc. It's SO COOL.
At the end, a wine tasting that includes a red, a white and a 2018 LBV Port wine.
Tickets to the World of Wine museum (2023)
The online ticket to the World of Wine costs 20€ and you should get yours now!
Cook your very first Pastel de Nata!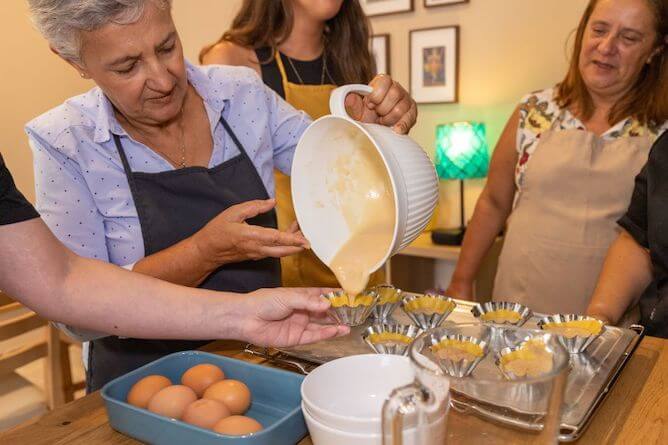 Another interesting option (and much cheaper) is to join a Pastel de Nata cooking class, where you will learn how to cook the famous pastel de nata sweet pastry with a local that will share with you her family recipe (I know this for a fact because I am friends with the person that organises this activity 🙂
The online ticket to Pastel de nata cooking class costs 27€ and you should get yours now!
Discover fantastic creatures at the SEA Life Porto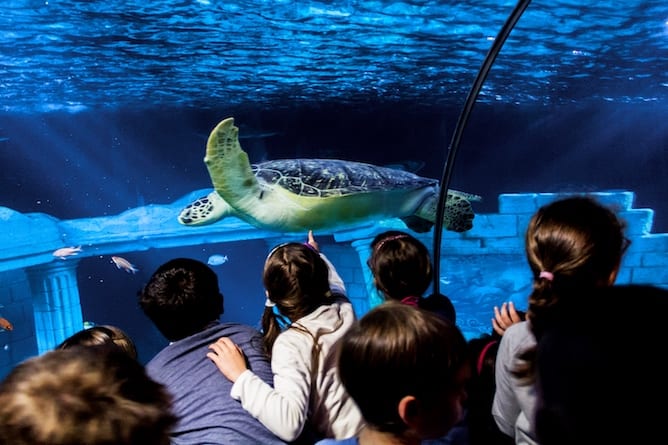 I don't like to see caged animals but I looove the SEA Life Porto. It is quite small but the way it is organized – with a different decoration for each room and a water tunnel where we are completely surrounded by animals – makes the experience very immersive and fun.
There you will see rays, sharks, fish of all shapes and sizes and a beautiful turtle. The kids love it and we love it even more, for seeing them so happy 🙂 And get ready to hear about fish for a few days, at least that's what happened when I took my little cousins ​​there: D
Outside there is a patio where you can eat ice cream and socialize with a friendly family of penguins. And, after the visit, go for a walk at Matosinhos beach.
Adults: 16,50€
Children < 11 yo: 11,50€
You can save some time by buying the online ticket for the SEA Life Porto.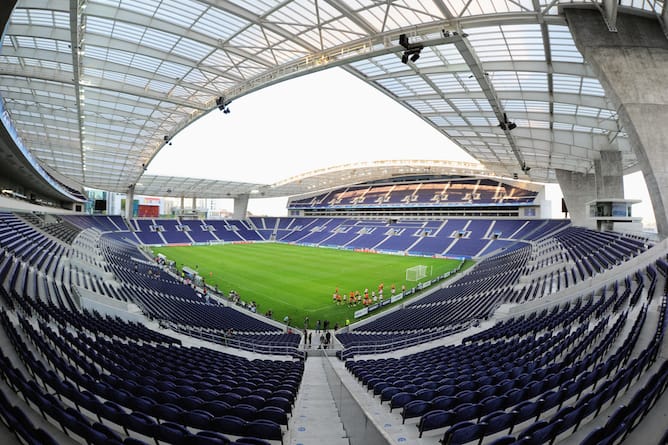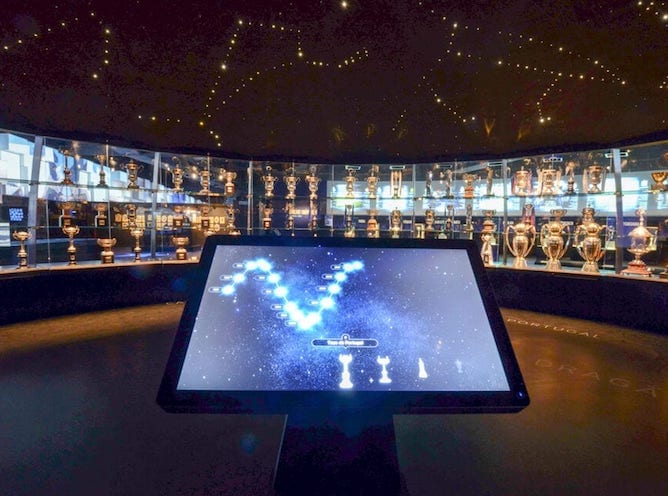 If you are a football fan, if you are traveling with kids or a combination of both, then you definitely need to check the FC Porto stadium and museum on a rainy day in Porto!
The museum itself is great, because it explains the history of FC Porto (our football club) in a very interactive way, with multimedia panels, games, etc. You also get to check ALL the trophies won by the club, which is a must for football lovers! And yes, you get to check the stadium itself, with a lovely guide 🙂
Adults: 15€
Seniors >65 yo: 12€
Children [5 – 12] yo: 10€
Children <5 yo: free entrance
This is a very popular activity, so I recommend you to secure your online ticket to FC Porto stadium and museum.
For families with kids: go on an adventure at the World of Discoveries!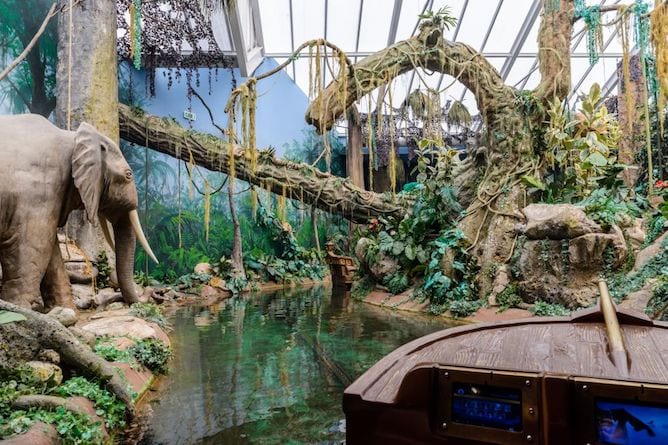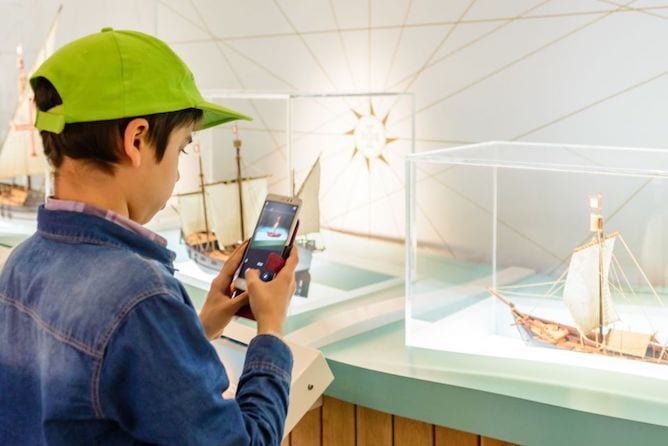 There are not many museums for families in Porto, but the ones that exist are pretty cool. Take the World of Discoveries, for instance: located at the heart of Ribeira neighborhood, this famous museum explains, in an interactive and fun way, the history of Portuguese discoveries, during the medieval ages.
My favourite part (and your kids', too) is the boat ride through a canal, where they have actual sized recreations of exotic animals and of our former colonies in Africa and Brazil. It's dope!
Adults: 15€
Seniors >65 yo: 12€
Children [4 – 12] yo: 9€
Children <3 yo: free entrance
I recommend you to book the online ticket for the World of Discoveries because, for some reason, it is more expensive to buy the tickets at the counter (true story).
Visit the House of Architecture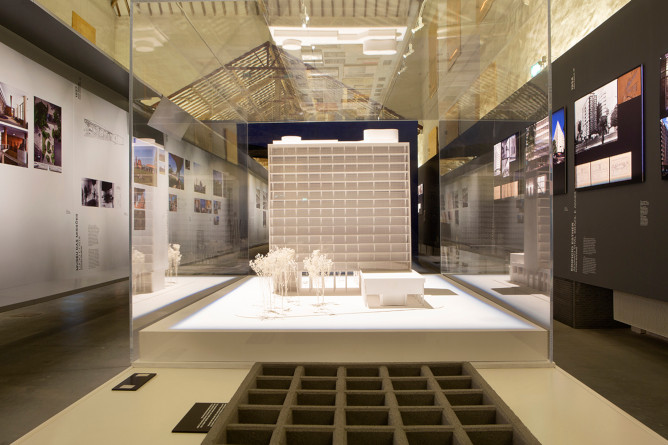 Matosinhos, the home of Álvaro Siza Vieira (one of the greatest architects of our lifetime), has an institution dedicated entirely to architecture.
In this building, known as the first industrial building in Matosinhos, you will not only be inspired by the works of famous Portuguese architects like Fernando Távora, Eduardo Souto Moura and Paulo Mendes Rocha, but also you will be amazed by the rehabilitation done on the building itself.
Inside, you will find exhibitions, archives, files, sketches and projects of the most prominent architects in Porto. There is also a shop and a bookstore.
Tickets to the House of Architecture (2023)
Adults: 8€
Seniors >65 yo: 4€
Students: 4€
Children <12 yo: free entrance
Visits on Sundays mornings, from 10h – 13h, are free of charge!
Eat the best bifanas in Porto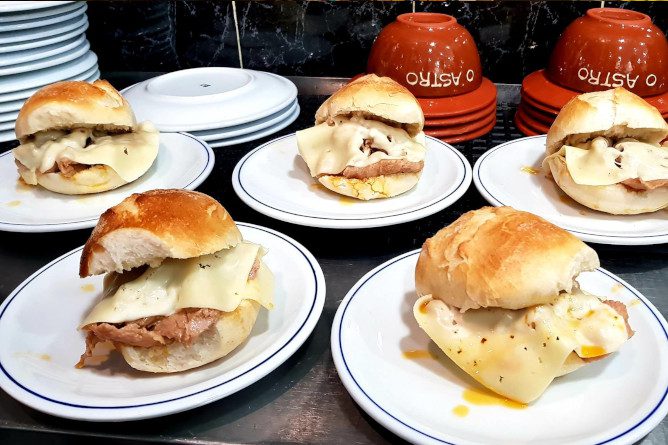 There is nothing like a warm quick bite on a rainy day in Porto. So instead of sitting in your hotel, how about you try one of the most famous sandwiches in Portugal?
We're talking about bifana, a pork sandwich served with spicy gravy and caramelized onion (optional). They are known to be cheap and they are usually served with a glass of beer.
O Astro, close to Campanhã train station (Rua da Estação, 16) is famous for having the best Porto-style bifanas in town.
If it's too far of a destination, try Conga (Rua do Bonjardim, 314) located near the famous avenue, Avenida dos Aliados.
Another option to eat bifanas with some yummy local cheese while drinking rosé or beer is Taxca (Rua da Picaria, 26), one of the best places to eat traditional food in Porto.
Stop for a hot drink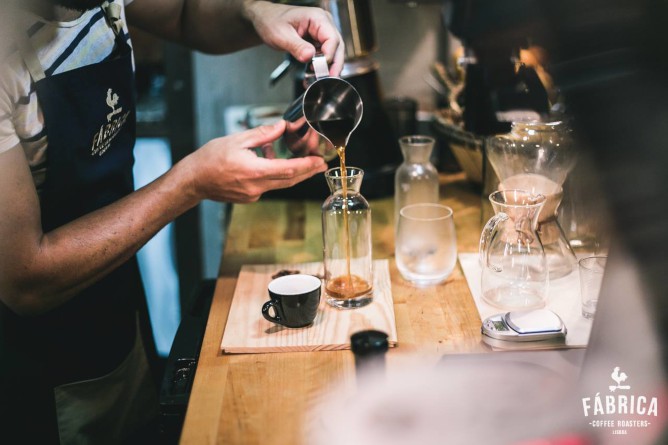 There is nothing cozier than stopping for a hot drink on a rainy day in Porto. Thankfully, the city is full of teahouses and coffee shops like Fábrica Coffee Roasters (Rua de José Falcão, 122) which has a stunning interior, serves good coffee and yummy paninis.
Also, rumor has it that Chocolataria das Flores (Rua Flores 121) serves the best hot chocolate in Porto, so what are you waiting for?
Go book shopping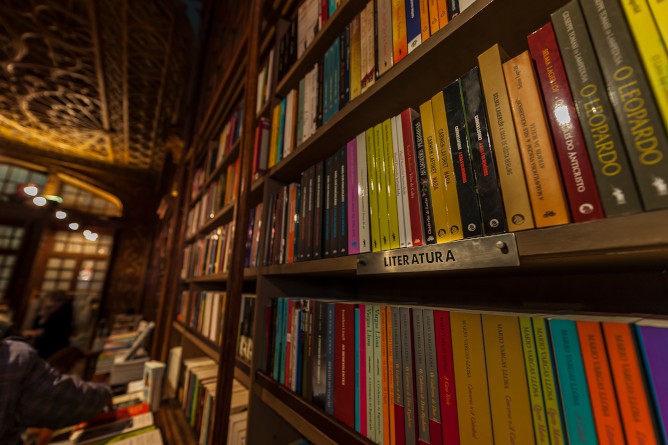 One of the best things you can do on a rainy day in Porto is to get a new book and read it while sitting in a local coffee shop absorbing the culture. So don't waste a rainy day sitting at your hotel, go book shopping!
There are several bookstores that sell books in English. There are also some second-hand books in Porto for English speakers.
For comic book fans, head to Mundo Fantasma (Shopping Center Brasília, 1st floor – Store 509 / 510) for hundreds of comic books. Another option is to browse books written in English on Bertrand website and reserve them at a location near you.
Don't forget Porto's famous book fair is held at the Crystal Palace gardens in September. There, you can get many books for a reasonable price.
This is what people said about our rainy tours in Porto: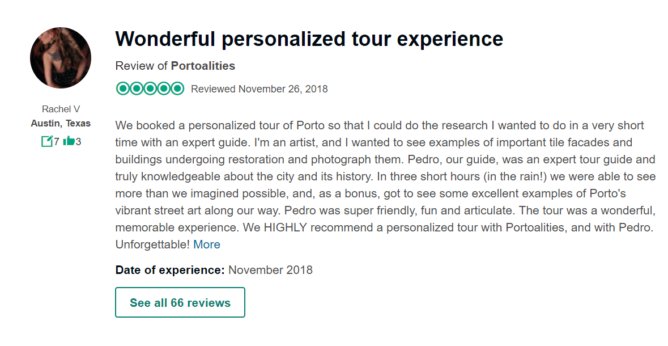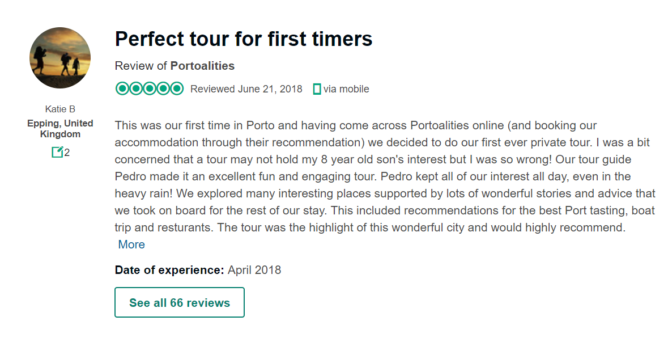 Save this article for later: