I get so many emails asking for recommendations on where to eat francesinha, the signature dish of Porto, that I decided to write this Top 11 Restaurants for Francesinhas in Porto. I hope you enjoy francesinhas as much as we do!
Important information about Francesinhas in Porto
People from Porto are extremely passionate about francesinhas. We have endless discussions about where to eat the best francesinha in town, so when you meet one of us, don't get surprised if we give you completely different opinions on the matter.
If you want to try francesinha but are afraid of committing to 1500 calories at once (I feel you, my friend :D), I suggest you to join a Food tour in Porto, where you'll be able to try a mini francesinha and learn its history. They are quite fun, and you'll be able to taste other amazing Portuguese food & wines as well.
How to eat Francesinhas in Porto like a local
Francesinha is a heavy dish so I highly recommend you to have it during lunchtime and then go for a massive walk. Personally, I prefer to have it for dinner (because then I sleep like a baby!) but most foreigners prefer to have it for lunch.
One thing that really helps to digest francesinha is to enjoy it with a carbonated drink – like beer or coke. Don't even think about serving wine with francesinha, you'll probably die afterwards!
The best restaurants for francesinha in Porto are:
Rua da Alegria, 946 | Porto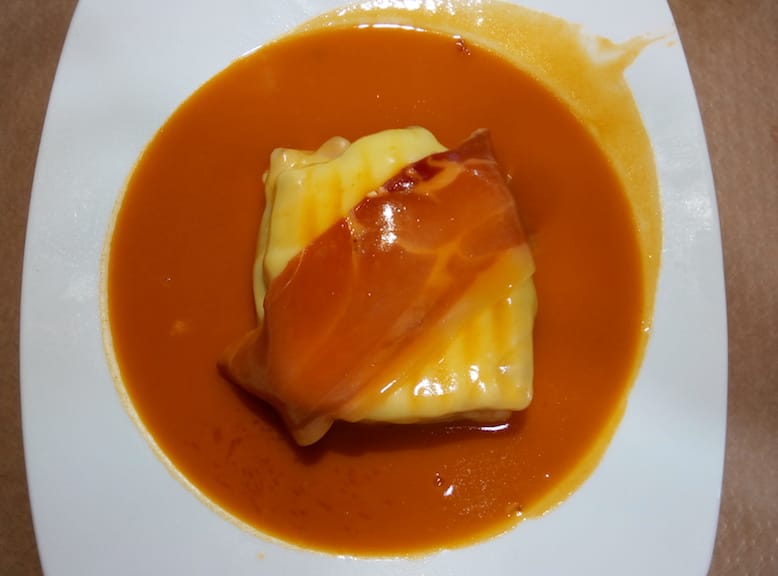 Francesinha Café is one of the few restaurants that I am faithful to. The quality of the ingredients and the complete trust I have on chef Fernando are the reasons why I keep coming there, and it definitely deserves to be at the top of the best francesinhas in Porto.
Whenever I go I get a surprise, because even though it's always the same outstanding francesinha, each time it is "decorated" at the top with something different: a slice of ham, a grilled sausage, or even a mouthwatering shrimp.
It has the advantage of being just 10 minutes away from the subway station Marquês, close to the highest point of Porto. I must warn you that this is a cafe specialised in francesinhas, so only go there if you are committed to having one 🙂
How to get there: the subway station Marquês is a 10 minutes walking distance.
Rua de Costa Cabral, 2331 | Porto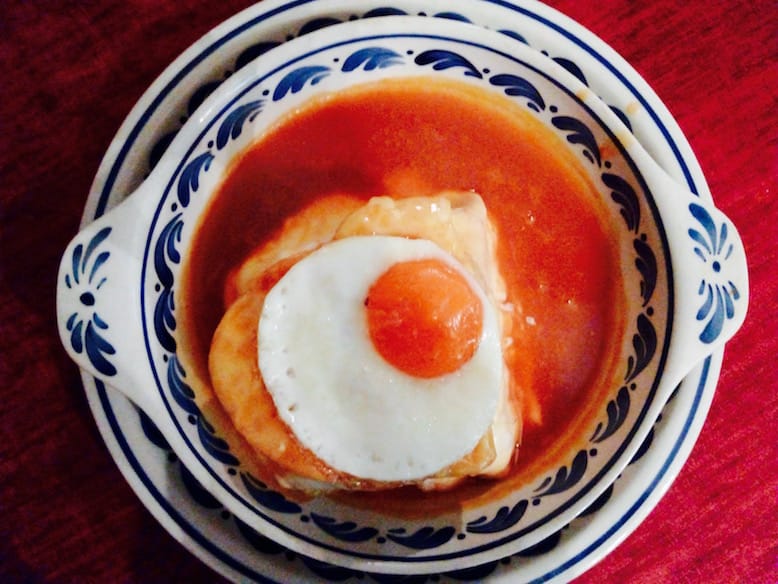 Yuko, an intimate restaurant with traditional Portuguese décor, is also an excellent choice because, in addition to the quality of its oven francesinha, it has the best sangria in Porto (bold statement, I know – but it's so true!).
It only opens at night, so it is mandatory to make a reservation at this little corner of heaven. Such as Francesinha Café, Yuko's menu is focused almost exclusively on francesinhas (it also serves half francesinha, ideal for the ladies), so I advise you to go there only if you are in the francesinha mindset.
How to get there: take an Uber / taxi.
Several locations | Porto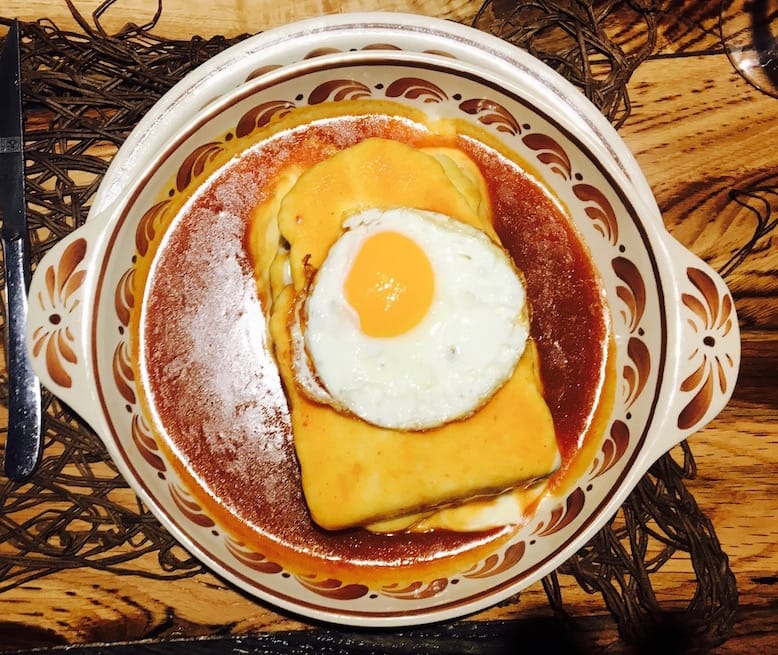 Brasão, which belongs to the same owners of Yuko, is without a doubt one of the most charming beer houses of Porto. It has a fairly diversified menu, with outstanding starters and vegetarian options, in which its oven francesinha has a prominent place. So it is a great place to take a group of friends as there will be options for everyone.
It currently has two locations: one close to Avenida dos Aliados, the main avenue of Porto, and another one next to Coliseu, the most famous concert hall in Porto.
How to get there: there are subway stations close to both restaurants.
Rua de Passos Manuel, 190 | Porto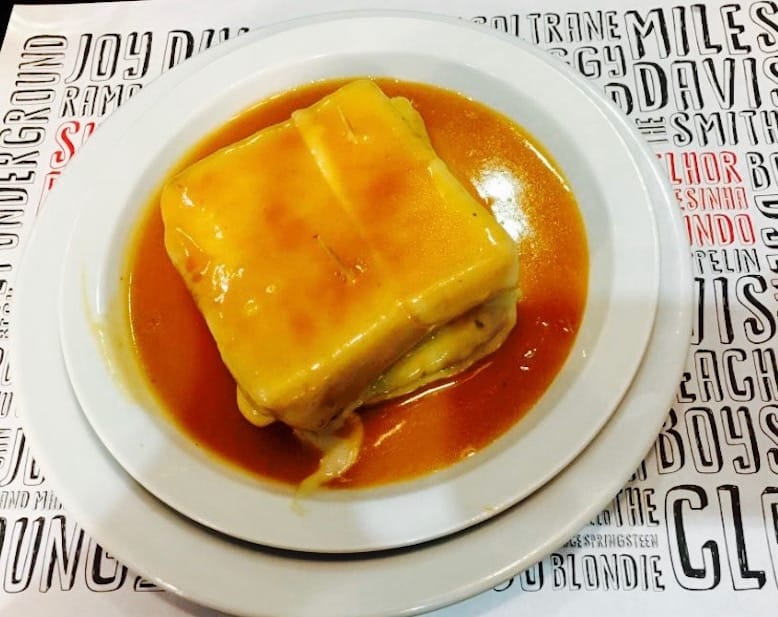 Lado B belongs to Artur Ribeiro, the former owner of the (now closed, much to the dismay of the locals of Porto) vinyl's store Jo – Jo's. So it is not surprising that when you go to Lado B you find a modern décor with numerous musical notes in red and grey tones, and once in a while you'll see a famous musician there.
The service is fast and the francesinha does not disappoint. In the end, ask for "the best chocolate cake in the world", or one of their numerous home baked desserts 😉
How to get there: the subway station 24 Agosto is a 5 minutes walking distance.
Rua de Passos Manuel, 198 | Porto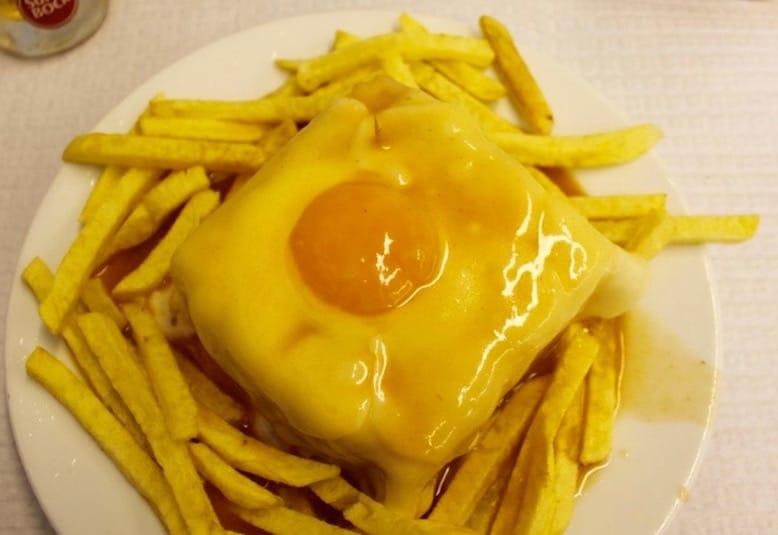 Santiago, one door above Lado B, is probably the most popular choice for francesinhas among tourists. But don't worry, we the locals definitely agree that Santiago has one of the best francesinhas in Porto!
This is quite natural as the location is superb, the service is fast and its francesinhas are consistently good.
I highly recommend going early because it gets crowded quickly.
How to get there: the subway station 24 Agosto is a 5 minutes walking distance.
Rua de Santo Ildefonso, 219 | Porto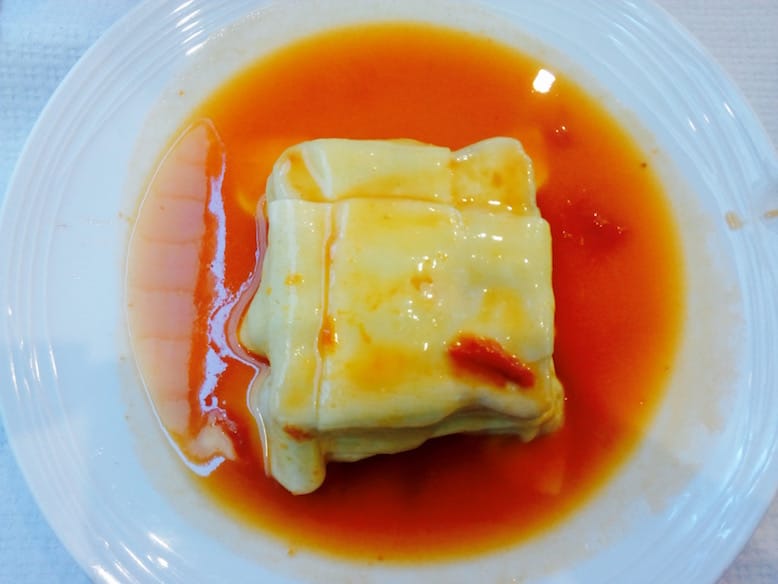 Venham Mais 5 opened a few years ago to win its position as the best restaurant for "pregos", a typical sandwich from Portugal. However its francesinha doesn't fall behind its "pregos" – a good steak, a sauce with the right balance of spice and salt, and some wonderful potato chips.
Since I have given it a try, it entered immediately to my list of best francesinhas in Porto, for sure!
If you have a sweet tooth, ask for "the house specialty" for dessert: a decadent chocolate mountain, with layers of chocolate meringue and homemade mousse. Fabulous!
How to get there: the subway station 24 Agosto is a 5 minutes walking distance.
Rua do Campo Alegre, 191 | Porto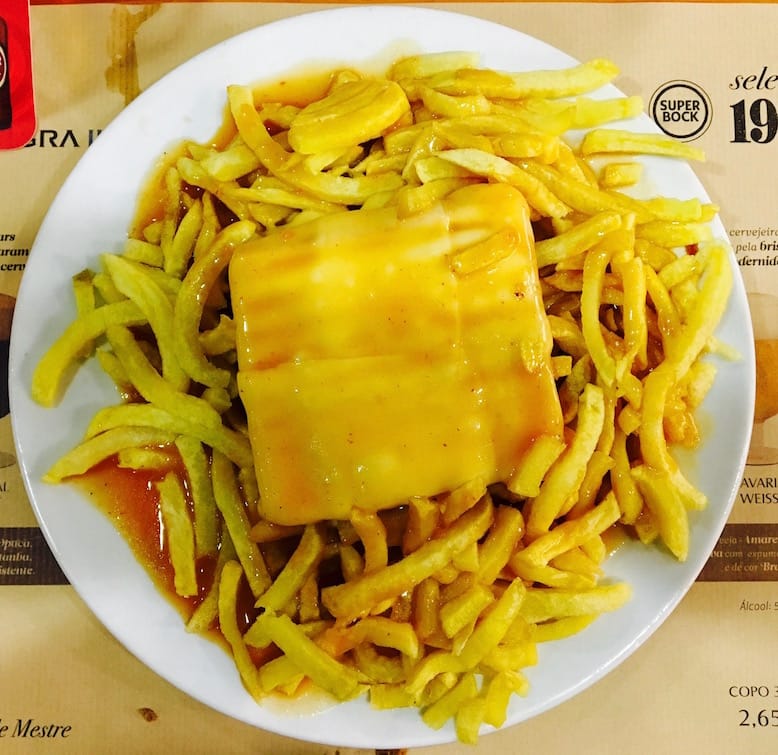 Capa Negra II, a few doors above Galiza, is probably the most popular brewery of Porto, with people entering and leaving all the time and a lot of people eating by the counter. It owes much of its fame to its fabulous "rissóis" and to its soft francesinha. It is one of those places that you should go just for the experience!
How to get there: the subway station Casa da Música is a 20 minutes walking distance. You can also take any bus that stops in Galiza.
Largo da Maternidade de Júlio Dinis, 75 | Porto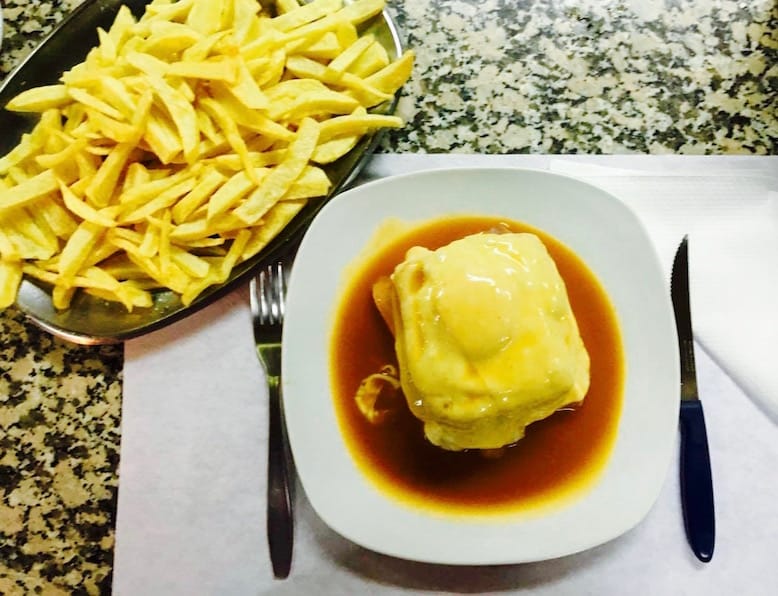 The critics (as in, me and the usual suspects) are unanimous: one of the major advantages of having a francesinha at Cantarinha, a discreet and familiar cafe, is the amount of home fried potatoes chips that keeps coming to the table (even if you don't ask for them!).
It is a question of honour for Cantarinha's owner: that customers get out of there delighted, after tasting a beautiful francesinha with an astronomical amount of potato chips.
It is one of those experiences you won't forget, I tell you, so Cantarinha is definitely a good plus to this list of best restaurants for francesinhas! 🙂
How to get there: the subway station Lapa is a 20 minutes walking distance.
Avenida de Rodrigues de Freitas, 1 | Porto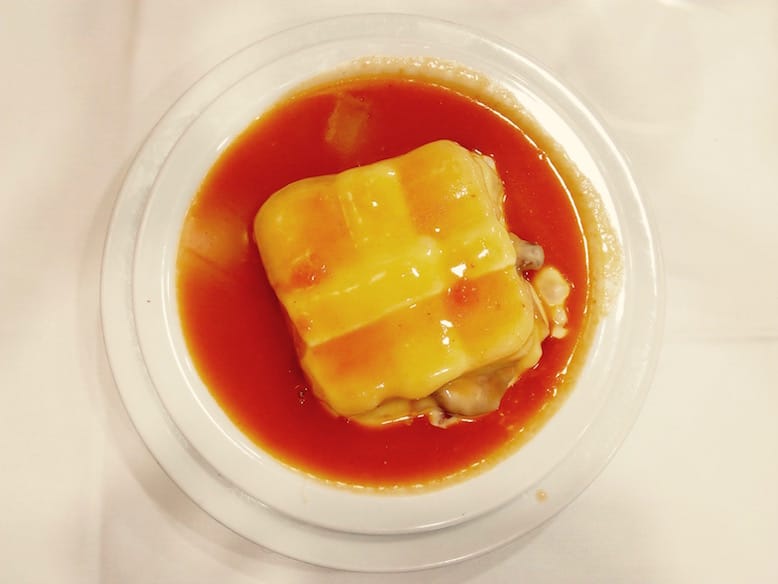 At Madureira's, francesinha almost goes unnoticed among the seafood delicacies and fresh fish, but it is definitely worth it. For those who prefer a smooth sauce without a distinctly spicy dash, any of Madureira's restaurants, spread all over the city, are an excellent choice.
How to get there: the subway stations Heroísmo and 24 Agosto are a 10 minutes walking distance.
Cufra
Avenida da Boavista, 2504 | Porto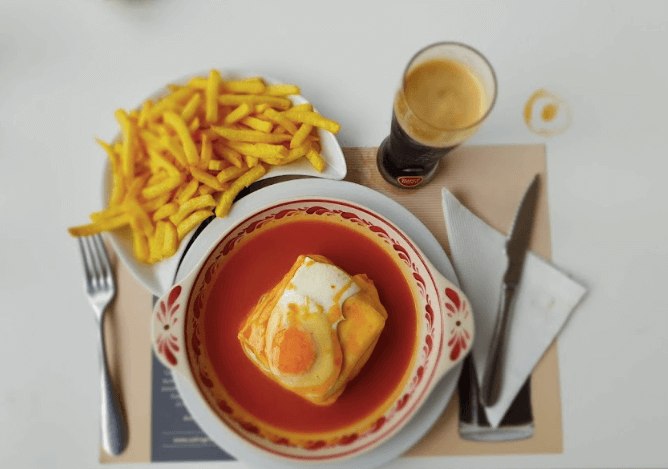 Cufra is one of the oldest restaurants in Porto, and one of its most popular dishes is francesinha. It is even said that there are only three people who know the secret of the sauce of francesinha da Cufra, which will have been perfected from the recipe of Regaleira, the first restaurant in Porto to serve francesinha.
It serves, in fact, one of the best francesinhas in Porto, with quality sausages, its secret sauce and properly roasted bread.
But not only that: there you can find fantastic Portuguese dishes, as well as seasonal game meat, which is a novelty in a seacoast city like Porto.
This restaurant in Porto has a huge room, with a TV screen, and seats at the counter. It also has the advantage of having a covered park. The service is fast and efficient, and even if not all the waiters speak English, they will help you to the best of their capacities.
How to get there: take the bus 201 (direction: Viso) and get out at Pinheiro Manso.
Golfinho
Rus de Sá de Noronha, 137 | Porto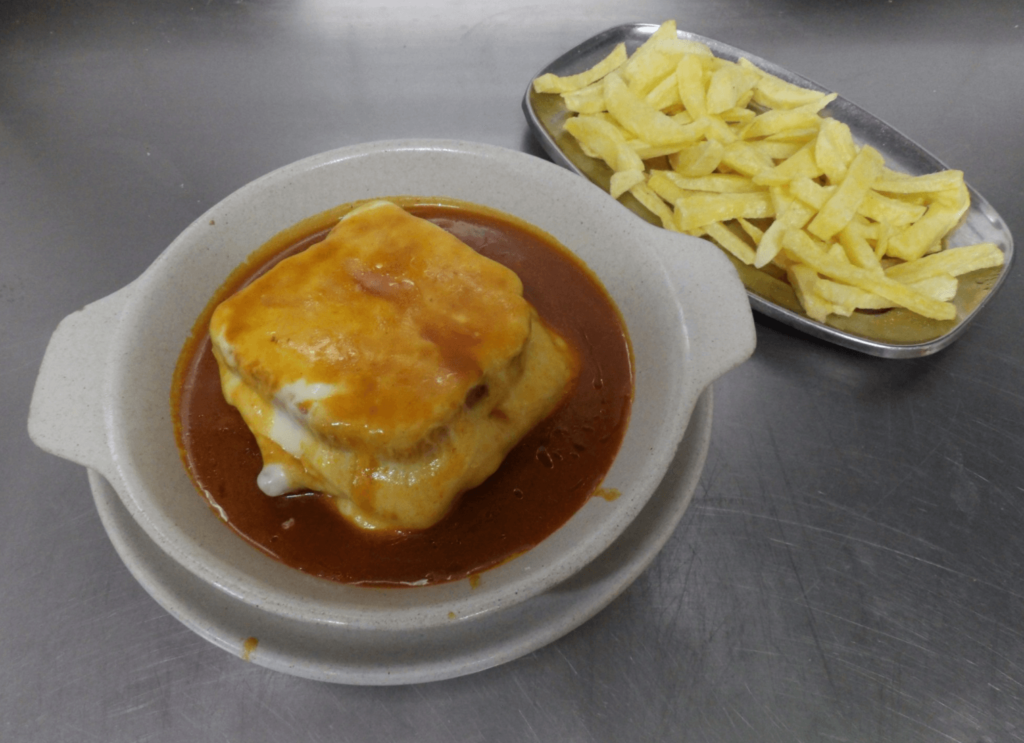 This café is just a hole in the wall but its francesinha is so, so good. Golfinho is a tiny (but sparkling clean) restaurant where you can have a really good francesinha, with fantastic fries and a cold Super Bock (the beer of Porto).
Extremely popular among locals and with a friendly staff, going to Golfinho for a francesinha is one of the most authentic experiences you can have in Porto.
This restaurant in Porto DOES NOT ACCEPT CARDS, so you need to take cash.
How to get there: Aliados metro station is 5 minutes away on foot
Santa Francesinha
Praça dos Poveiros, 72 | Porto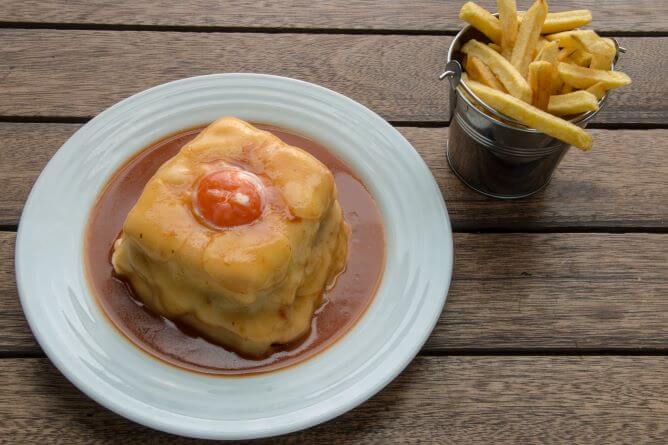 This place opened a few years ago but it quickly became one of the best restaurants for francesinhas in Porto. They have plenty fast food options on the menu, but the super star is definitely the francesinha as they have not one, not two… but EIGHT different types of them!
In fact, Santa Francesinha is particularly famous for its vegan francesinha in Porto, which combines a seitan steak, soy chorizo and layers of grilled tomatoes, onions, courgetti and portobello mushrooms. Naturally, the sauce is 100% vegan and delicious.
This restaurant in Porto is very popular among locals, so make sure to arrive early and be ready to wait a bit outside.
How to get there: Bolhão metro station is 5 minutes away on foot
Tappas Caffé
Rua Dr. António Granjo, 549 | Vila Nova de Gaia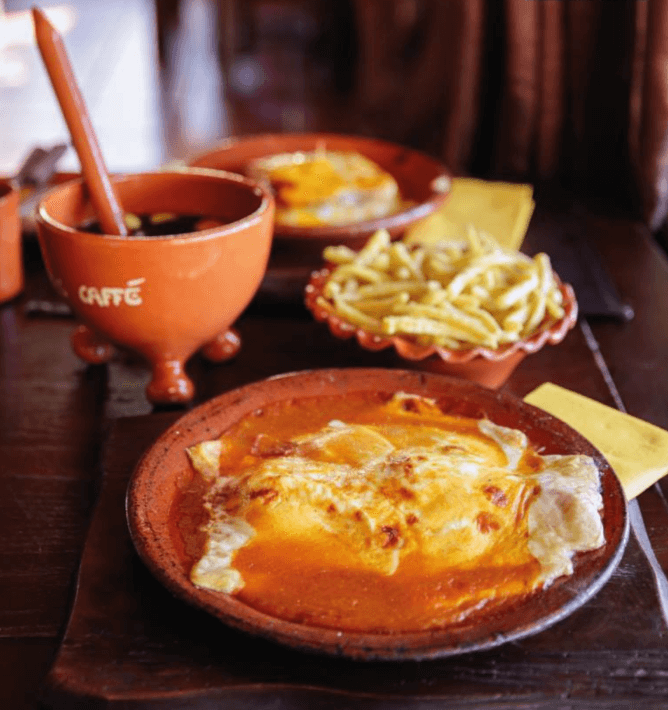 Despite being located in Gaia, I included Tappas Café in this list of best francesinhas in Porto because it is a very popular place among the locals, for several reasons:
is has one of the few francesinhas made in a wood oven, so the cheese is truly grilled, and the sauce is steaming.
the staff will give you a small bottle of xiripiti (a strong liquor), entirely for free!
the hand cut potatoes (this makes all the difference!) are absolutely delicious.
In addition to this, you can choose to eat your francesinha with the regular sauce or with the "men sauce", a much spicier sauce. Last but not least, if you feel like the standard francesinha is going to be too heavy for you, you can order a chicken francesinha, which is lighter.
How to get there: take the bus 906 or 901 and get out at the stop Dr. António Granjo.
Save this article for later: