I organize private tours in Porto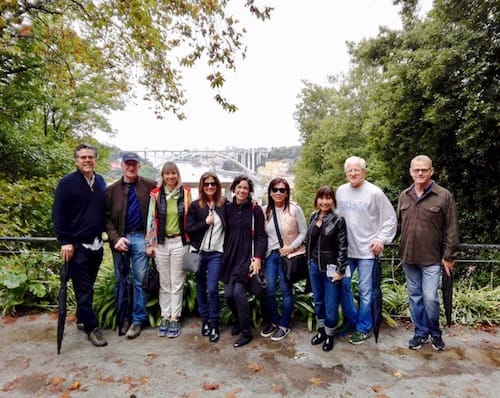 Check this page for more information or send an email to sara@portoalities.com.
Now that you have booked your flight to Porto and arranged your stay at one of the best luxury hotels in the city, it is time to pick an exquisite dinner. 
So prepare your palate for amazing dishes at the best haute cuisine restaurants in Porto.
These are the best 9 haute cuisine restaurants in Porto!
Pedro Lemos Restaurante
Rua do Padre Luís Cabral, 974
In the neighborhood of Foz, you'll find Pedro Lemos Restaurante, one of the most charming haute cuisine restaurants in Porto.
Fun fact: the building where this sophisticated restaurant is located, used to be an English-style pub for the elite during the 60s. And now, it's one of the most recognized restaurants in town since its opening in 2009, as it was one of the first restaurants in Porto to earn a Michelin star.
The two-story restaurant has a classic ambient. The dark colors and the comfortable chairs give it cozy vibes. There is also a lovely terrace that you can enjoy when the weather is good.
In this restaurant, you will go on a journey with an 8-course chef's menu (€110) or you can pick the 10-course meal (€130), both with wine pairing. Not to mention, chef Pedro Lemos restaurant is well-known for its desserts so make sure you save up space 🙂
Don't keep your expectations too high and just enjoy the ride. Reservation can be made online or via phone +351 22 011 5986.
Bottom line is, if you want to have a 5-star meal from start to finish, Pedro Lemos Restaurante is the place to go. It's also a good place for families as the staff is very friendly and accepting of kids, something that is rare in fine dining restaurants.
How to get there: take an Uber/Taxi. 
Euskalduna Studio
Rua de Santo Ildefonso, 404
| Porto
One of the best haute cuisine restaurants in Porto is right around the corner from the São Lázaro garden.
A large table stands in the middle of Euskalduna Studio with the goal of gathering people around it to share the joy of food. But don't get scared away, there are separate tables if you're not into this sharing concept.
Euskalduna allows you to enjoy a fine dining experience by using fresh ingredients from local producers to create a 10-item menu (€95). The menu will include your choice of wine pairing, beer pairing or tea.
Euskalduna Studio is only open for dinner, and reservations can be made online or via phone +351 935 335 301.
If you're looking to have a fun and rewarding gastronomy experience, don't hesitate to book a table at Euskalduna Studio.
How to get there: 24 de Agosto metro station / bus terminal is a 5min walking distance. 
O Paparico
Rua de Costa Cabral, 2343 | Porto
Our list of the best haute cuisine restaurants in Porto would be incomplete without including the irresistible O Paparico restaurant.
The restaurant interior is museum-worthy! It uses wood, rock and even framed images so you go on a trip through Portuguese culture.
There are many options to pick like à la carte ou à la carte with wine pairing. There is also a shared menu for 2 people with two entries, two main dishes and two desserts to choose from (€190 or €240 with wine pairing). You can also select a menu that celebrates Portuguese products and gastronomy (€120 or €190 with wine pairing).
The only downside is, the restaurant is only open for dinner and considering its popularity among food enthusiasts, you may want to book in advance. Reservations can be done online or via phone on +351 22 540 0548.
If you're looking for Portuguese Gastronomy 101, O Paparico is the restaurant to go. It truly is the perfect place to celebrate Portuguese gastronomy, wine and culture.
How to get there: take an Uber/Taxi. 
Casa de Chá da Boa Nova
Rua da Boa Nova | Leça da Palmeira
Facing the Atlantic Ocean, you can dine in a national monument and one of the best haute cuisine restaurants in Porto for lunch and for dinner.
The building is designed by the award-winning architect Álvaro Siza Vieira, so being in that stunning space above the rocks is a privilege and a moment to remember.
There are different menu options with dishes served in a creative way. There are the 7-course menus: one is strictly seafood and the other is a mix of seafood and meat (€125 or €215 with wine pairing). You also have a 4-course menu where you can choose an appetizer, a fish dish, a meat dish and a dessert (€90 or €135 with wine pairing).
Without a doubt, Casa de Chá da Boa Nova is one of the most creative restaurants in Porto. It's really a good choice for anyone who adores food, architecture and wants to enjoy an unforgettable view of the ocean.
This is another on-demand restaurant so don't be alarmed if the service seems slow.
You can make your reservation by phone +351 229 940 066.
How to get there: take an Uber/Taxi.
The Yeatman
Rua do Choupelo | Vila Nova de Gaia
I already had dinner three times at The Yeatman hotel and it was always a marvelous experience.
The space itself is marvelous: a 19th century dining room with a magnificent view overlooking the Douro river makes it the perfect setting for a romantic occasion.
The food, carefully thought by the chef Ricardo Costa, is a remarkably faithful representation of traditional Portuguese flavors presented in a modern way.
The tasting Menu at the Yeatman is a seasonal menu with 8-10 courses selected by the chief (€170 or €245 with wine pairing).
If you take my advice, at the end ask them to serve you dessert at the Dick's bar, which is literally next room, but much more private. To make your reservation, call +351 220 133 100.
How to get there: General Torres subway station is a 13min walking distance.
Antiqvvm
Rua de Entre-Quintas, 220 | Porto
How about having a romantic dinner at an old farmhouse and in one of the well-recognized haute cuisine restaurants in Porto?
You can tell you're eating in a fancy place thanks to the interior design of Antiqvvm. The restaurant offers many comfortable seating options: there are places next to the garden, chairs on a terrace overlooking the Douro river and more seats on the interior for a more intimate experience.
The restaurant has 3 tasting menus: organic vegetarian (€80 or €130 with wine pairing), an 8-course menu (€120 or €180 with wine pairings) and a 10-course menu (€150 or €230 with wine pairing). You can also order à la carte.
Antiqvvm is the perfect place to enjoy Mediterranean dishes, good wine and an amazing view of the Arrábida bridge and the river.
There is no guarantee that they'll accept people who show up at the door, so reservation in advance is highly recommended via phone +351 22 600 0445.
How to get there: take the tram Line 18 until Igreja de Massarelos. The restaurant is a 5min walking distance.
Fava Tonka
Rua Santa Catarina, 86 | Leça da Palmeira 
If you're looking for the best vegetarian haute cuisine restaurants in Porto, Fava Tonka is our number one recommendation.
This is one of our favorite places to eat, not only because of the yummy food but also because of the welcoming and cozy vibe of Fava Tonka. You almost feel like you're somewhere tropical.
They have allergen list on their menu which is a plus. There are gluten-free, lactose-free and vegan options.
Sometimes, the simplest things are the most complicated to make and this is the case with Fava Tonka. When you work with ingredients like artichokes, beets, cauliflower, you really have to be creative.
On the menu, you have healthy but delicious main dishes like a plate of gnocchi, broccoli and asparagus or chickpeas with onion pickles and miso (€9 – €11 for the main dish). And you can end your meal with a dessert (€6 – €7) like their popular honey brûlée. To drink, you have tea, kombucha, juice, craft beer, wine, cocktails, gin and more (€1.3 – €30).
Fava Tonka is perfect for anyone looking to enjoy a variety of flavors while still being healthy. It's also a nice place if you're with someone else and you want to share food. You can call them to book a table via +351 915 343 494.
How to get there: Mercado subway station is 17min walking distance.
Vinum
Rua do Agro, 141 | Vila Nova de Gaia 
At one of the best Port wine cellars in Porto, you'll find Vinum, a fine dining restaurant with a breathtaking view.
You can't help but stare at the amazing ceilings with historic pine wood beams supported by iron pillars from 1890. There are also glass doors overlooking the amazing garden. This is the place where you are able to relax and take your time enjoying great food.
They have a few menu options: the traditional menu with 5 courses including roast beef, grilled hake and duck breast (€50 or €80 with wine). There is the Vinum menu which requires a minimum of 2 people (€55 or €150 with wine pairing) and it comes with 5 courses including cod fish, steak and Stilton cheese. Finally, the Graham's menu (€100 with wine pairing) that includes homemade bread, ceviche verde, Stilton salad, oxtail, a selection of cheeses, dessert, water and coffee.
If you want to have an amazing wine and dine experience at one of the best haute cuisine restaurants in Porto, book Vinum online or call +351 22 093 0417.
How to get there: take an Uber/Taxi.
Almeja
Rua de Fernandes Tomás, 819
| Porto
We found one of the best haute cuisine restaurants in Porto that celebrates casual fine dining.
The rocks on the wall, the beautiful tiles on the floor and the comfortable cushioned wooden chairs make you feel like you're in your favorite aunt's house – you know, the one that makes delicious comfort food that makes you never want to leave ☺
They have a lunch menu (€15) with an entry, main dish and dessert. But if you want to enjoy the full experience, go for the tasting menu (€50) with 5 starters, 4 seafood dishes, 5 meat dishes and 4 desserts.

What's so special about this place is that they write the menu according to what the local farms have in stock, so you know you're always getting the freshest products possible.
This is a small restaurant and not suitable for large groups. Reservations can be made through TripAdvisor or via phone +351 22 203 8120.
How to get there: Bolhão subway station is a 3min walking distance.
Extra: Go on a private tour in Porto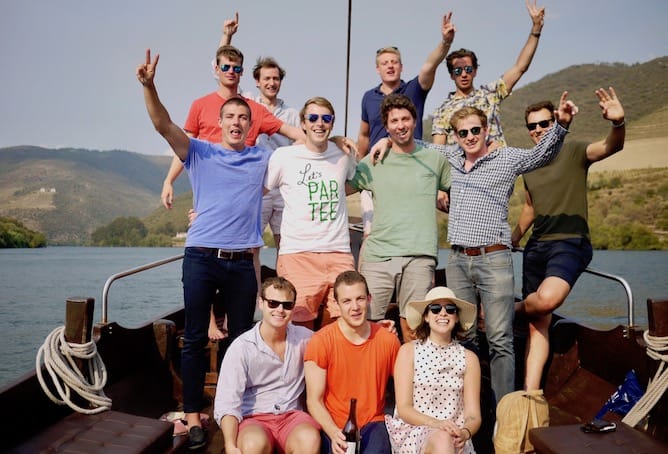 The best way to get to know Porto is to go on a private tour with me!
Check this page to learn more about my tours in Porto, or simply send an email to sara@portoalities.com. I will shortly get back to you with a tailor made tour designed specifically for you.
It will be a pleasure to welcome you in Porto!
---
Save this article for later: