I already wrote about the best restaurants for francesinha in Porto. But if you are a proper foodie and interested in the secret of francesinha in Porto, read this article carefully 🙂
Another thing you might consider is to join a Food tour in Porto, where you'll be able not only to taste Francesinha but to learn about its history.
Francesinha in Porto: a brief history
Before unveiling the mysteries of Francesinha, I'll briefly explain what it is for those of you who might not yet tried this delicacy from Porto.
It is basically a sandwich – among the top 10 sandwiches in the world! – made with two toasted bread buns, steak, fresh sausage, different types of ham and linguiça. Everything covered in melted Flemish or Gouda cheese, spicy sauce and, to jazz it up a little bit, sometimes it is served with prawns on top.
It is rich, complex in flavors and textures and quite heavy (2000cal at least…), so it deserves an empty stomach, a jar of cold beer and good company to go along with it 🙂
It was created during the 60's by Daniel Silva, an emigrant working in France that adapted the traditional French recipe Croque Monsieur according to the Northern gastronomy of Portugal, hence all the smoked meats and the spicy sauce.
What little people know is that decades ago Francesinha was considered a middle-afternoon-snack made without steak and almost no sauce (as it was too spicy back then), and throughout time it has grown in importance to become Porto's most famous dish.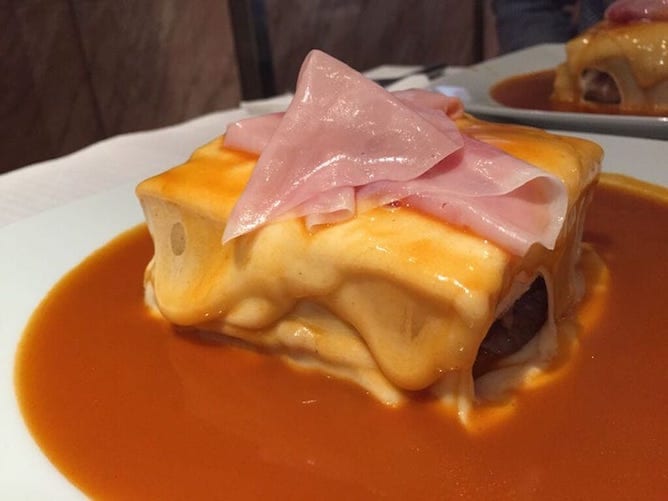 The secret of Francesinha in Porto
Being so proud of their Francesinha, people from Porto are extremely picky to where they go to enjoy one. So to answer your question I went to one of my favorite places called Francesinha Café, which has won several prizes in Francesinha's contests.
After eating my Francesinha – one cannot write with an empty stomach! -, I talked to Fernando, the amazing cook, and to Mrs. Lurdes, his wife, who is the nicest waiter I've met so far.
"The secret to a good Francesinha is good quality ingredients. We do the sauce from scratch, using unprocessed ingredients (some restaurants buy the sauce in the supermarket, use canned tomatoes or artificial broths!). In addition, we use tenderloin steak, and we make sure that every other meat is grilled to perfection, so that unnecessary fat doesn't end up on the plate."
At this point, Mr. Fernando takes out the loin from the fridge so that I could check for myself the quality of the meat. And, oh boy, let me tell you that it seemed that the meat was so tender it could melt on his hands! "I think that people might or not like different sauces, depending on their preferences and memories associated with flavours. What one cannot discuss is the overall quality of the dish itself – that has an absolute measure, and mine is the best!".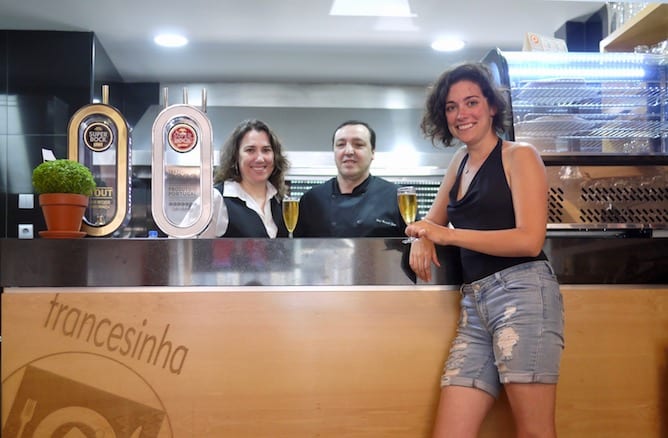 What about Francesinha's variations? There are a lot of restaurants which have Francesinhas with suckling pig, with roasted pork loin and even vegetarian ones, and I was curious to hear Mr. Fernando's opinion on this.
"For me, this is a traditional recipe and as such it should be preserved as it is. Otherwise, it will lose its essence with time. Moreover, with the rise of tourism, there are many restaurants cooking poor interpretations of Francesinhas and foreign people leave Porto with a wrong image of this fantastic dish. It is our job to make sure that this does not happen!".
I couldn't agree with him more. Food is one of the strongest vehicles of the culture of a country and as such, it should be as protected as monuments and natural parks. And, seeing all the love that Mr. Fernando and Mrs. Lurdes put in their job, all the care they have picking only the best ingredients and the time they invest to perfect their recipe, I am assured that Francesinha will continue to be Porto's ex libris dish.
So, shall we go for a Francesinha tonight? 🙂
Save this article for later: