I have always had a great appreciation of nature. However, it was only a few years ago that I found my true passion for discovering Portugal through long, challenging hikes. Luckily, not far from Porto, we have five amazing National Parks near Porto at our disposal, perfect for a week in Paradise or just a long, relaxing weekend (including the crown jewel, Peneda-Gerês National Park).
In this article I will introduce you to the top things to do in the top National Parks near Porto as well as the best options for accommodation and some tips on how to get the most out of your trip. I hope you find it useful! 🙂
National Parks near Porto: Penêda-Gerês
Gerês… how does one describe this unique slice of our country? The dazzling green emerald on this list of National Parks near Porto 😊 It is an extensive park which encompasses four mountain ranges (Peneda, Gerês, Soajo and Amarela), crossed by the Cávado and Lima rivers and comprises a number of small, beautiful valleys, waterfalls and forests. It is a very, very special place.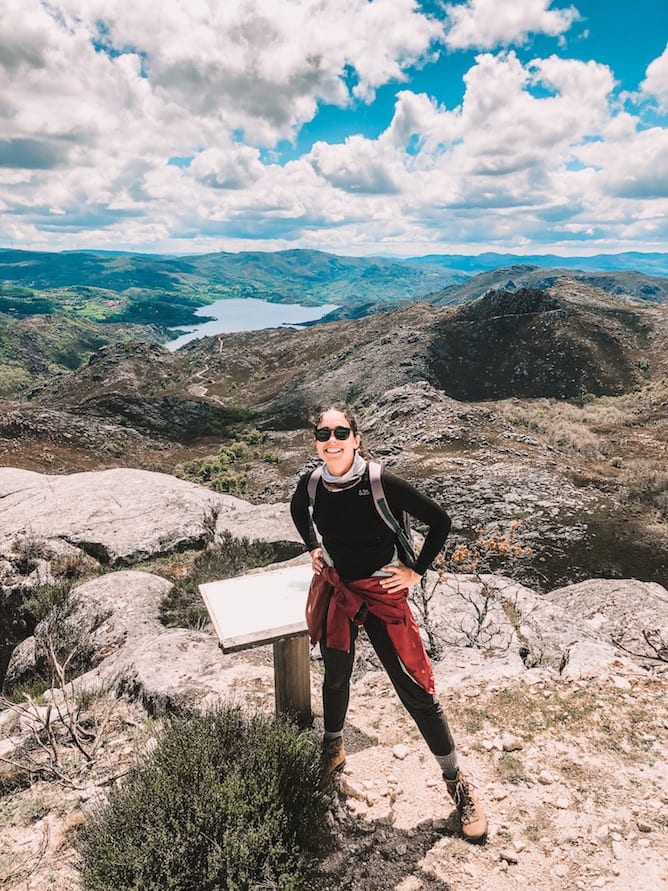 Unfortunately, the popularity of Gerês, combined with a chronic lack of surveillance and signage has led to several accidents (some of them fatal) and even vandalism in the most popular places, such as Cascata do Arado and Cascata das 7 Lagoas. There are even idiots (there is no other term) who bring their gigantic flamingo buoys and intrusively loud sound systems here!
So please, when you come here behave yourselves! Be mindful spectators of the symphony of senses that is Gerês and leave the horseplay at home 😛
When to visit Gerês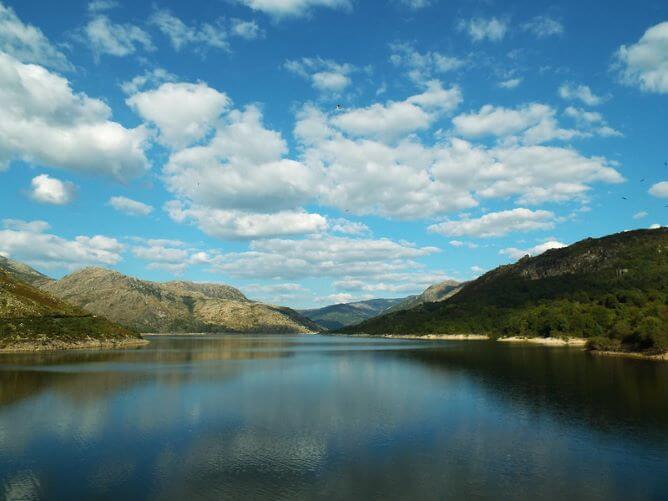 I'm biased to say this because I think Gerês is worth a visit ANYTIME of year 😊 Having said that, the best times of year are definitely:
In the Spring, because of the mild weather and fewer crowds.
Towards the end of the Fall (last weeks of October/ first weeks of November), also for the mild temperature but also for the magnificent colors. It is also the best time for going on (my kind of) hikes in the mountains around Pitões das Júnias, Castro Laboreiro and Gavieira.
Pessoalmente, evito ir ao Gerês na altura do:
In the summer as it gets veeeery crowded, which means long queues, few parking spots and a lot of noise.
In the Winter, because it gets cold, rainy and, in some areas the snow is enough to chase my poor soul away!
What to do in Gerês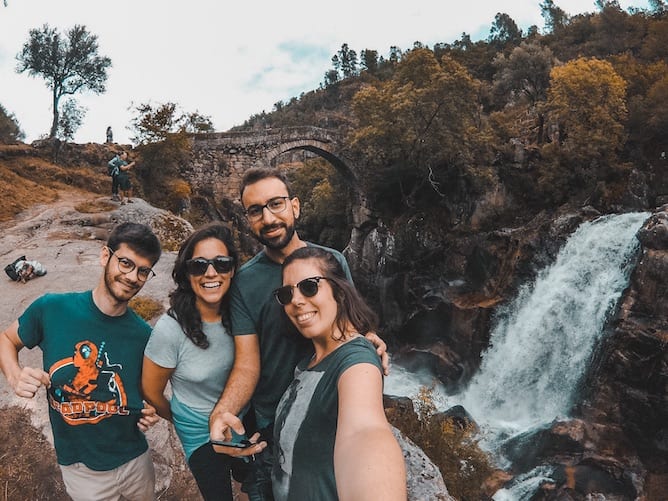 I've already written an extensive article about what to do in Gerês, with comprehensive lists of the best waterfalls, viewpoints, quaint villages, riverside beaches and hiking trails. I recommend you check this article out to make sure you get the most out of your trip/stay in Gerês! 😊
Where to stay in Gerês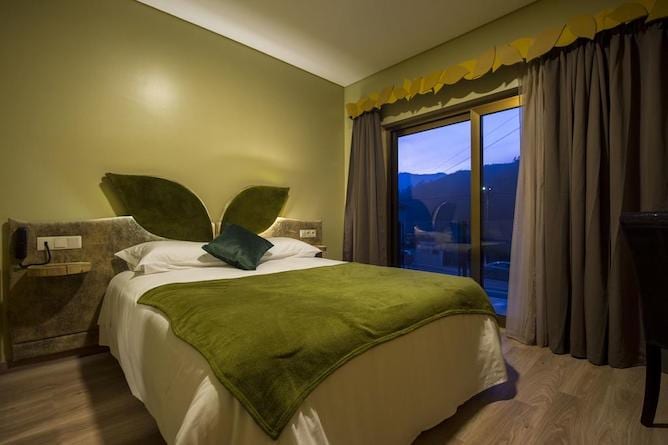 As a unique national park in the country (and one of the best natural parks in the near Porto), I have already written two rather comprehensive articles on where to stay in Gerês:
As far as location goes, it really depends on what you want to do, and with whom you are traveling.
If you are traveling with children, probably the best place to stay is near the villages of Gerês or Vilar da Veiga, because there are soooo many restaurants, river beaches and waterfalls. It is also the area with more to offer in terms of accommodation. However, it is a very busy area, and nearly always crowded.
If you are going to spend a romantic weekend, there is nothing quite like the area around Soajo, with its wonderful, windswept granaries.
If you are looking for more secluded places – ideal for mountain hikes – head to the limits of the Peneda National Park – Gerês – Pitões das Júnias is my favorite spot.
Where to eat in Gerês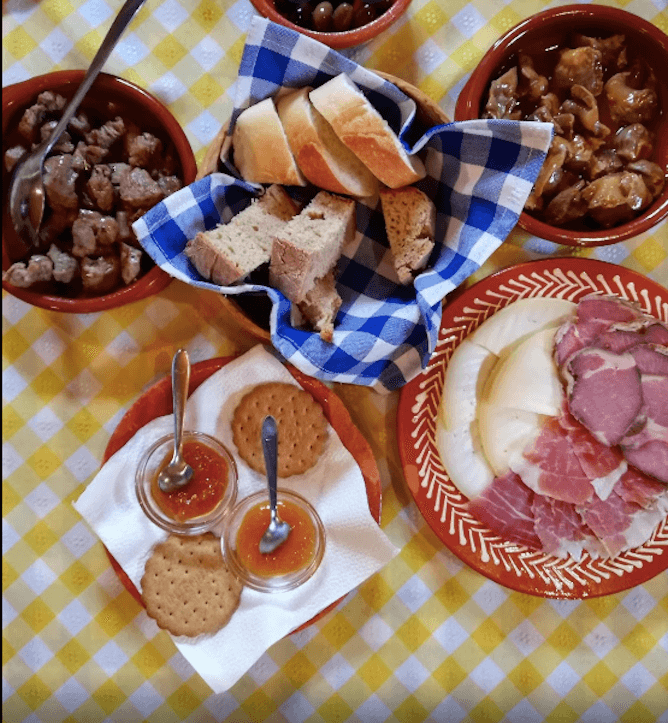 Being the well travelled woman that I am, I have already listed my favorite restaurants in Gerês here 🙂 Check out the article and take your pick. You will be well served!
National Parks near Porto: Alvão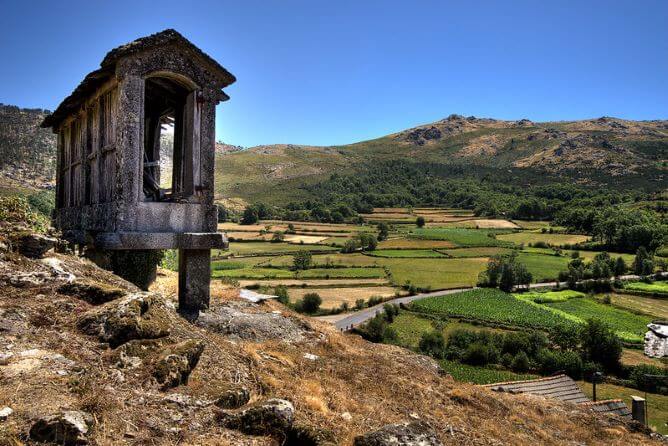 I remember perfectly the first time I stumbled upon Alvão: I was on one of my annual solo trips (which are great for introspection and mindfulness!), when I decided, on a whim, to head for a green shape that showed up on google maps. And what a wonderful discovery it was! I immediately fell in love with Alvão. It is perhaps my favorite National Park near Porto.
It's a very small park (to give you an idea, it's one-tenth the size of Gerês), but it is magnificent with its granite mountains and quaint villages. And, as it is not a well-known destination, the feeling I get whenever I go there is one of pure serenity.
Also, it has the added bonus of being just a 10 minute drive from Vila Real in case you need something urgently (supermarket, hospital, etc).
What to do in Alvão National Park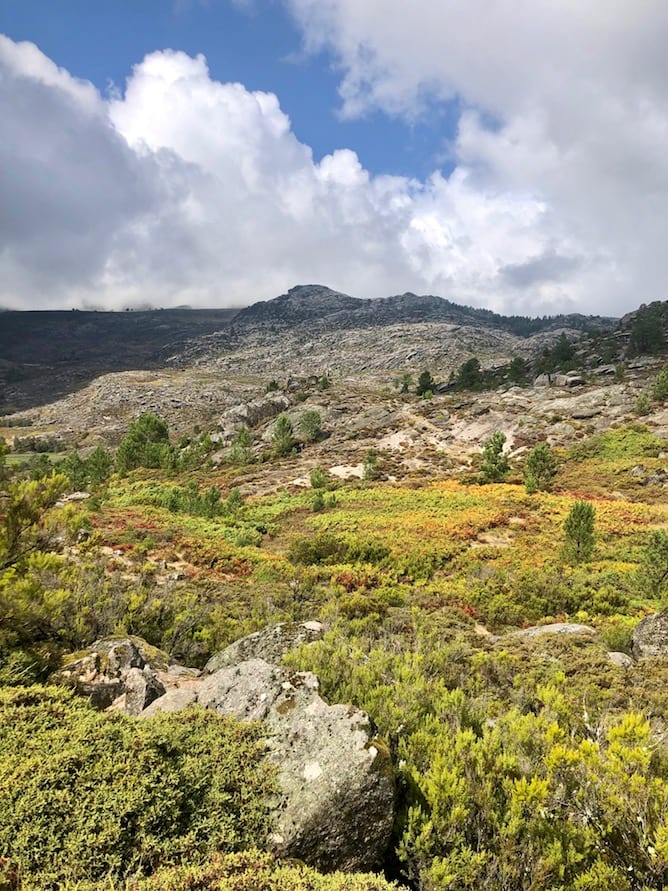 The main attraction of the Alvão Natural Park is without a undoubtedly the Fisgas do Ermelo, an assortment of rapids that rip through several waterfalls and lakes in its vertical path. There are two ways to explore the Fisgas do Ermelo:
If you're tough like me and in good physical shape, I strongly recommend you take the Trilho das Fisgas (Fisgas Trail – PR3 – Fisgas de Ermelo), a circular route 12.5 km (7.76 mi) long with an 600m (almost 2000 ft) slope. I personally don't think it's particularly difficult, but I've been doing this a long time now and I recognize that it can be a bit too challenging a trek for those who aren't used to hiking. With that in mind, I ALWAYS recommend that you take sturdy hiking boots (city shoes are useless, my dears!) and a good windbreaker / waterproof jacket.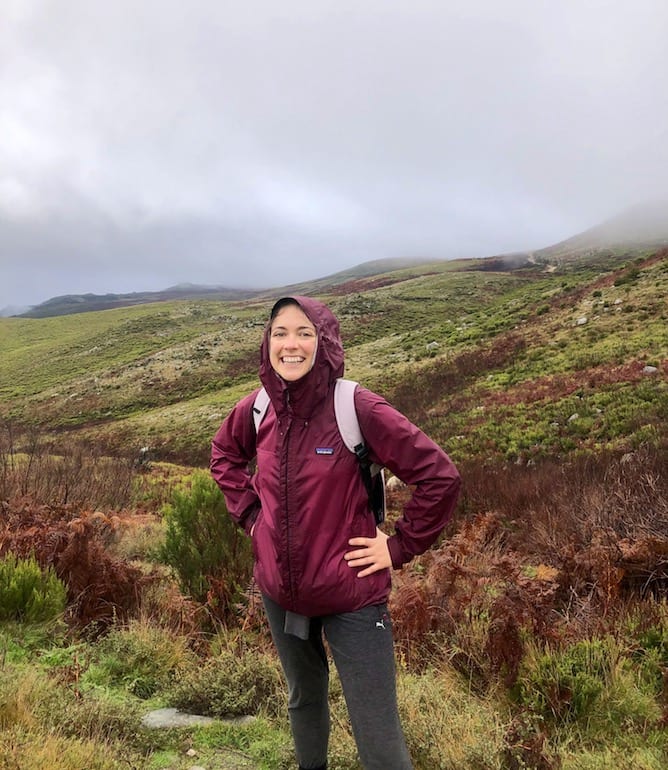 If you decide to take the PR3 – Fisgas de Ermelo, you can't miss it. Go to the village of Ermelo, park wherever you like (the village is tiny!) and head to the Parish Church. The beginning of the trail is very easy to find, as it has huge slate slabs with chalk writing, creating a kind of improvised "sanctuary" to the Fisgas do Ermelo 🙂
If you think the trail is too much, you can instead view the Fisgas do Ermelo from the Alto da Cabeça Grande viewpoint. Park your car in the Piócas de Cima Car Park and then take a shorter, circular trail, 4 km (2.5 mi) long (in total), which will take you to the aforementioned viewpoint.
In any case, don't forget to bring a bathing suit to take a swim in Piócas de Baixo, a very popular lake in the summer, accessible from both trails I mentioned.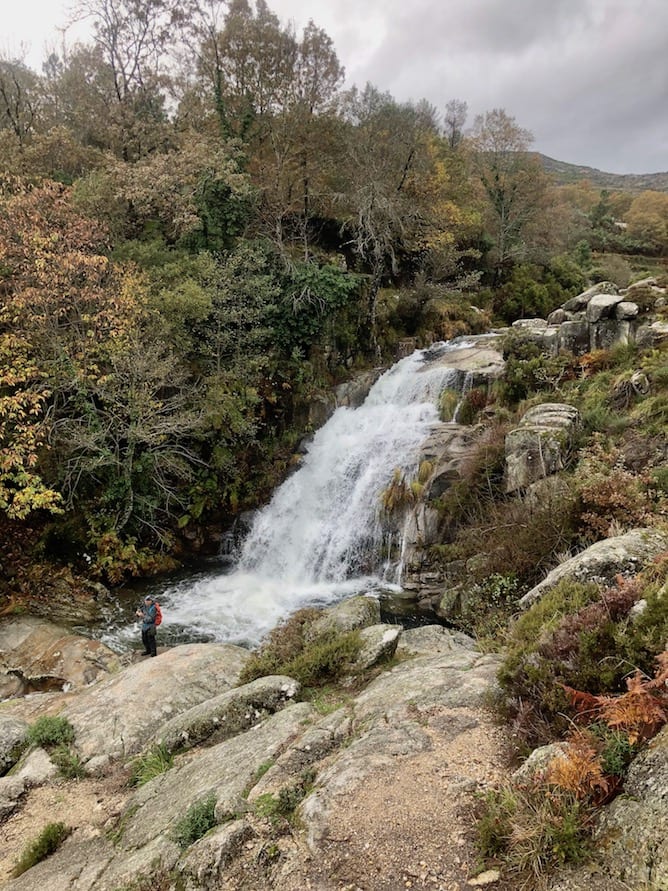 Speaking of waterfalls, don't forget to take a dip at Galegos da Serra Waterfall, which is just 17 minutes' drive from Vila Real. It's a cool waterfall because it's easily accessible from the main road, making it a popular in summer. It's an exposed area, with no shade, so it's not the kind of waterfall where you go and lie about all day in the sun, unless you want to come away with a painful sunburn (in Portuguese we say looking like a lobster 😛)
Although I adore the Fisgas do Ermelo and Galegos da Serra waterfall, what I really love in Alvão, one of the best National Parks near Porto, is driving on the estradas nacionais (two-lane winding roads) 🙂
I usually take the M313 from Vila Real and drive to the village of Anta, driving through the village of Lamas de Olo. Then, I turn west towards Cavernelhe, and then take the M1206 towards my favorite village (Varzigueto). Then I take the M1204 towards Ermelo. The landscape is magnificent, the silence is soothing, and I can guarantee that this one-hour drive is worth more than five therapy sessions, and a lot cheaper too! 😀
Where to stay in Alvão National Park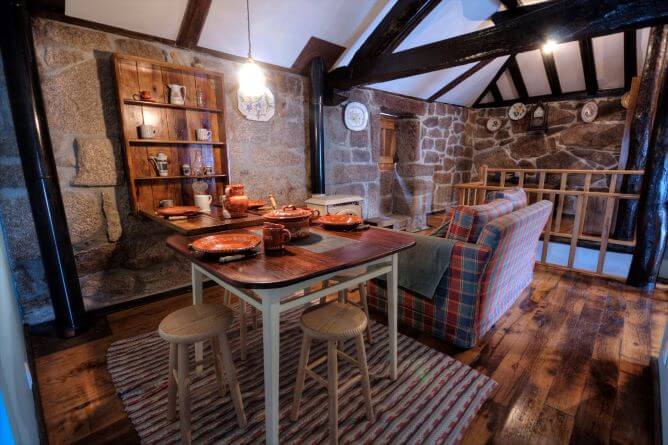 One of the disadvantages (or advantages, depending on your perspective 😛) of Alvão is that it has very few accommodation options. However, those that are available to you magnificent: imagine a small rustic house or cabin, in the middle of the mountains, with breathtaking views. It is really, really beautiful 🙂
If you wish to stay in a house with very traditional decorations, worthy of a Disney movie, I suggest Casa da Avó Ana, in the village of Bilhó.
Casa do Tarrão, in Lamas de Olo (right in the center of the park), and Casa do Paço (slightly south of the park), are excellent options for families with children or groups of friends because they have great swimming pools. Another option with a pool to stay in Alvão National Park is Fisgas Cabana, in Cavernelhe.
If you wish to stay in my favorite village in this National Park near Porto, Varzigueto, I recommend Refúgio dos Macedos – the décor is nothing special, but it is a very comfortable house with a magnificent balcony.
Where to eat in Alvão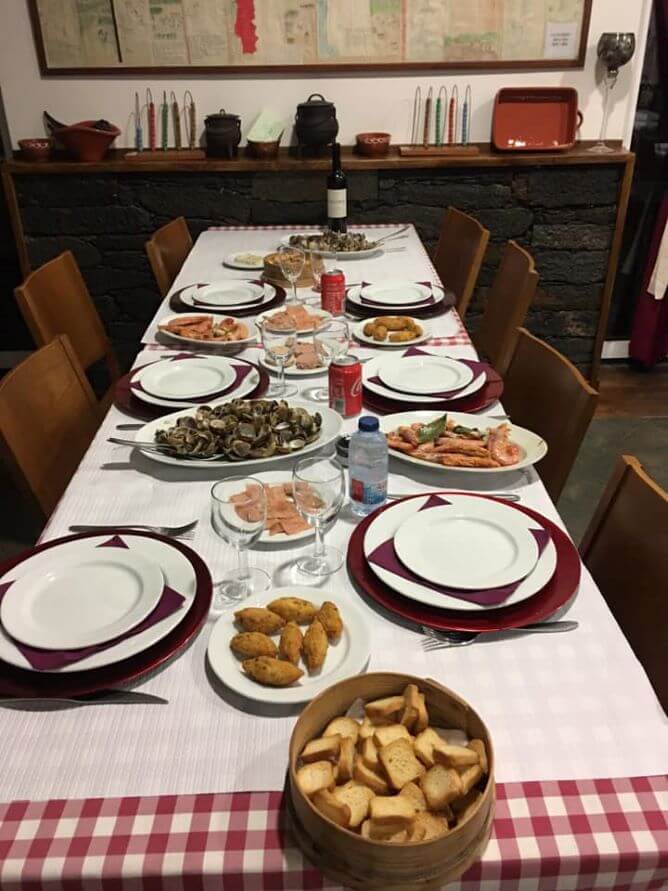 In terms of restaurants, in Alvão National Park there aren't many great options, but I really do like Sabores do Alvão (it has such a cute terrace, with a nice view. I always stop for a beer after doing the Fisgas do Ermelo trail).
At Tasquinha da Alice, in Bilhó, you can also try some delicious regional dishes at very reasonable prices.
National Parks near Porto: Douro Internacional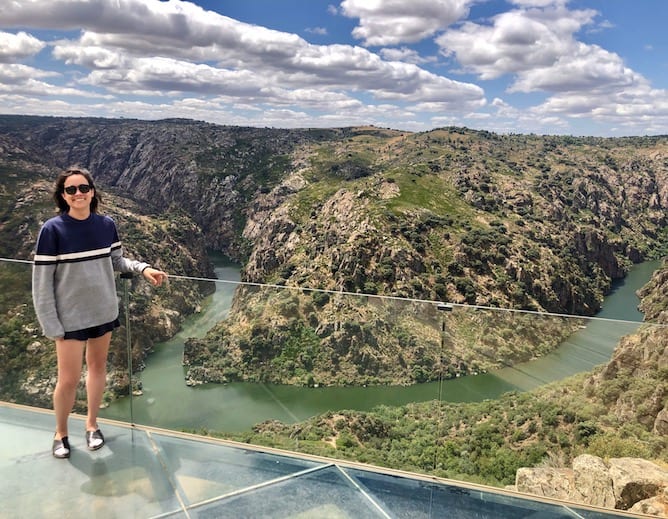 I've had this blog for so many years that I'm a bit ashamed I've never written about Douro Internacional, one of the best National Parks near Porto. I say this because my mother is from a village near Miranda de Douro, which makes me half transmonstana (from the Trás-os-Montes region in the Northeast of Portugal).
And so it is with great pleasure that I write today about Douro Internacional, a relatively unknown and Isolated National Park, but no less worthy of your visit.
Douro Internacional, unlike other National Parks near Porto, does not have lush waterfalls or lagoons. On the contrary, it is a place of silent emotion and melancholy, dotted with beautiful viewpoints. So, brace yourself and head to Douro Internacional. You won't regret it.
What to do in Douro Internacional National Park
The best thing to do is to explore the many viewpoints in the region. Personally, I really like the Freixiosa Viewpoint, because it is off the beaten track. To get there, go to the center of the village of Freixiosa and continue straight ahead; you'll pass the first fountain next to a chapel, and at the end, turn right (don't take the first right, because then you'll end up on GR 36!). There is a sign indicating the viewpoint, on the left.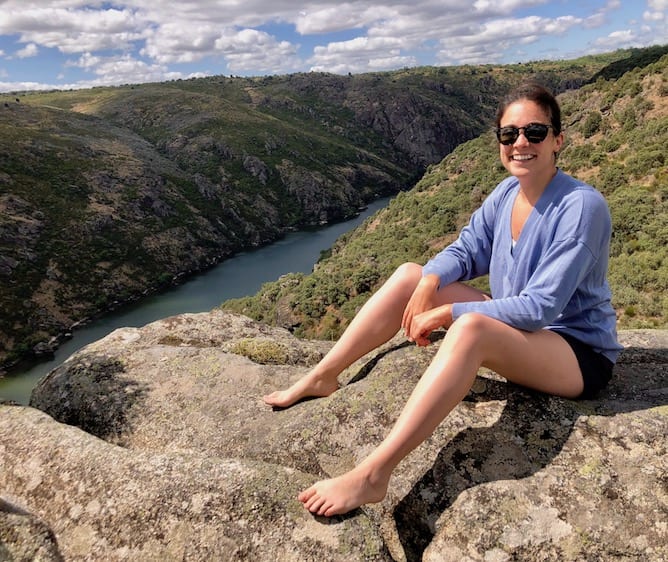 After passing a concrete water fountain, the road turns slightly to the right and that's where I always park. Then you just have to walk the rest of the way (it will be around 400m – 1300ft) to the viewpoint, which you will suddenly happen upon as it is literally at the edge of a cliff with a steel handrail – don't rely on it too much! It's a bit rickety!
Easier to get to is the Fraga do Puio viewpoint, in the village of Picote. It's a kind of glass balcony with a unique view of a majestic curve in the trajectory that the Douro River.
And, since you are in Picote, take the opportunity to visit the shop with regional products, right at the entrance to the viewpoint. It's worth your while!
Also, don't miss the Chapel of Santo Cristo, notable for its recently unveiled frescoes, after years of being forgotten behind an unassuming altarpiece. These frescoes, dating from the 16th century, are so beautiful that they have already appeared in an episode of the notable TV show Visita Guiada (Guided Tour), on RTP 2.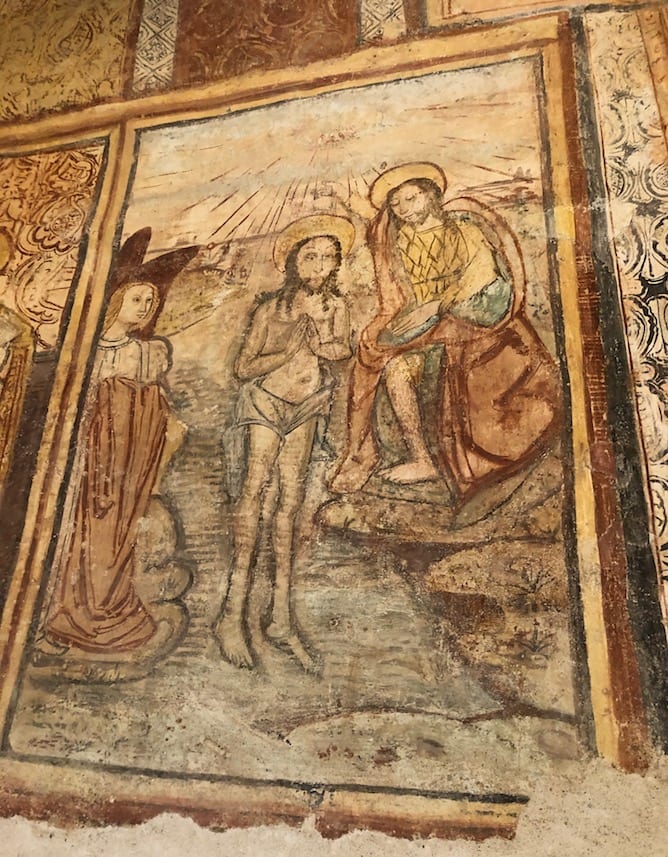 You should also take the opportunity to visit Miranda do Douro, one of the most beautiful cities in northern Portugal. I could list of the city's monuments here, but I prefer just walking along the city walls and having a coffee in the main town square.
If you are a family with kids, I recommend you take the Environmental Cruise on the Douro River, which departs from Miranda do Douro.
In the southernmost part of the Douro Internacional National Park is the river beach of Congida, which provides a refreshing shelter from the scorching heat of the Trás-os-Montes summer.
Where to stay in Douro Internacional National park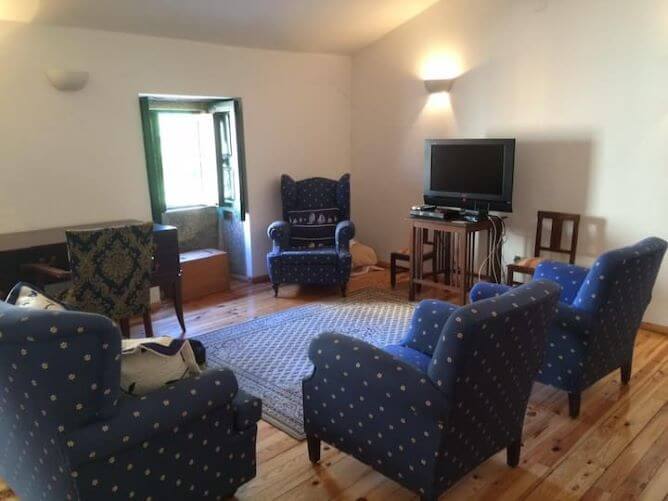 If I may be so bold, first of all I would like to recommend my own house, a 5 minute drive from Miranda do Douro 🙂 It is a very comfortable 2 bedroom apartment, with a spacious living room and an old kitchen with a fireplace. But don't just take my word for it! Read the reviews that many satisfied guests have already written about the place 🙂
If you prefer to stay in lodgings with breakfast and a swimming pool, I would recommend Casa de L Telar, in our village.
Also, in nearby Sendim, there is a beautiful house with space for up to 4 people and a shared kitchen, with a small kind of museum, called Corral de L Tiu Pino. It's really cute!
If you would rather stay in Miranda do Douro then you have several options: the Douro Camping, featuring bungalows for groups of up to 6 people, the Residencial Douro guesthouse, which is very cheap, and the Cabeço do Forte Hotel, which has a swimming pool.
Closer to the river beach of Congida are the Douro International Houses, with breathtaking views over the region through the panoramic windows of their rooms.
Where to eat in Douro Internacional National Park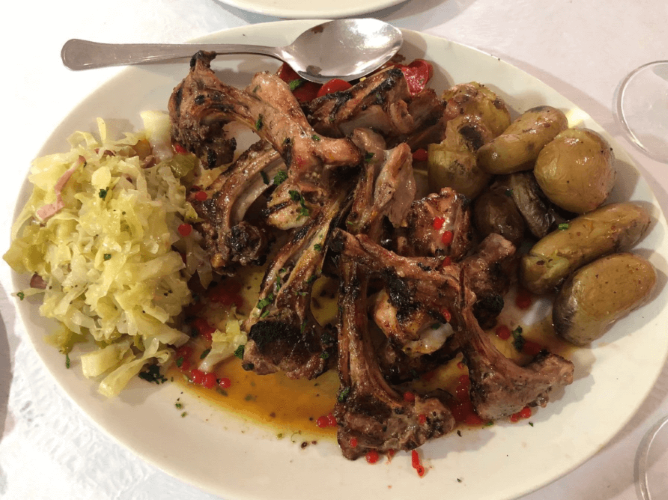 To be very honest, as I have a house in the Douro International Natural Park, I usually cook at home or at my grandmother's house. Therefore, my experience of eating out is not the most extensive.
Having said that, there are two good restaurants that I can recommend to you: the S. Pedro restaurant, in Miranda do Douro, and the Cinta d'Ouro, in Freixo de Espada à Cinta.
National Parks near Porto: Montesinho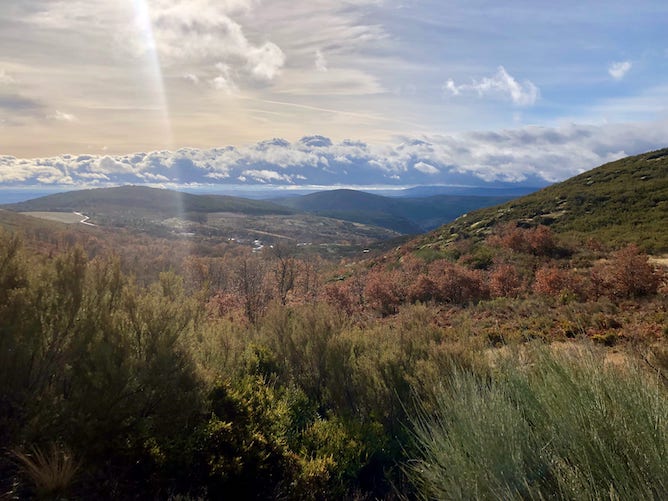 I recently went to Montesinho National Park for a week and enjoyed it so, so much, that what was supposed to be half a short break quickly turned into a three-week stay!
The thing is Montesinho is a really special place. It doesn't possess the spectacle of Gerês, nor is it as popular as the Douro, but it has picturesque villages, great hiking trails and, above all, IT IS THE NATIONAL PARK NEAR PORTO WHERE YOU CAN FIND THE BEST FOOD! By far!
What to do in Montesinho National Park
Montesinho has a number of small villages, most of them of no real interest (I'm being honest here), but there are two that are authentic "dolls' house villages".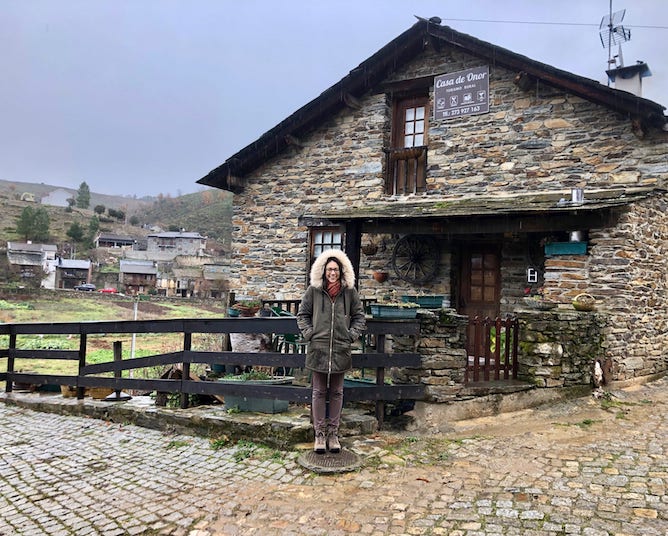 One of them is on the border with Spain and is called Rio de Onor. It is considered the 7th Wonder of Portugal and it's no wonder why: it is a very well-kept village, with picturesque granite and schist houses that flank a river where you can take a pleasant stroll.
If you have time, take the opportunity to go to Puebla de Sanabria, a BEAUTIFUL village on the Spanish side. Even more beautiful than the village is the route to get there – it takes around 40 minutes on small national roads that cross a huge pine forest. I really enjoyed driving down that road!
Another village that I highly recommend is Montesinho. As you travel along the road, you'll notice that the temperature drops dramatically, as Montesinho is one of the highest points in the park. There, you will find a very well preserved village waiting for you, with a shop where you can buy regional products and a nice hiking trail (PR 3 Montesinho).
Where to stay in Montesinho National Park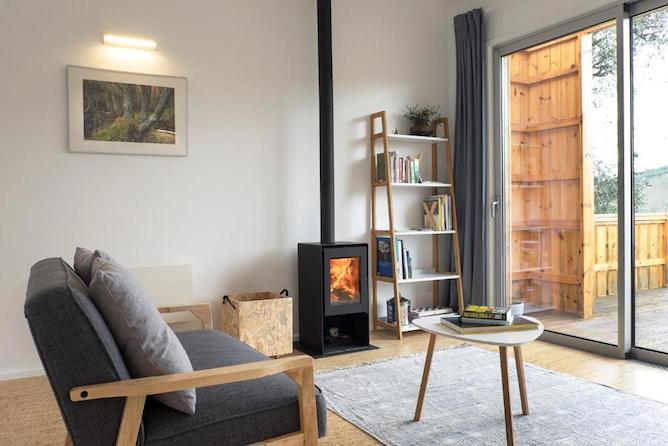 One aspect that positively surprised me was the quality of the accommodation available in the Montesinho National Park. It is mostly is a question of what you are looking for:
If you are looking for a romantic getaway, I HIGHLY recommend Bétula Studios. They feature bungalows with a tasteful minimalist décor and are perfectly integrated in the surrounding natural beauty. What's more, they are less than 10 minutes' drive from Bragança, where you will find supermarkets, restaurants, gas stations, pharmacies, etc. It's a top location!
Another GORGEOUS place to stay is Casal de Palácios, a beautifully restored mansion with wonderful large rooms, with plenty of natural light. Soundproofed too. Also, Casal de Palácios has a games room, a bar, several lounges and a games patio, making it ideal for small groups.
If you would rather stay in a picturesque house in a village, you have several great options. I personally enjoyed staying at Ninho do Melro, a rural tourism unit in the village of Rabal, with a room worthy of Lord of the Rings and 3 bedrooms with double beds, which can take up to 6 people.
Another option in the same style is Casa do Serra. It is decorated in a more traditional manner, it has a very cozy living room, a large kitchen and a wonderful terrace with everything you need for a barbecue. It has three bedrooms and a sofa bed, so it is a good option for groups.
Where to eat in Montesinho National Park
In Trás-os-Montes there are no bad cooks, as my grandmother says, as the quality of the ingredients is so good that even a monkey could make a tasty meal out of them :P. Most of the restaurants are very reasonably priced and there are some that are really worth their while.
I really liked D. Roberto, in Gimonde, a very small village about 10 / 15 minutes's drive from Bragança. The owners are from a family of pig farmers, so the meat is of excellent quality, and the cured sausages… a divine. And look, I come from a Trás-os-Montes family so I am very hard to please when it comes to cured meats and whatnot!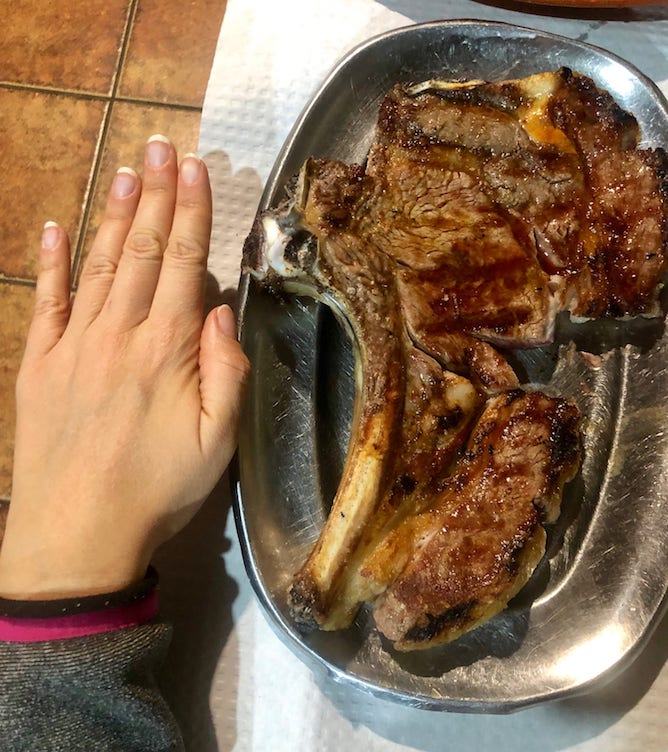 We also stopped at a popular restaurant in the village of Varge: O Careto. The starters weren't anything to write home about and the wait time was atrocious (50 minutes, despite having made a reservation!) – but, truth be told, I did eat the best cutlets I've ever had.
National Parks near Porto: Litoral Norte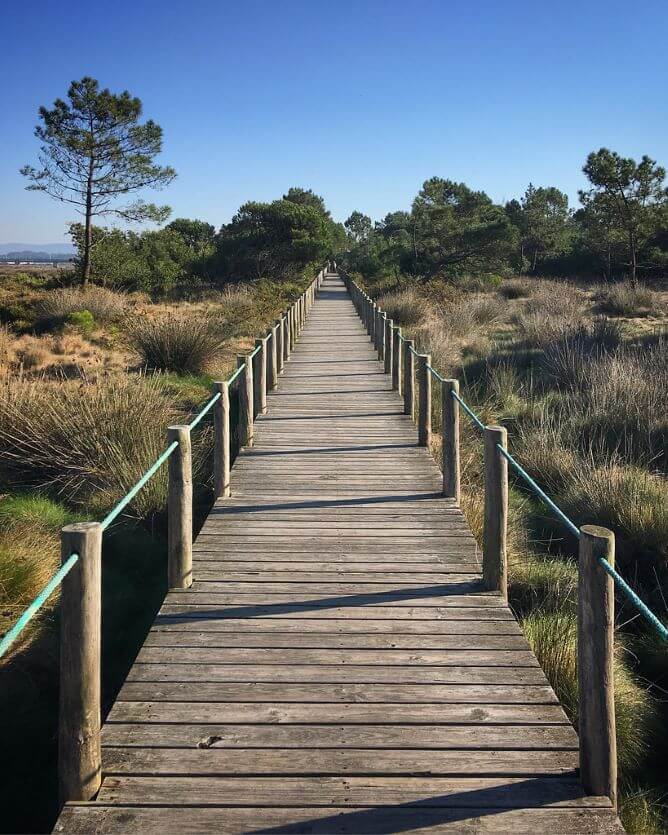 In terms of National Parks near Porto, the coast is probably where I feel least at home because, let's face it, I'm a Mountain woman 😀 However, it is a National Park that is easily reached via the A28, as it extends from Apulia (45 minutes from the center of Porto) to the Neiva River Estuary, 1 hour's drive from Porto. It is also the only National Park in the north where you can go to the beach, so it's great for families with children.
What to do in Litoral Norte National Park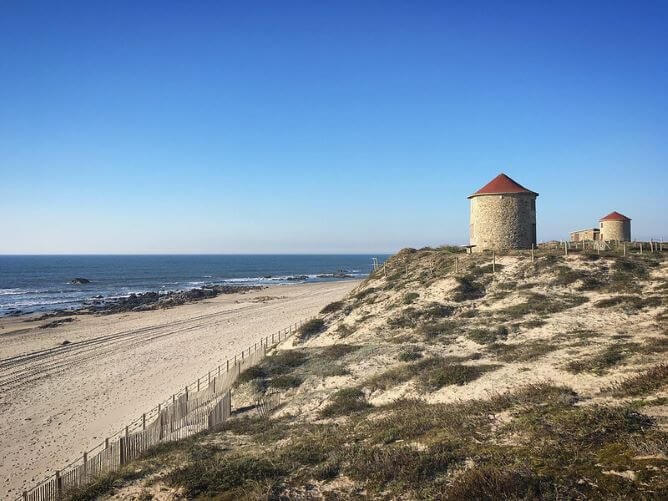 I'll start with the most obvious: the beaches of the Litoral Norte. The most famous are the beaches of Apulia, Esposende and Ofir (with its dreadful high-rise buildings, an example of the lack of taste of the local government). However, among all these there are small beaches that are not so well known and, therefore, less crowded.
I also really enjoy walking along the boardwalks on the edge of the windmills of Apulia, which have been renovated and transformed into private homes. In general, the boardwalks that run along the Litoral Norte are well maintained and provide a pleasant family seaside stroll.
In this National Park near Porto, you can also take some low-effort hiking trails – see some recommendations here.
Where to stay in Litoral Norte National Park
If you live in Porto it's not worth staying in the Litoral Norte National Park. However, if you are coming from further away, it might make sense to stay in one of the main cities (Esposende and Ofir), or in a small house by the sea. Look up the best places tp stay in Esposende and Ofir (and use the map to explore the coast from there).
Where to eat in Litoral Norte National Park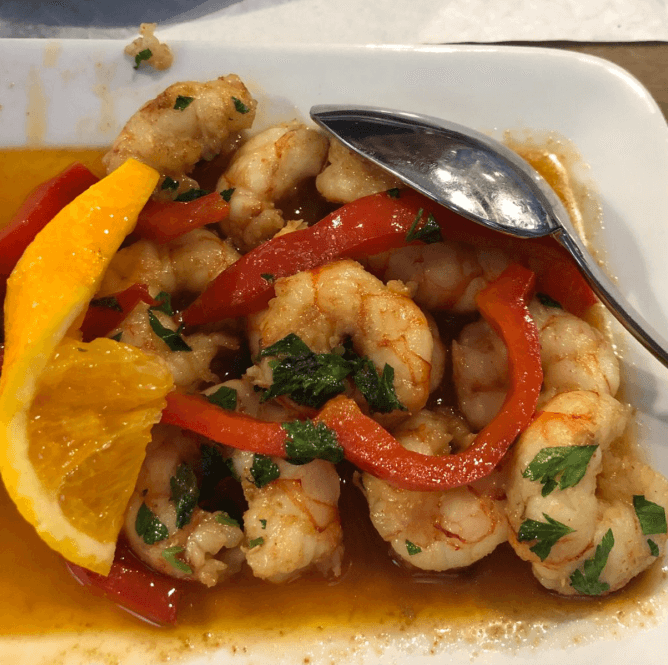 Along the coast there are some wonderful restaurants to eat fish and seafood. Namely:
In Apúlia: "O Salitra", "O Paredão" and "A Cabana".
In Fão: "A Lareira", "O Pedra Alta" and "O Chalé" (for tapas).
In Esposende: Shore House is a fashionable destination, though more for tapas and Sangria.
Save this article for later: