I organize private tours in Porto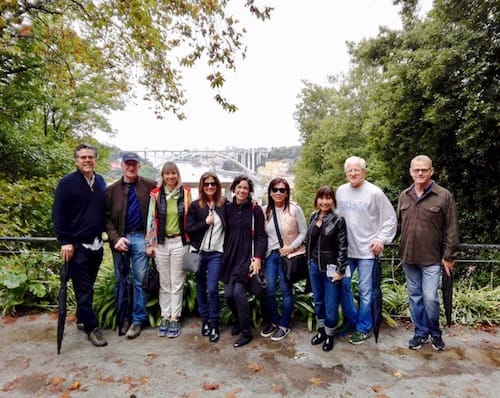 Check this page for more information or send an email to sara@portoalities.com.
Before I started writing this guide of the best tascas in Porto I went to the dictionary to see what, after all, is a tasca.
At a time when cities are losing its traditional establishments and there is a vulgarization of the concepts "gourmet" and "artisanal", it seemed reasonable to search the meaning of the word.
According to the Portuguese dictionary, tasca means:
Modest establishment that sells drinks and meals.
Tavern.
Bodega.
And it is with this concept in mind – and not that of gourmet taverns – that I propose you to discover the best tascas in Porto.
These are the best tascas in Porto:
Adega Viseu no Porto
Rua da Madeira, 212
About a year ago I discovered this Porto tavern, right next to São Bento train station, and since then I've been a fan because it is one of the best cheap restaurants in Porto.
Every day there is a lunch menu with plenty of traditional Portuguese dishes. But I don't even waste time with that: I go straight to the counter to check the snacks of the day – rissóis, some delicious fried cod and octopus in green sauce, to mention a few – and I order two or three plates. A dry and fine chat to follow and I don't need anything else in life.
How to get there: São Bento train station is across the street.
Adega do Quim
Rua da Madeira 226

Adega do Quim, right next to Adega Viseu in Porto, is one of the few tascas in Porto that opens at dawn, to the delight of those who wake up very early (or lie down too late).
In fact, since six in the morning you can find delicious pork loin sandwiches, steaming gizzards, croquettes and even steak. So it is the ideal place to pick up some sandwiches before taking the train (or before falling asleep – sometimes life gets too hard after partying all night).
How to get there: São Bento station is across the street.
Rua de Cimo de Vila, 80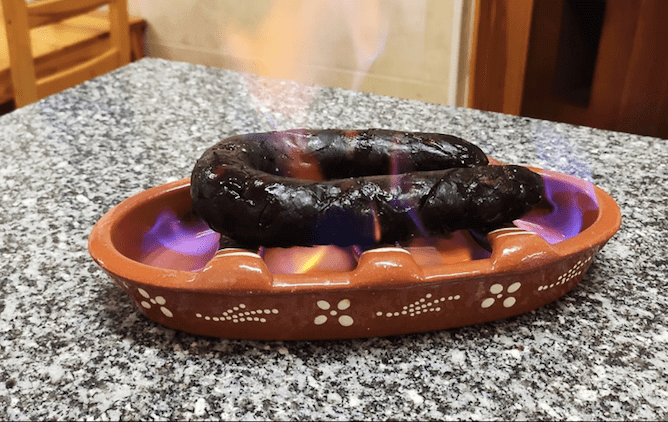 Whole hams coming straight from Lamego hang from the ceiling are the pride of Casa Louro, one of the best tascas in Porto. My recommendation is for you to order a ham sandwich and a bowl of Baião green wine to go along with it, but the salpicão sandwich is also a safe bet.
How to get there: São Bento station is a 5min walk.
Rua da Estação, 16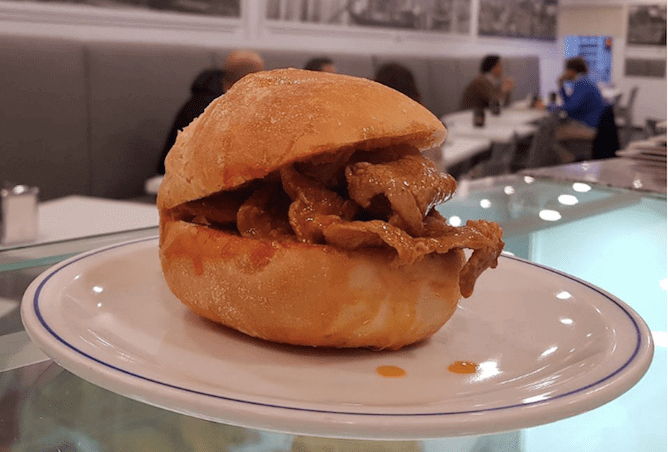 We're heading east now to Campanhã, a neighborhood in Porto where people only go to catch a train. And it is precisely close to Campanhã train station that we find one of the best tascas in Porto to try bifanas, a spicy and juicy steak sandwich traditional from Northern Portugal.
Don't forget to order a caldo verde( green broth, in Portuguese – one of our most traditional soups) with a slice of broa, it's worth it.
How to get there: Campanhã station is a 5min walk.
Tv. Cimo de Vila, 4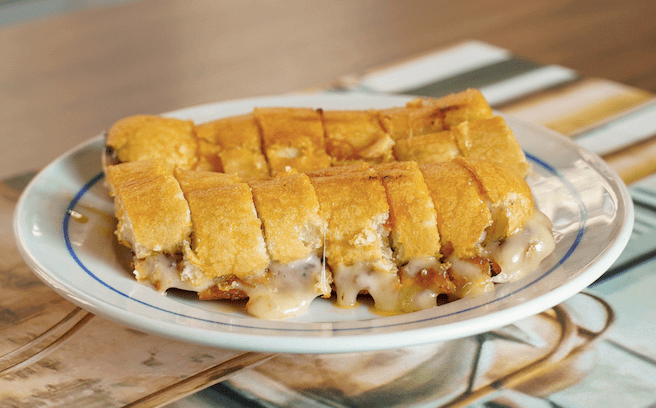 Disclaimer: I don't eat hot dogs not even if it is the last food on Earth, but if I did, they would definitely be from Gazela's. This is one of the few tascas in Porto specialized in a single dish, and thankfully: the Gazela hot dogs are small and made with crispy bread, fresh sausage, melted cheese and a delicious spicy sauce. It is said to be so good that even Anthony Bourdain went there during his TV show Parts Unknown.
Gazela's success is such that it opened a new space on Rua de Entreparedes, very close to the original space where not only the famous hot dogs are served but also francesinhas, the famous dish from Porto.
How to get there: São Bento station is a 5min walk.
Tv. de Miraflor 15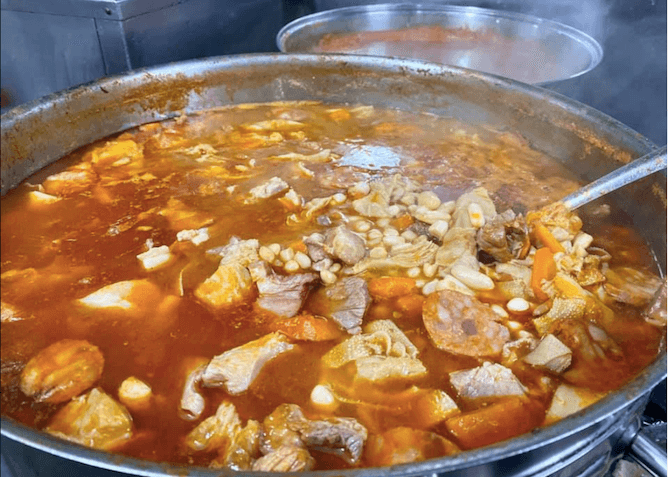 One of the things I like most about this tasca in Porto is the existence of community tables (I find it lovely to share tables with strangers with whom I can start random conversations about food and life, in the good Portuguese way).
It is one of the best tascas in Porto to eat well and for a bargain, since a generous meal, accompanied by drink and coffee, is a modest €6.
How to get there: Campanhã station is a 5min walk.
Praça de Carlos Alberto, 73
Regarding Casa Expresso, it should be noted that there are two, interconnected: Casa Expresso restaurant, and Casa Expresso "tasca in Porto". In both you will be well served, but I am writing about Casa Expresso tasca.
There you can eat some of the best rojões (fried pork cubes) in the city, Porto-style tripes' stew, fried liver served with caramelised onions (I can't resist) and other honest examples of traditional Portuguese food.
How to get there: the metro station Aliados is a 5min walk.
Rua do Cativo, 14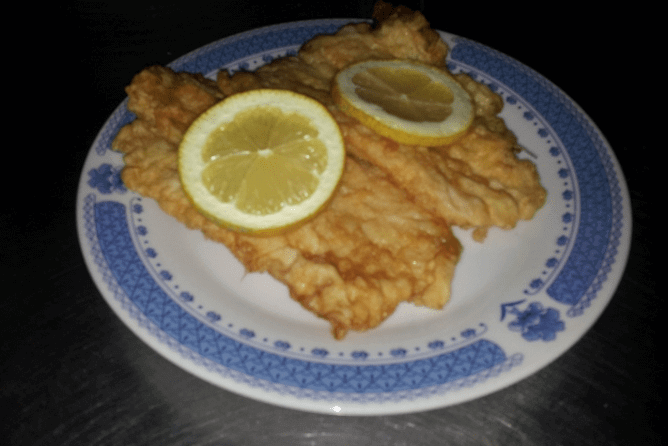 Disappoint what you might be, it is not only the FC Porto fans (aka Portistas) that are welcome at Alfredo Portista. Quite the contrary: this is one of the tascas in Porto where portistas, benfiquistas and boavisteiros (all supporters of different football clubs) coexist in a healthy picardy.
And it even quite amusing to see someone enter Alfredo Portista, where the blue and white tiled walls are decorated with photographs of FC Porto, properly dressed in the colors of another Portuguese football club.
At Alfredo Portista you can find traditional Portuguese snacks such as rojões, pataniscas and rissóis but what I really like is the fried cod and fried petingas (baby sardines – yes, you eat them with the head all all).
How to get there: São Bento station is a 5min walk.
Rua das Oliveiras 8 | Rua Jorge Reinel 7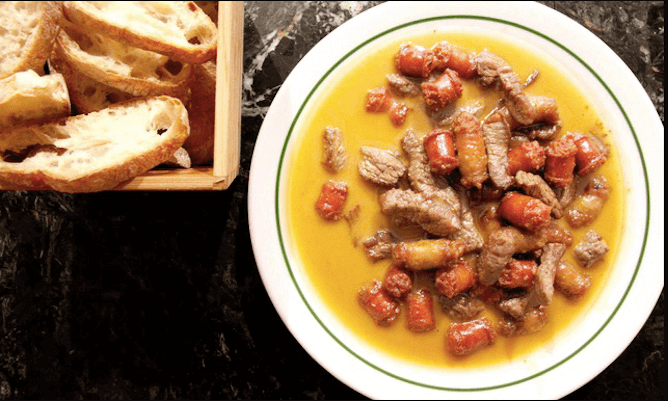 A Lareira is one of those tascas in Porto that combine a certain simplicity, typical of this type of establishments, with a bright and uncluttered room where you feel like staying just a little bit longer.
At Lareira you can find a little bit of everything: smoked meats and cheese boards, octopus salad, pica pau, flaming chouriço, chanfana (the only thing I don't like), fried potatoes and ham, etc.
For dessert there are two desserts typical of Aveiro: sweet tripe and crackers. I am not a fan of neither – but they are a hit among Portuguese people.
How to get there: Lareira exists in two locations, at Rua das Oliveiras (5min walk from the metro station Aliados) and at Rua Jorge Reinel, near Serralves.
O Golfinho
Rua de Sá de Noronha, 137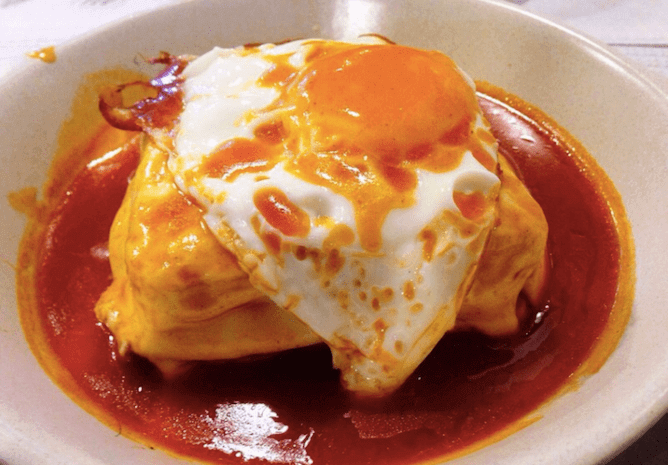 Legend has it that O Golfinho refused to receive Anthony Bourdain, the famous North American chef who "put Porto on the world gastronomic map" in one of the episodes of his television program Parts Unknown.
Some even say that in Golfinho you can taste one of the best francesinhas in Porto.
These two reasons are enough to visit this Porto tavern!
How to get there: the Aliados metro station is 5 minutes walk.
Rua do Bonjardim, 318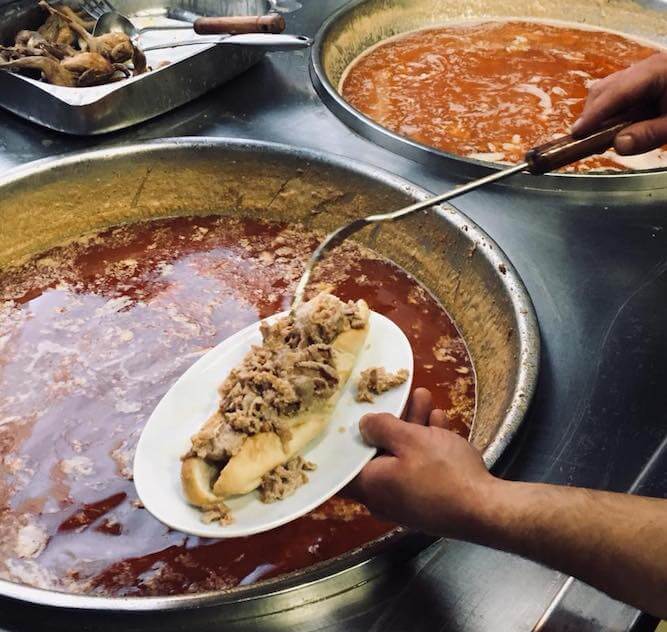 Conga needs no introduction among Portuguese people as it is the best tasca in Porto to eat some very spicy steak sandwich with a Super Bock beer and some sarrabulho porridge (mixed meat & bread kind of soup – it is hard to explain – just go for it!).
How to get there: the Aliados metro station is 5 minutes walk.
Rua dos Canastreiros, 28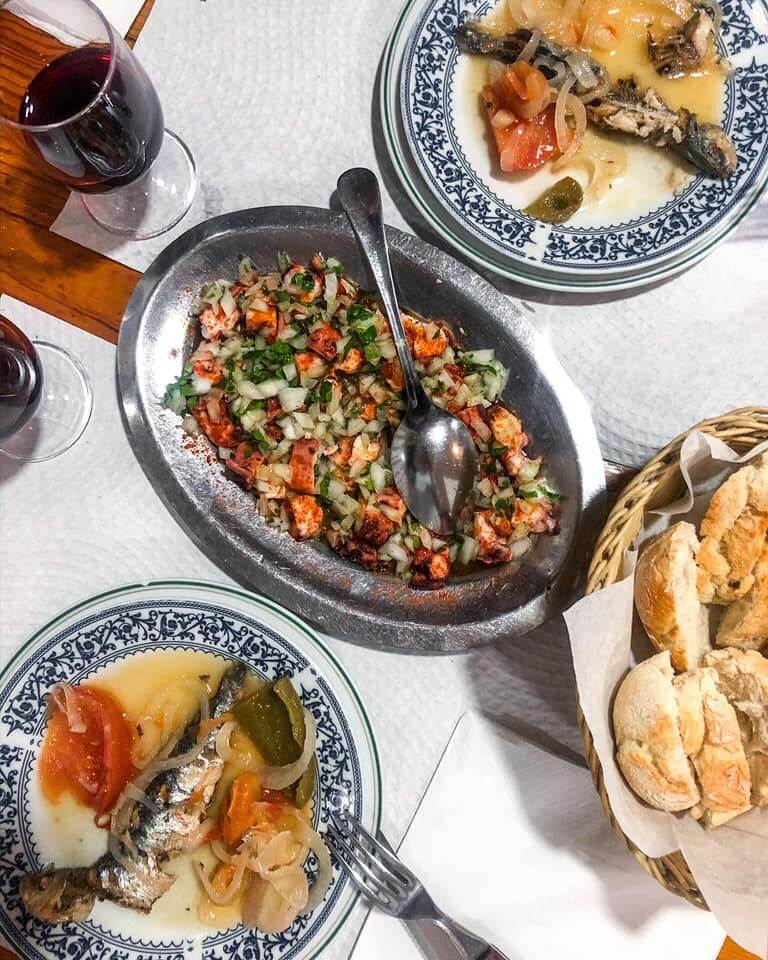 The name really lives up to the space, a pearl hidden in the middle of Ribeira, the busiest area of the city. There is no sign at the entrance or a tourist menu, and thus one of the oldest tascas in Porto remains an authentic place.
Here you will find spectacular codfish cakes and rissóis to eat and cry for more, as we say in Portuguese. Sardines are also great, when in season.
How to get there: São Bento station is 10 minutes walk.
Rua de Fernandes Tomás 506/508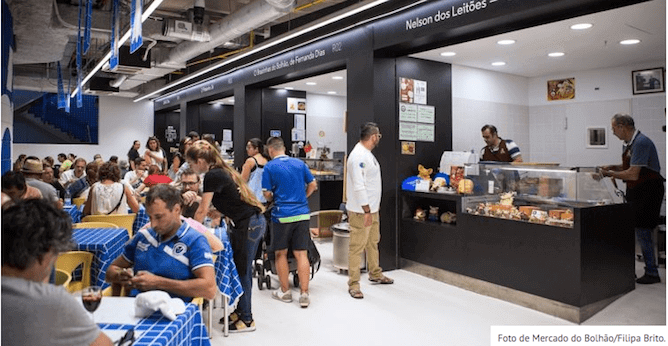 I chose the Temporary Market of Bolhão because it has four good tascas in Porto: Café da D. Dina, Brasinhas do Bolhão, Pintainho 36 and Nelson dos Leitões.
With the exception of the last establishment, whose specialty is suckling pigs, in all the others you can find traditional Portuguese food at very reasonable prices, despite its touristy location.
How to get there: Bolhão metro station is across the street.
Badalhoca
Rua da Picaria, 26
Badalhoca is not only one of the best tascas in Porto but also one of the places where I have the most fun. After all, it is not every day that we are signaled with a roaring bell when we ask for a bottle of water (it is the affectionate form of A Badalhoca to embarrass non alcohol drinkers in front of all their friends!).
At Badalhoca you will find not only delicious PO (ham and egg sandwiches) but also other Portuguese snacks such as octopus in green sauce, pataniscas (codfish patties), pork's ears salad and fried liver.
How to get there: the Aliados metro station is 5 minutes walk.
Rua do Ouro, 223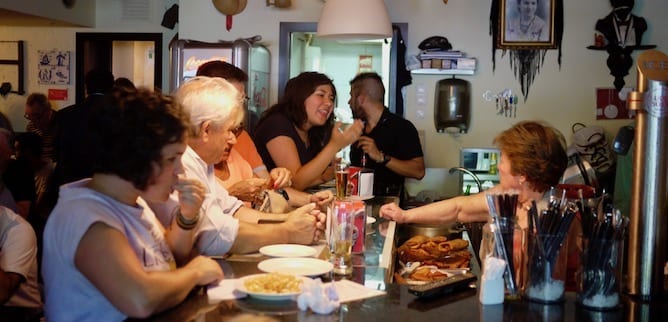 Adega Rio Douro is also a habitué here in Portoalities because who doesn't like an afternoon of fado by the river? That's right: in this tasca in Porto there is a party scheduled every Tuesday at 4pm, when improvised fado singers, locals and curious tourists come together to sing Fado.
However, Adega Rio Douro deserves a visit any day of the week because it has the best fried cod in Porto and nothing else matters.
How to get there: on tram #1 or on bus 500.
Praça dos Poveiros, 130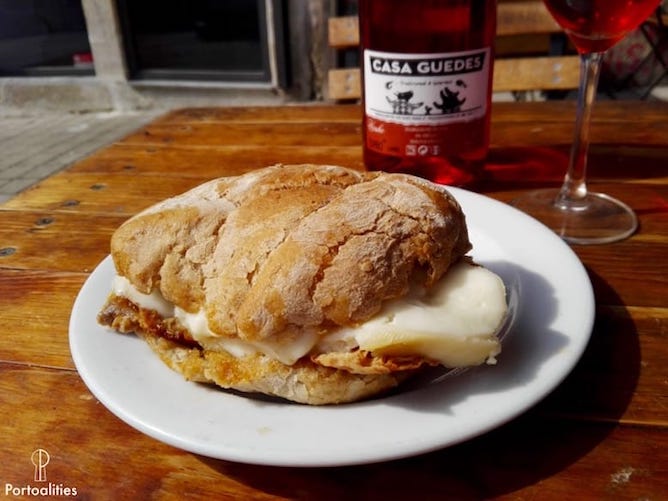 Casa Guedes has and will always have a special place in my heart because it is managed by two wonderful couples: Mr. César and Mr. Manuel, blood brothers and life partners, and their wives, Dª Albertina and Dª Augusta (they too are sisters – no joke!).
So for me it is not only one of the best tascas in Porto but also a place where I feel at home.
At Casa Guedes you should try the famous smoked pork loin sandwich (Baião recipe) with a glass of an hideous cheap green wine called espadal. You can also order a plate of french fries, without fear, because they are homemade.
A few months ago Casa Guedes opened a partnership with some Brazilian partners who own several restaurants in Rio de Janeiro, which made it possible to open a new Casa Guedes, a few meters from the original.
Here the concept is already slightly different, as it serves the smoked pork loin sandwiches but also traditional Portuguese dishes and signature cocktails.
How to get there: the metro station 24 Agosto is 5min walk.
Rua das Virtudes, 32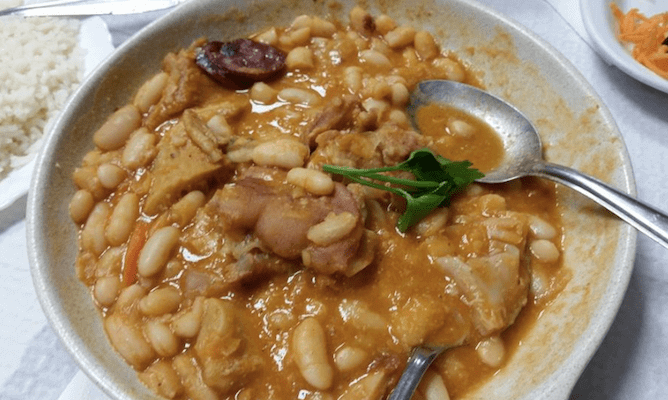 I wasn't sure if I should include Taberna de Santo António on this list of tascas in Porto because, given its proximity to the viewpoint of Virtudes, it has become a Mecca for tourists (and I know that many of you do not find this very funny. ).
But the truth is that the cuisine is honest, the service is frank and there is no chocolate mousse like the one at Taberna de Santo António.
In this house, the concept is not so much Portuguese snacks (although you can order them without fear) but main dishes. Every day the dishes vary but always revolve around traditional Portuguese food, namely roasted cod and veal stew with mashed potatoes (a marvel).
To finish off the meal, the chocolate mousse I mentioned or a homemade biscuit cake. Delicious.
How to get there: the Cordoaria bus stop is 10 minutes walk.
Extra: Go on a private tour in Porto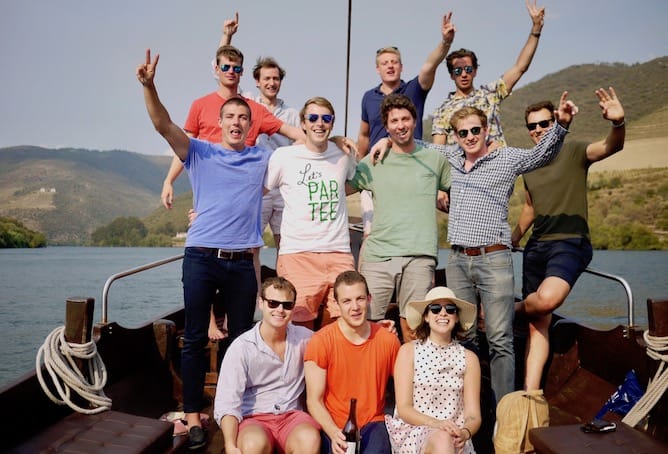 The best way to get to know Porto is to go on a private tour with me!Check this page to learn more about my tours in Porto, or simply send an email to sara@portoalities.com. I will shortly get back to you with a tailor made tour designed specifically for you.It will be a pleasure to welcome you in Porto!
---
Save this article for later: