If you're visiting Porto, we hope you're ready to embark on a journey to discover important historical landmarks, the best restaurants and top places to shop.
But have you thought about the most unusual things to do in Porto? Well, if you like to do things most people don't think about when visiting Porto, you came to the right place. And, if you want to make sure to not miss anything, make sure to cover the bucket list of Porto as well!
These are the top unusual things to do in Porto:
Watch a Fado show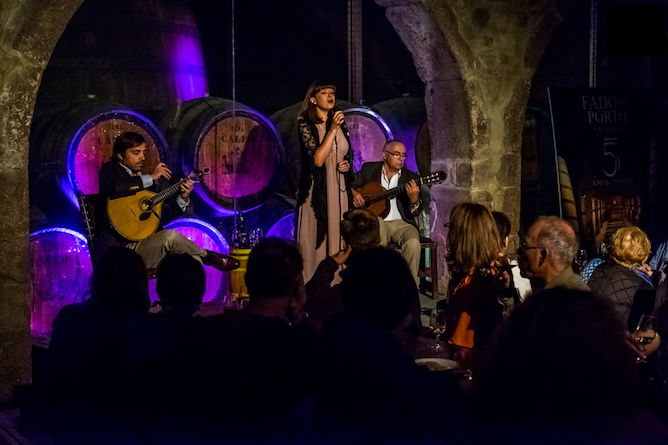 It might seem strange that I included a Fado show on this list of the unusual things to do in Porto. But in fact, Fado is not original from Porto but from Lisbon and Coimbra, so it is not common at all that people watch Fado shows in our city.
Usually the Fado shows run during dinner, and I've already written about the best Fado houses in Porto. As it usually includes dinner it ends up being an expensive activity (about 30/40€ per person).
However, if you are only interested in listening to Fado, I recommend that you to buy the online ticket for the Fado show at Casa da Guitarra, which is very economical – only 15€ / person.
An even nicer way to do it is to get an online ticket for a Fado show taking place at a Port wine cellar, which is only slightly more expensive than the previous one.

[getyourguide ids='168071,57077′ data-gyg-cmp='unusual-things-to-do-porto' data-gyg-placement='content-middle' data-gyg-locale-code='en-EN']
Ride a buggy in the hills of Porto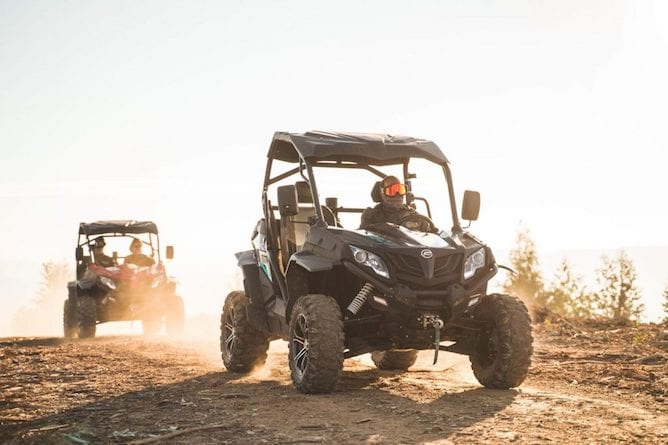 Recently I tried to ride a Buggy at Serras do Porto Natural Park and I had SO MUCH FUN 😀 I was a bit worried about safety but 1) the guides are very professional but 2) the equipment is new and in good conditions.
Once I got it out of my head I got into our buggy and enjoyed the ride – we crossed some rivers and some bumpy courses with holes, always enjoying the most beautiful panoramas of the region.
We also got to see Quintandona, a picturesque village, as well as the incredible Roman ruins of Castro Mozinho.
All and all, a really well spent afternoon especially in a world pos pandemic 🙂 If you want to give it a go, just get your online ticket to the Off Road Buggy Adventure!
Watch a film at an independent movie theater
Rua do Almada, 412 | Porto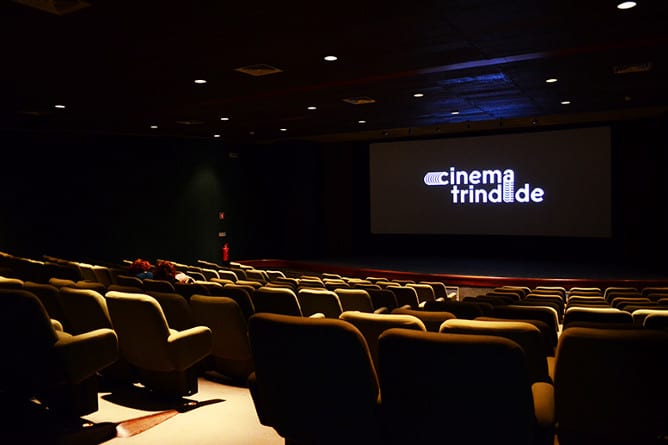 Cinema Trindade is my favorite place to go to for independent films as it has a great selection of movies, affordable prices and comfortable seats.
There is no popcorn (am I the only one that hates loud chewing?), and no advertisements before screenings.
The movies are in their original language with Portuguese subtitles. Therefore, you can catch many English movies in this theater, as well as a lot of European and Latin American ones.
Local tip: If you're watching more films, get the "Tripass Card". It costs 10€ giving you a free first ticket and 25% discount on all your future purchases. You can get the card (which is valid for a year) at Cinema Trindade and use it for Rivoli, Campo Alegre and Passos Manuel theaters.
How to get there: Trindade subway station is a 4 minutes walking distance.
Avenida de Rodrigues de Freitas, 93-95 | Porto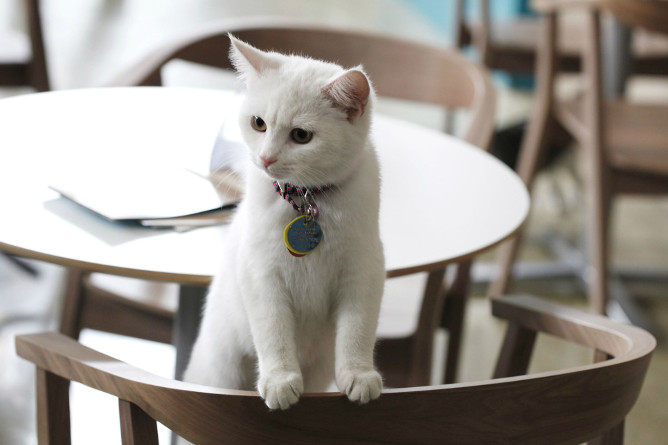 If you're a cat lover like me, don't miss out on participating in one of our favourite unusual things to do in Porto. And that is visiting the Porto cat café, Porto dos Gatos, one of the few of its kind in Europe.
The interior is calm with a dominating cat theme as one would expect.
The food is 100% vegan, but you don't have to be vegan/vegetarian to enjoy their tasty meals. My recommendations are the vegan hot dogs, the soups and the tofu-bean salad. Also, they excel in making desserts like cakes and brownies.
The cats have their own separate room which you're not allowed to bring food in. However, some of the cats like to roam in the outdoor area where you can sit down and eat. At O Porto dos Gatos, all the cats are up for adoption and this place accepts donations such as cat food.
How to get there: 24 de Agosto subway station is a 4 minutes walking distance.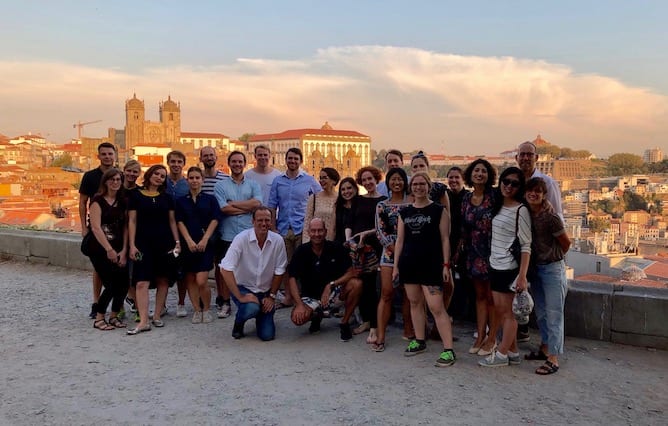 There are many ways to discover Porto, but one of the most unusual ones is to do a private tour. The main advantage of a private tour is clear: you will be accompanied by a professional guide – myself or one of the talented people who work with me – who will explain not only the history of Porto but also lots of fun stories about the local culture.
There are many tours in the city but our tours are exclusively private, which means that we can tailor make an itinerary that really meets your expectations and pace.
You can read what other travellers wrote about us on TripAdvisor and then send me an email to sara@portoalities.com telling me when are you traveling to Porto and how many people are traveling with you. It will be a pleasure to welcome you in Porto! 🙂
Join a Food tour in Porto
One thing you'll quickly realise when you arrive in Portugal is that we LOVE FOOD and our social life revolves around it, so the best way to dive into our culture is to join a Food tour in Porto.
As you can imagine, being a local guide I know all the places that you'll visit on this particular food tour and I can assure you that you'll be tasting one of the best single origin coffees in Porto, as well as visiting a fantastic traditional grocery store, where you'll taste real Portuguese cheeses & smoked meats.
Compared to other experiences in the city this is quite an inexpensive one, so grab your online ticket to your Food tour in Porto and have loads of fun! 😀
Rua da Bainharia, 119 | Porto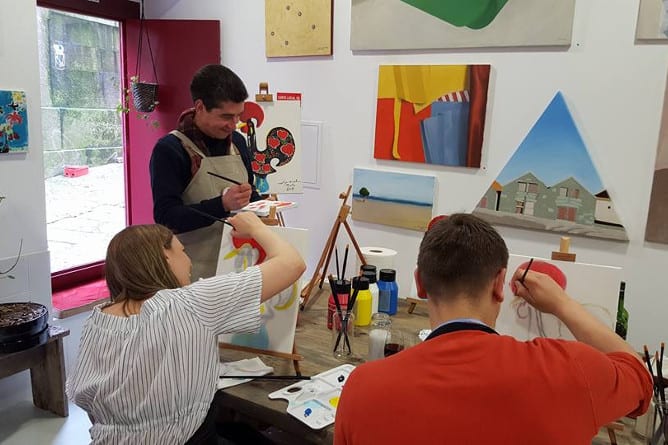 In the historic center, you have the opportunity to take part in one of the unusual things to do in Porto: taking an art class!
In Lago Artes studio Hugo, a local artisan, will then teach you how to paint with watercolors. He will also talk about materials, brushes, paper and techniques. Then everyone starts to paint their own work while he gives support as you go along. No previous experience required.
The easiest and most affordable way to attend the class is to make a reservation with Hugo directly by phone/text message on +351 915 682 581. The class costs 47€, but slots are subject to availability. It starts at 15h and it lasts for about 1-2 hours.
How to get there: São Bento subway station is a 4 minutes walking distance.
Alameda de Basílio Teles, 51 | Porto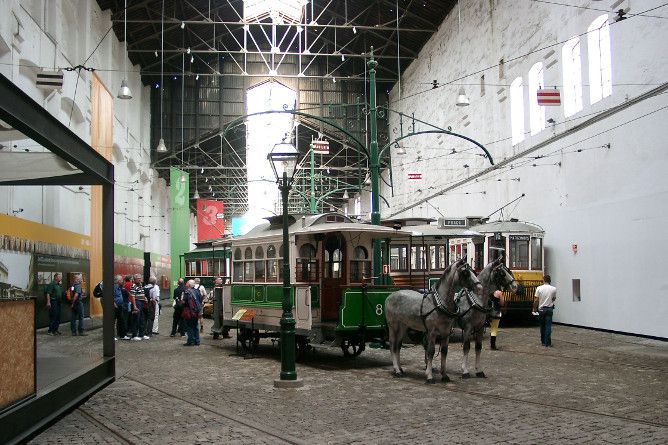 One of the most unusual things to do in Porto is to go visit the Tram Museum, where you'll indeed take a trip back in time. First, you will get to see old trams and how they progressed over the years. At the same time, you'll discover the history of each train and why they have different nicknames. There are also other vehicles besides trams, like buses and coal and fish transporters.
But the best part is that you get to enter in each train and even sit down to imagine what it felt like years ago. Kids will love this place since it's one of the best museums in Porto for families.
There are other unusual museums you can visit in Porto such as Serralves Contemporary Art Museum (you can get the online ticket to Serralves museum and enjoy a nice and invigorating walk in its vast gardens) and the World of Discoveries Interactive Museum (you can buy an online ticket to the World of Discoveries).
How to get there: take the tram 1 until Museu C. Eléctrico. The Museum is a 1 minute walking distance.
Multiple locations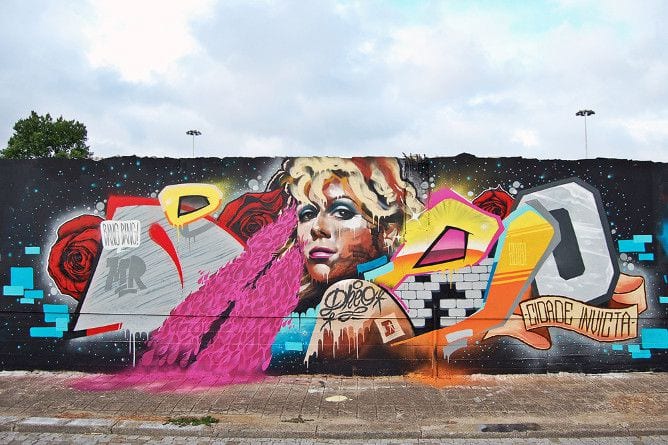 In Porto, you'll encounter some of the most stunning street murals in Europe. What's so unique about our street art is the fact that it's celebrated and encouraged. The current mayor gives incentives to artists to display their art on the city walls, a great initiative to promote an art that was once censored.
There's street art everywhere you look in Porto like in Rua das Flores and Rua da Restauração. The local government agreed to allow artists to paint electrical boxes there.
This might be one of the most unusual things to do in Porto, but it'll give you a new perspective of this intriguing city. If you don't know where to start, join us on a private tour. We'll be happy to introduce you to the most amazing street art in Porto.
Vila Nova de Gaia Dock | Vila Nova de Gaia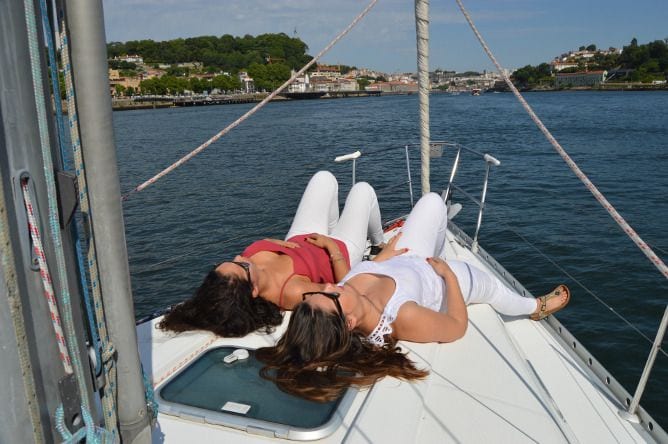 One of the most romantic and yet unusual things to do in Porto is to take a private sailing trip. This way, you won't have to deal with long lines or standing in a crowded boat with random people.
The trip usually lasts 2 to 3 hours and you'll have the boat all to yourself (besides the sailor). On board, you will also enjoy some Port wine, champagne and petiscos (snacks).
To book a trip, email our sailor Tomás, on tomassilva@flyfishinginportugal.com. Use the code PORTOALITIES5 to get 5% off on any experience provided by him.
How to get there: To get to Vila Nova de Gaia docks, take the subway until Jardim do Morro. The docks are a 10 minutes walking distance.
Rua do Ouro, 680 | Porto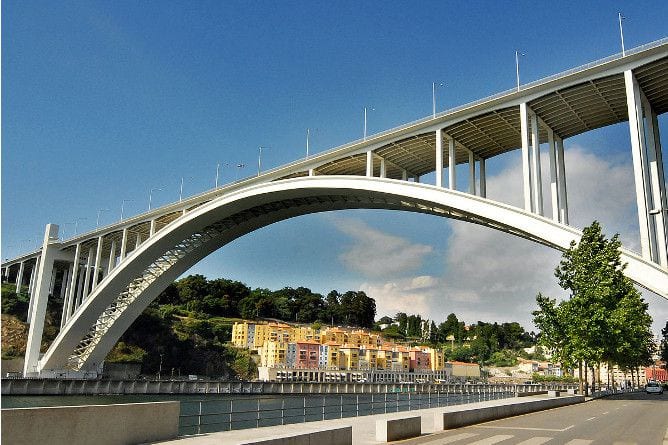 Climbing the arch of the Arrábida Bridge is one of the most unusual things to do in Porto. It is great for those who are looking for outdoor activities, but to be honest I find it too expensive for what it is.
The climb takes around 30 minutes of easy climbing. At the top, you will have a Port wine served in chocolate cups while you enjoy the amazing view of the Douro river.
You can get information about tickets to climb the Arrábida bridge. It costs 17.5€ per person, but if you're coming with a group greater than 5 people, it'll cost 16€ per person.
How to get there: take tram Line 1 and get off at your destination by stopping at Ponte Arrábida.
Walk down the Codeçal stairs
Travessa de Santa Clara, 193 | Porto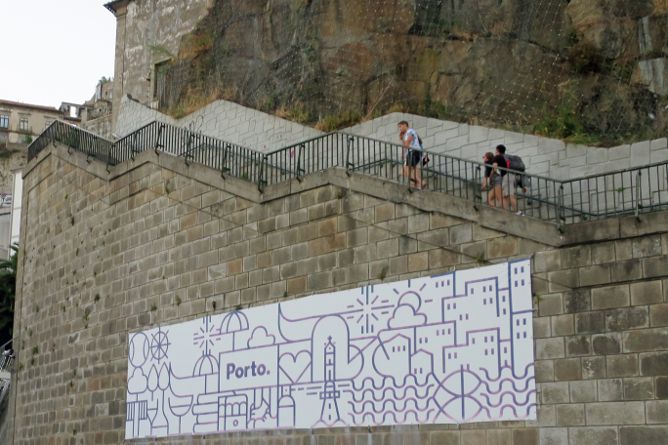 Climbing Escadas do Codeçal (which translates to the Codeçal stairs) is one of the most unusual things to do in Porto. When done, it offers a different viewpoint of the city.
The stairs are 270 meters long (885.827 feet), but the exact date of their existence is unknown. During medieval times, they connected Santa Clara convent to the a gate of the medieval walls of the city.
Going down, enjoy the remarkable street art, interesting architecture and the amazing view.
How to get there: São Bento subway station is a 4 minutes walking distance.
Rua Comandante Rodolfo de Araújo, 162 | Porto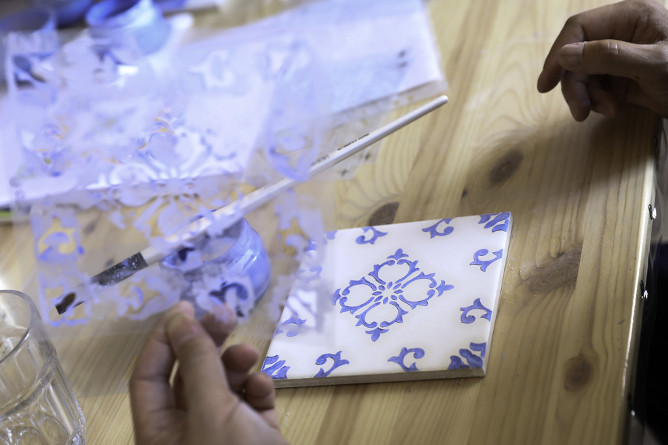 One of the most unusual things to do in Porto is to paint azulejo tiles. In the workshop of cultural producer Marisa Ferreira and designer Alba Plaza, you will learn a brief history of tiles in Portugal. Then, you'll discover the painting techniques of this ancient art.
The class is 2 hours long, and it costs 25€ including tools, materials and the cooking of 1 tile (if you want to paint more, it'll cost 5€ per tile).
How to get there: 24 de Agosto subway station is a 5 minutes walking distance.
Go thrifting around town
Multiple locations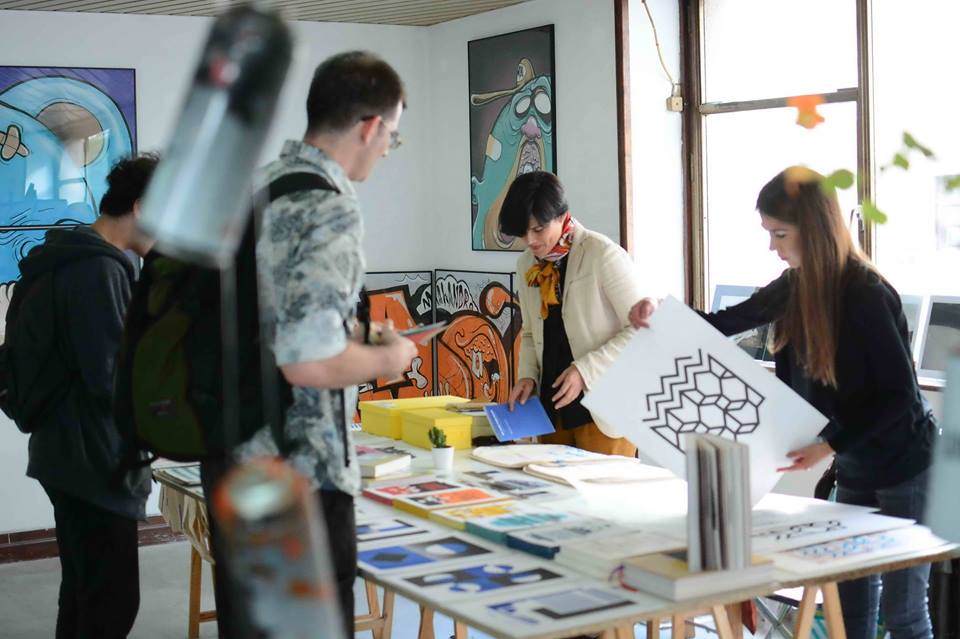 If you love finding unique or second-hand items, you should visit one of the best markets in Porto. Street markets have been around for ages. They are part of Porto's identify, one we're trying to keep alive today—after all, it was the city of merchants.
Attending one of those markets is one of the most unusual things to do in Porto. But if you prefer hunting for stuff in shops, we recommend you visit the best antique stores in the city.
Save this article for later: