I should start this list of the best sushi restaurants in Porto by saying that it is NOT a list of all sushi restaurants in the city, nor does it include any all-you-can-eat sushi restaurants.
I am genuinely convinced that if we want to eat quality fish, we have to pay for it. Sushi is an eccentricity, an excess of the soul that the wallet must pay. And so it should be.
PS – All the food photos in this article were taken by me. Some are total rubbish (I'm not much of a photographer to be honest) but trust me when I tell you that all the sushi restaurants on this list are worth it! 🙂
These are the best sushi restaurants in Porto:
Romando Sushi Caffè
Rua do Cais das Lavandeiras, 15 | Vila do Conde
It took me one visit to Romando to know that I was in the best sushi restaurant in Porto (district). It is an elegant and intimate restaurant with a sophisticated and knowledgeable service.
Here you'll find a variety of hot starters (such as octopus takoyaki and the usual spring rolls) and cold starters (such as ceviches and tartar), but the star of the night is undoubtedly the sashimi. What I found particularly refreshing is the availability of various types of fish other than salmon and tuna, as we were greeted with sea bass, mackerel and mackerel sashimi. The fish was very fresh, impeccable.
In addition to sushi you can order dishes such as sweet and sour chicken, Wellington steak and picanha sashimi.
Sure enough, you'll find desserts that match the occasion, but whenever I go to Romando there's never room for one.
How to get there: the subway station Santa Clara (red line) is a 10 minutes walking distance.
Subenshi
Praça de Parada Leitão, 13 | Porto
My relationship with Subenshi is not absolutely linear. I love the space, in the center of Porto's nightlife, and the service is very attentive. I never had a bad experience there but I always make the mistake of ordering a free style – and I end up eating sushi with strawberry or starry egg (heeeeelp!). Despite this I am genuinely convinced that Subenshi is one of the best sushi restaurants in Porto, because of the high quality fish.
Subenshi has a wide variety of starters from tempuras, gyozas, salads and soups. After that order a Benshi fusion sushi menus, but if you're more traditional like me I recommend you to order one of the traditional sushi Kaishi menus. If you prefer to order from the menu you have a generous list of sashimi, nigiri, gunkan, uramaki and temakis to choose from
This is one of the best sushi restaurants in Porto to bring a date (given the romantic atmosphere). If you want to make your night extra special, watch a Fado show at Casa da Guitarra before heading to dinner.
It is also a safe restaurant to take friends who do not like sushi, because the alternatives are very good (sauteed pasta, roast beef bao, etc).
How to get there: the subway station São Bento (yellow line) is a 5 minutes walking distance.
Rua do Sol, 238 | Porto
Shiko was a breath of fresh air in Porto, presenting itself as an izakaya, ie a Japanese tavern. There you will find not only uncomplicated sushi (without fruit, quail eggs or other outrageous inventions) but also Japanese delicacies such as okonomiyaki (a traditional pancake), fried eggplant with sweet miso sauce and tori nanban (fried chicken with homemade sweet and sour sauce).
What I really like about Shiko are the lunch menus, which range from 12€ (with 12 pieces of sushi) to 21€ (with three starters, sashimi, 8 pieces of sushi, fruit and coffee). Precisely for this reason it is one of the best sushi restaurants in Porto for people who have to lunch alone. Space itself invites it; It is a small room for about 25 people, with individual tables very close to each other. Therefore Shiko doesn't offer much intimacy as it is more of an informal social space.
Another strength of Shiko is that they always bring various varieties of fish beyond the usual salmon, tuna and whitefish, even without me having to ask.
If you can't get out of town to go to Romando, then definitely choose Shiko, because it's at the top of this list of the best sushi restaurants in Porto.
How to get there: the subway station 24 Agosto (blue line) is a 10 minutes walking distance.
Avenida da Liberdade, 146 | Leça da Palmeira
Sushiaria is not exactly close but it is nonetheless one of the best sushi restaurants in Porto… district 😛
This discreet restaurant in Leça da Palmeira belongs to Ricardo Rodrigues, the owner of the amazing restaurants Esquina do Avesso, Terminal 4450 and Fava Tonka and just for that it deserves a quality seal.
What distinguishes Sushiaria from other sushi restaurants in Porto are the wonderful starters and desserts.
It's not that the sushi itself isn't very good (because it is; otherwise it wouldn't be on this list of the best sushi restaurants in Porto), but at Sushiaria I always feel a bit of excitement as I wait for the starters and desserts.
Another plus point of Sushiaria is the excellent alternative dishes such as Katsudon (Japanese style breaded pork served in a rice bowl).
The wine list is a serious one, with references such as Quinta Nova Mirabillis Grande Reserve or the more affordable Quinta do Ameal and Vale dos Ares. All excellent options to go along with your sushi.
How to get there: the subway station Mercado (blue line) is a 17 minutes walking distance.
Wish Restaurante & Sushi
Largo da Igreja da Foz, 105 and 107 | Porto
I think a fair way to rate Wish is by taking the name of this establishment, which first puts it under the name "restaurant" and then "sushi". It is so. The biggest weapon of Wish, besides its privileged location in a romantic square in Foz neighborhood, is its versatility.
Wish has a list of starters and main courses that defies all conventional logic. It includes meat and fish dishes, salads, risottos and pastas. Sushi, neither being the main star nor having the genius of Romando, is well prepared.
Wish is one of Porto's sushi restaurants with executive menus.
This restaurant is quite large but intimate, so it is most suitable for business lunches or for large groups.
How to get there: take the tram line 1 to Passeio Alegre.
Gion
Rua do Comércio do Porto, 197 | Porto
Gion goes unnoticed on this list of the best sushi restaurants in Porto, cornered in one of the streets of Ribeira's neighborhood.
But its sushi – unsurprisingly well done – is a great option for a weekday lunch. It has two very nice executive menus. The most expensive (14€) consists of 4 gyozas, 12 pieces of sushi and 4 pieces of sashimi, as well as a drink and coffee. It's worth going there at night because a la carte sushi is better than lunch.
Gion doesn't have many options for those who don't like sushi, so it's not the best place to bring those grumpy friends who don't appreciate it (who has that kind of friends anyway?!).
How to get there: the subway station São Bento (yellow line) is a 10 minutes walking distance.
Ikeda
Rua do Campo Alegre, 416 | Porto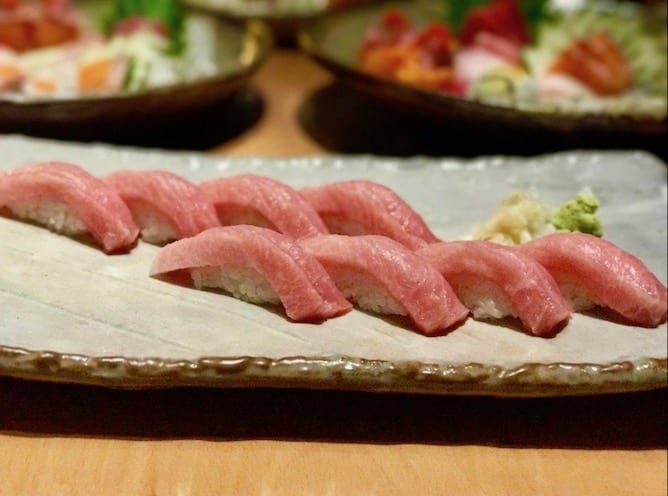 One of the things I like best about Ikeda, one of the best sushi restaurants in Porto, is the variety of dishes served – such as ramen, ceviche and aji tataki (thinly chopped mackerel), among other options. Another important aspect is the diversity of spaces within Ikeda, which has the restaurant itself, a perfect lounge area for a cocktail and a sushi bar (right in front of the sushiman).
The sushi is well served but best of all, the sashimi is not just about boring slices of tuna and salmon (or worse, questionable whitefish), but it includes other local varieties of fish.
At Ikeda you can find several lunch menus: sushi menus ranging from 16€ to 19€, and the chicken or salmon teppanyaki (around 16€). If you go there with kids you can order a very affordable children's menu.
How to get there: take one of this buses (200, 204, 207 or 209) and get out at the stop Gólgota.
Sushihana
Rua Professor Mota Pinto, 138 | Porto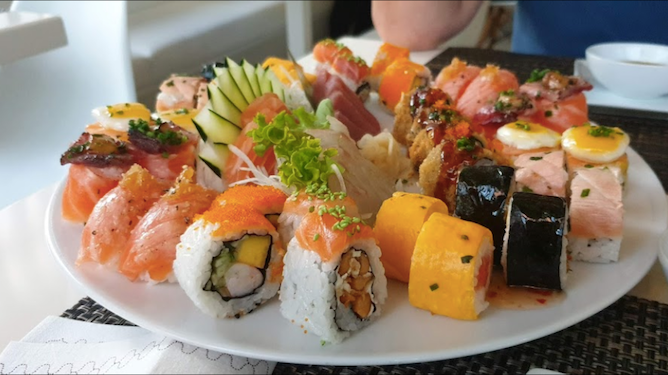 Sushiana was my gateway to the wonderful world of sushi many years ago. I used to go to both Sushiana da Baixa and Sushiana da Foz regularly, but both are closed now. But the Ramalde's Sushiana persists, away from the center of Porto.
In my opinion Sushiana is one of the best sushi restaurants in Porto to get real value from the money. Not being a surprising sushi, it is a sushi that does not disappoint and that strives for consistency. I advise you to order the sushi festival. You can also choose from traditional combos or freestyles, depending on your adventurous degree.
I also recommend you visit Sushiana at lunchtime, as they serve a variety of menus at very attractive prices.
How to get there: there are several stops nearby, but you can also take the subway (blue line) and get out in Francos. Sushiana is a 20 minutes walking distance.
Save this article for later: