No wonder: besides its majestic beauty, the Douro Valley region is a dream come true for wine lovers who can wander around some of its best vineyards.
However, usually people who do not drink wine struggle a bit about what to do in Douro Valley besides drinking wine, which is why I am writing about the best Douro river cruises.
Please note that this article is about the short boat rides in Douro river, not about the week long ones. This is meant, therefore, for people who are planning to stay a couple of days in Douro Valley or even just organising a day trip from Porto.

If you are looking for the short boat rides in Douro river but in Porto, please read my article about the best river cruises in Porto – one of the most popular activities in the city!

We are going to explore three different kinds of Douro river cruises:
Before I talk about river cruises let me just say that Yes, there are…
Safety measures implemented during the pandemic.
Currently, ALL boats circulating can only have 2/3 of its capacity occupied, in order to ensure a safe distance between passengers.
And, even though it is an outdoors activity and in Portugal we no longer have to wear masks outdoors, you STILL have to wear a mask during the boat ride (which makes me feel a lot more comfortable, to be honest!).
Last but not the least, every passenger needs to disinfect their hands before entering the boat.
Best Douro river cruises starting in Pinhão
There are some short Douro river cruises departing from Pinhão, the main city of the sub region of Cima Corgo, in Douro Valley. This is the river cruise that I enjoy the most, for several reasons:
It's a short Douro river cruise, and hence you can combine it with a wine tour & tasting at a vineyard and a lunch in Pinhão. If you have a rented car, you can simply park it in Pinhão and walk to the deck.

Whether you opt for a 1h river cruise (Pinhão – Romaneira – Pinhão) or for a 2h one (Pinhão – Tua – Pinhão), the views from the boat are simply stunning.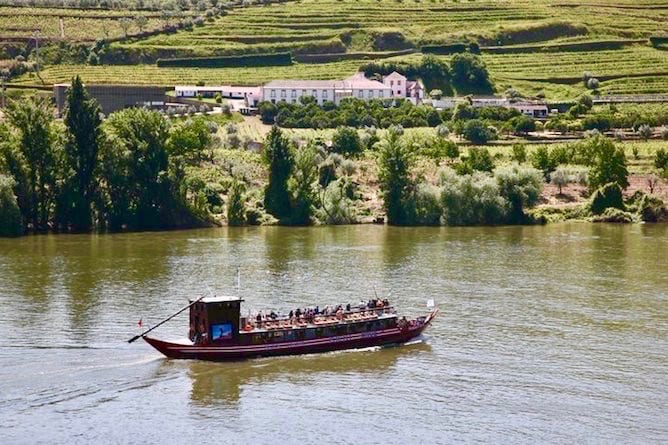 Tour operators
There are several tour operators making the best Douro river cruises.

I personally recommend Magnífico Douro as the boats are in great conditions, the boat rides are cheap, and the staff is very friendly and professional.
They organise both 2h and 1h boat rides departing from Pinhão. You can simply buy the online ticket for the 2h Douro river cruise or the online ticket for the 1h Douro river cruise, depending on your time availability.
Price of the Douro river cruises
Currently, a 1h Douro river cruise costs 11€, whereas a 2h Douro river cruise costs 20€.
Children up to 5 years old don't pay anything.
Children from 6 to 11 years old have a 50% discount on the price of the tickets, as you can see when you buy the tickets online: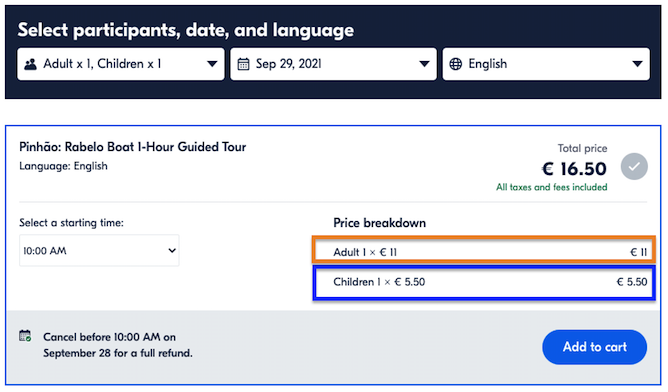 Schedule of the best Douro river cruises
The 1h Douro river cruise departures every hour, from 10h to 18h. During winter, there are no boats at 17h nor 18h.
The 2h Douro river cruise departures only at 10h45 and then at 15h, so make sure to grab your seat!
What is the size of the boats?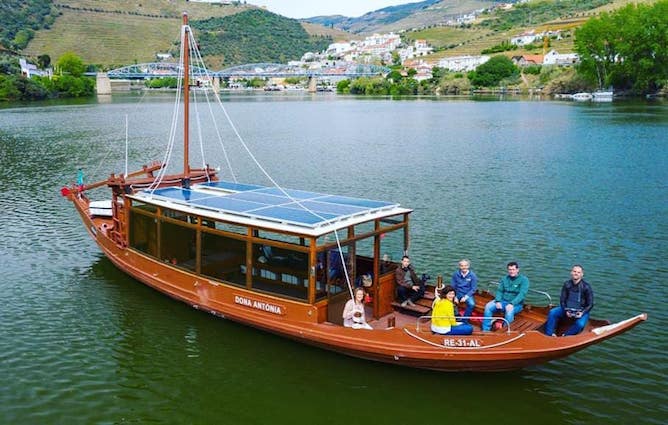 Magnífico Douro uses 7 traditional rabelo boats of different sizes, and for the regular departures it usually uses one of 4 boats. Depending on the number of tickets that they have sold for each schedule, they will use one of the following boats:
Dona Antónia – it is an electrical boat (the only one of its kind in the country!), with capacity for 34 passengers. It is 17,5 meters long.
Torga – with 17,5 meters long, it has capacity for 45 passengers.

Touriga – with 17,5 meters long, it has capacity for 32 passengers. It is very similar to Torga.

Socalcos – their largest boat, it is almost 24 meters long and it has capacity for 100 passengers.
Are there bathrooms (WC) on board?
YES!
What if it rains?
If it rains you cry and ask for your money back, because everyone promised you a sunny Portugal 😛 Jokes aside: I get this question MANY TIMES so I guess it a major concern of a lot of people.
But there is no reason to worry, not really. First of all, the boats are super safe. Second of all, all the boats have a covered area with sofas, proper windows and a ceiling, creating a small room from which you can still enjoy your river cruise without getting wet.
What are you talking about Sara, I don't see a covered area on some of the pictures! That is because both the windows and the ceiling are removable and removed on sunny days. True story. In engineers we trust.
Do they sell drinks and food on board?
One thing that distinguishes Magnífico Douro from its competitors is that you can actually buy some drinks on board – mostly water and beer. However, no one sells food (so if you really need to eat, I suggest you bring some easy-to-eat snacks like dried fruits).
Are there audio guides available?
Another thing I love about Magnífico Douro is that, unlike its competitors, you don't hear a shrill voice speaking through a megaphone for the entire boat.
Instead, you simply download their audioguide app (available on Play Store and Apple Store) on your smartphone – don't forget to take your earplugs. The app is available in four different languages: English, French, Portuguese and Spanish.
When you buy the online ticket to the best Douro river cruises, just select the language you want: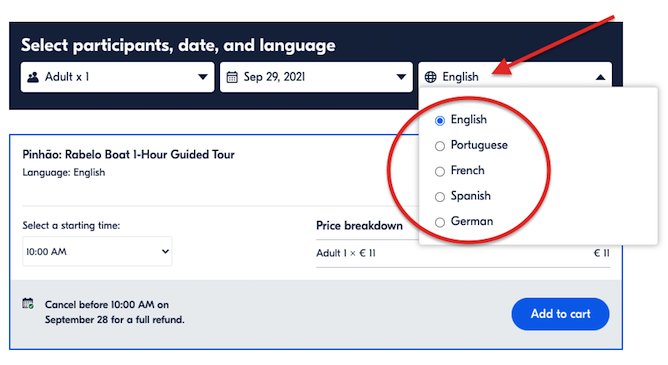 Douro river cruises starting in Régua
There are shorter Douro river cruises that start in Régua, the main city in the Douro Valley, at the heart of the Baixo Corgo Sub Region.

I don't find these boat rides as beautiful as the ones departing from Pinhão (simply because the landscape from Régua to Pinhão is not as beautiful as the one from Pinhão upwards), but it might be more convenient to get these because Régua is more central than Pinhão.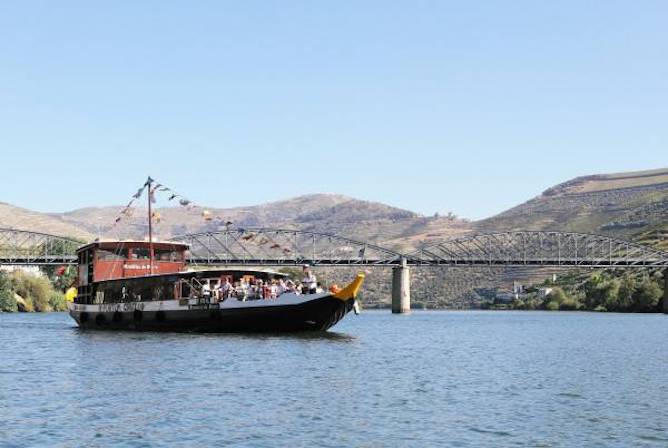 Useful information
Honestly we never include Douro river cruises departing from Régua on our private tours in Douro Valley so I cannot be of much help in this particular case.

However, I do know that the river cruise companies are located in Cais da Régua, in front of Museu do Douro (a famous wine museum).
River cruises that connect Porto to Régua / Pinhão
This one day Douro river cruises consist of a combination of a train ride from Porto to Régua, Pinhão, Pocinho or Barca d'Alva, followed by a boat ride down the river, or the other way around (going up the river by boat and then getting back to Porto by train).

Usually there are welcoming drinks and lunch being served on board of the one day Douro river cruises, and there are also some programs that include a visit to a vineyard. Therefore you need to spend some time to find the right tour operator & program that meets your expectations.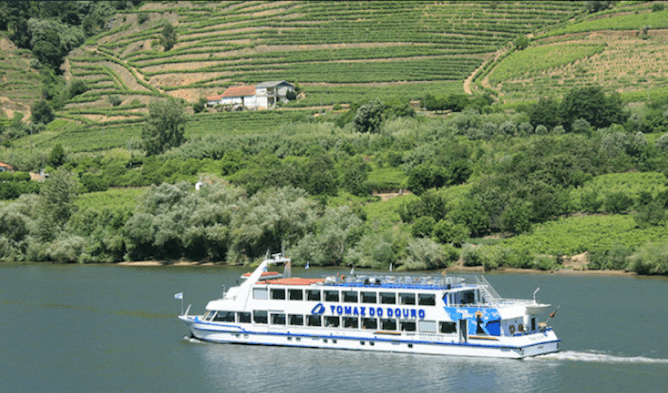 This is the Douro river cruise that I like the least, for several reasons:
It is a very lengthy day, starting at around 7h and ending somewhere around 23h. If you are traveling with kids or with elder people they might get tired half way through.

Because you will be taking a combination of both train and boat ride you will loose the flexibility to visit the vineyards you are truly interested in. This happens because only a handful producers have their vineyards close to the train stations in Douro Valley (Régua, Pinhão and Pocinho).
Nonetheless, the one day Douro river cruises are still a popular choice for those who are not so much into wine tastings and would rather (and quite understandingly) spend the day just enjoying the views.
Tour operators
You can get your online ticket to the one day Douro river cruise Porto – Régua (the main city in the Baixo Corgo sub region) or get your online ticket to the one day Douro river cruise Porto – Pinhão (the main city in the Cima Corgo sub region).
Prices
The prices range from 60€ to 120€ depending on the tour operator, the length of the river cruise and other factors.

The one day Douro river cruises that I just suggested cost 72€ (Porto – Régua – Porto) and 86€ (Porto – Pinhão – Porto), respectively. These prices may vary according to the season of the year.
Duration
Around 16h, but check the schedule of each tour operator of Douro river cruises.
Private Douro river cruises
Affordable Option: Anima Durius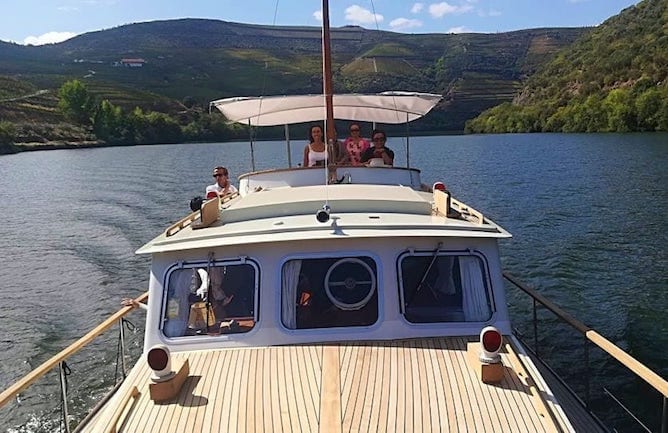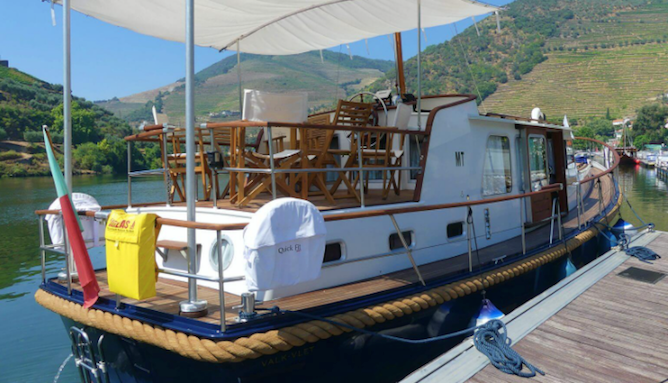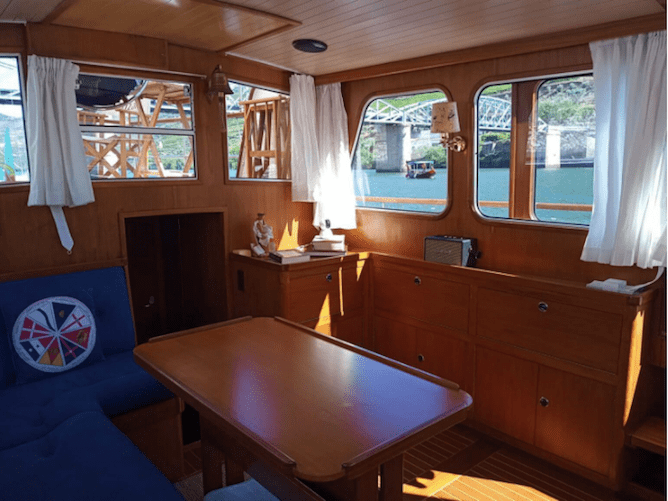 For those of you that dream about making a private river cruise but without breaking the piggy bank or having to eat pasta with tuna for the rest of the month, I have great news: there is a company in Douro Valley that makes affordable private river cruises!
Prices
True story. It costs 50€ / person per hour (so basically if you go with your loved one and take a 1h boat ride, the trip costs 100€. If you want 2h, you pay 200€. If you bring a group of 6 people for 1h, it costs 300€. Get it?). Honestly, I find this price very reasonable, taking into account how comfortable and modern the boat is.
Schedules
This affordable private Douro river cruise can departure anytime from 9h to 19h, depending on your will, and it departures from Pinhão. There is only ONE boat doing this service, so hurry up and book yours!
Luxury Option: PipaDouro and Rivus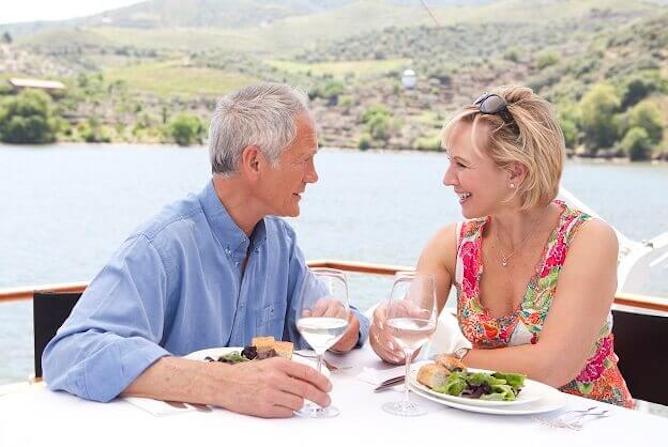 You can upscale the experience and go for a private boat ride in Douro Valley. Usually these private experiences may include dinner / breakfast / wine tastings on board and even an overnight at the boat, so it is a good idea for couples on honeymoon (or a romantic getaway) in Portugal.
Tour operators
There are fewer companies providing this service in the region and I particularly like Pipa Douro. This company organises private Douro river cruises that include wine tastings and even dinner buffets from a famous local chef, Rui Paula.

There is also a company called Rivus that organises programmes that include wine tastings and watch the sunset on board. One important thing to keep in mind though is that all Rivus' experiences have Boarding and Landing at Ferrão or Ferrão Sul (Casa dos Peixinhos) quay, not in Pinhão – which is inconvenient for those who are not traveling by car.
Prices
The price depends on the experience you choose, the number of people and also if you want a private experience or not. For more detailed information, I recommend you to contact directly both tour operators (PipaDouro and Rivus).
Are there three days Douro river cruises?
I've been getting this question lately so I decided to update this article to include that information.
First of all, it is important to distinguish between a three days Douro river cruise and a three day tour in Douro with a river cruise. Presumably, if you choose the first option you will be on a Douro river cruise for three days, whereas on the second option, you will be in Douro Valley for three days during which you will take a short Douro river cruise, for sure like the ones I mentioned above. These are two different value propositions.
All private tours companies in Douro Valley, including myself, can arrange a short Douro river cruise as part of a day (or multi days) tour in Douro Valley.
However, I don't personally know any company arranging three days Douro river cruise. I found one when researching online (the things I do for you!), but honestly I never worked with them, never heard of them, so I cannot vouch for them. I hope I was able to cast some light!
How to get to Douro Valley
There are train connections from Porto to the major cities in Douro Valley: Peso da Régua and Pinhão. This is the best option if you just want to do a Douro river cruise and then come back by train. You can check the schedules on CP website.
However, if you are want to combine a Douro river cruise with a visit to one of the vineyards in Douro Valley you definitely need a car.
You can also hire a private guide like myself or, worst case scenario, use taxis from one place to another – but you will end up loosing a lot of time in the process if you choose this last option!
Therefore, I recommend you to use AutoEurope to find the cheapest car rental deals.
Save this article for later: