I organize tours in Douro Valley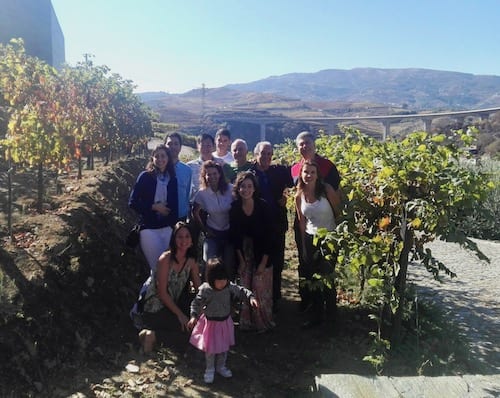 Check this page for more information or send an email to sara@portoalities.com.
Top 5 romantic hotels in North of Portugal, for a lovely weekend with your better half, a romantic getaway or simply some perfect holidays.
Quinta do Ameal s/n, Refoios de Lima, close to Ponte de Lima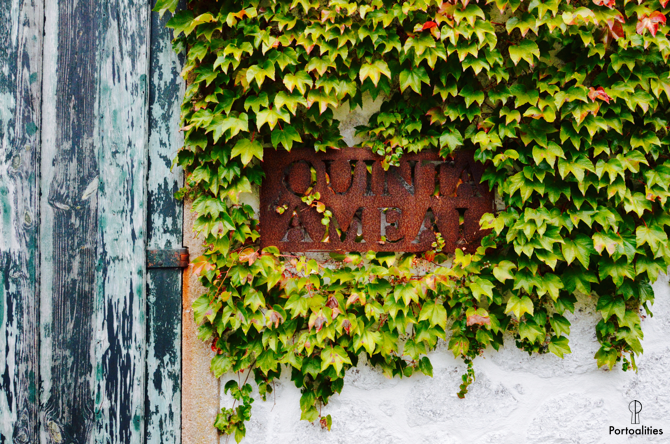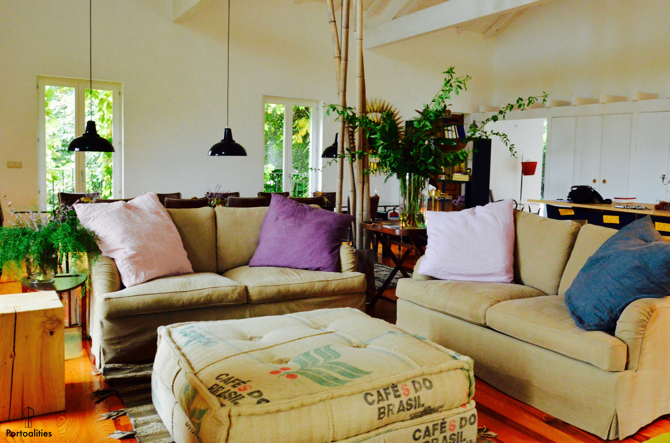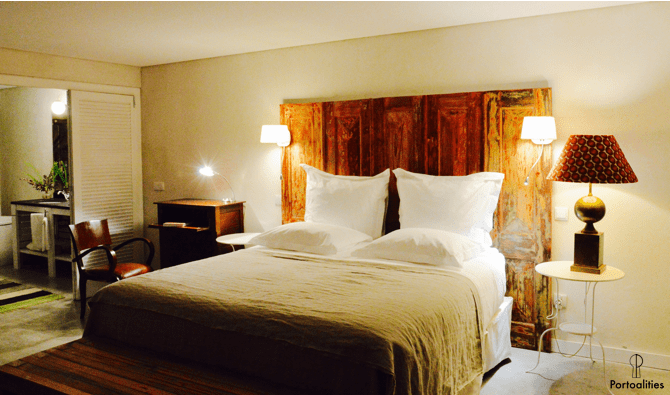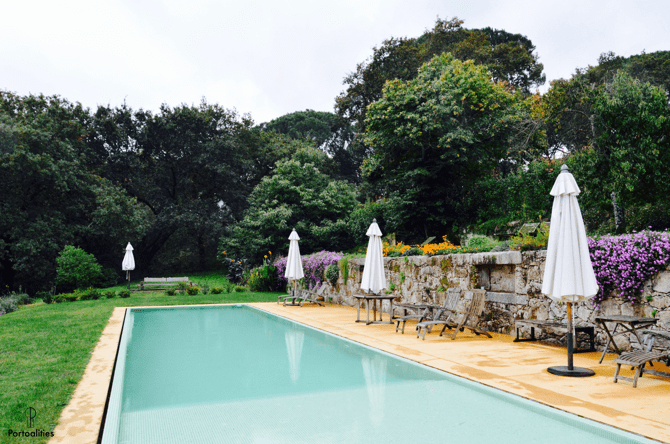 Quinta do Ameal is one of the most charming places where I have had the pleasure of staying. The estate itself is quite large, with 3 suites in the main house, ideal to accommodate a couple each, and a double suite in a nearby house.
Each suite is equipped with a private bathroom and a spacious living room. All suites have access to a beautiful living room with lovely balconies overlooking the forest, and a fireplace that makes this romantic hotel the perfect retreat for a winter weekend. And in that same room, a small kitchen available to everyone as well. It is really a paradise to be explored with your better half! You can make your reservations here.
What to do close to Quinta do Ameal:
I suggest you to explore the estate first, which, besides the woods and the various gardens, also has a swimming pool, ideal for summer days. You can also take a guided tour on the vineyards, where you will be able to taste the fabulous wines of Quinta do Ameal – for more information, read my complete guide on the green wine region.
Then, visit the village of Ponte de Lima, which is rather beautiful 🙂
Rua Dr. Avelino Germano 65 – Largo Condessa do Juncal. Guimarães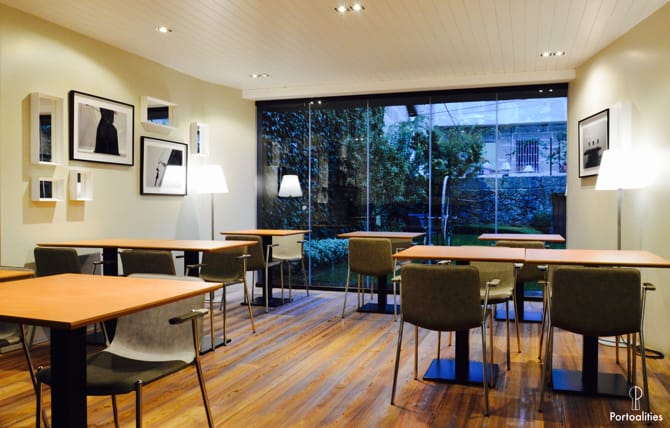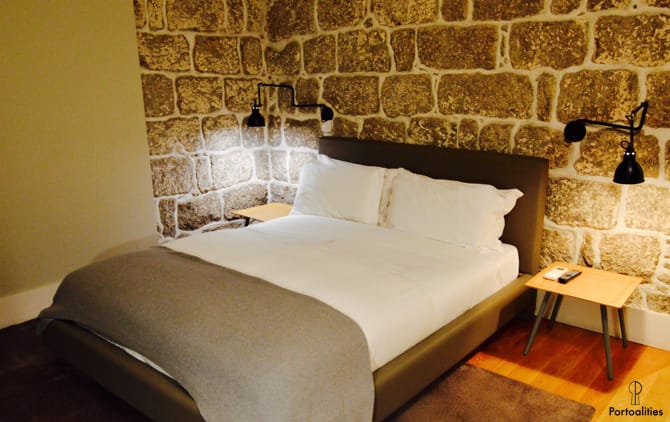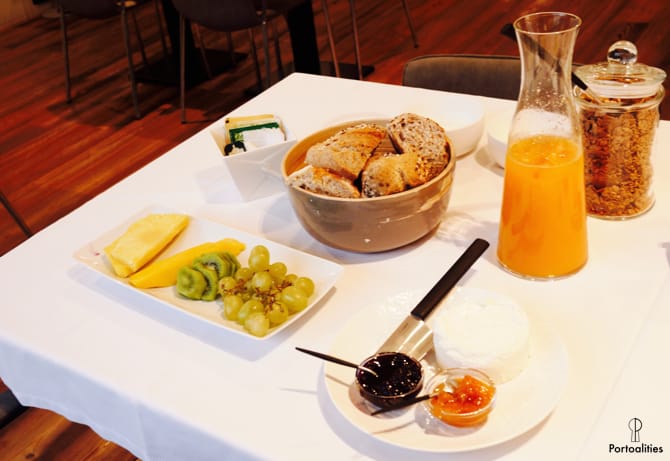 Casa do Juncal is another paradise in Minho, more precisely in Guimarães, with a very unusual concept of absolute confidence in its guests.
Just to give you some examples: at the entrance of this romantic hotel it's distributed a paper where the guests of Casa do Juncal select the products they want for breakfast, so that they have it ready in the morning. It is really convenient to have your breakfast served on the table, a treat I really enjoyed!
There is also an "honesty bar" in the living room: each guest writes down what they have drunk in order to make payment at the end of their stay.
Casa do Juncal has six suites in light tones that invite you to read and rest on the sofa, after a day well spent discovering Guimarães or Braga. And for those who prefer to stay by this romantic hotel, there is a nice garden on the backyard, perfect for a relaxed moment.
You can check the availability and make your reservation here.
What to do close to Casa do Juncal:
I suggest that you begin by exploring Guimarães through the guide I wrote about the city where Portugal was born.
Braga, just 25km away, as well as the Sanctuary of Bom Jesus (also 25km away) and Sanctuary of Sameiro (very close to the former) are also excellent suggestions for visiting not only for those who appreciate history and religion, but also for those who are simply eager to get wonderful views of this region.
Lugar da Ponte, Pinhão. Douro Valley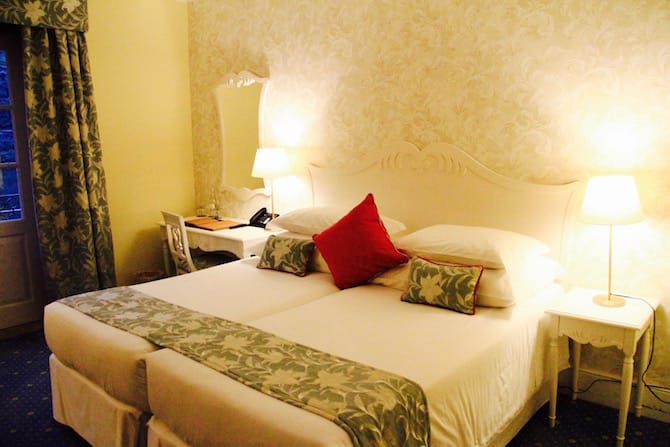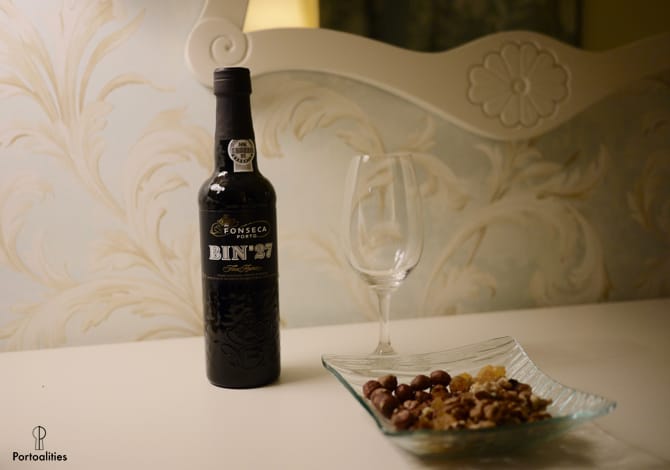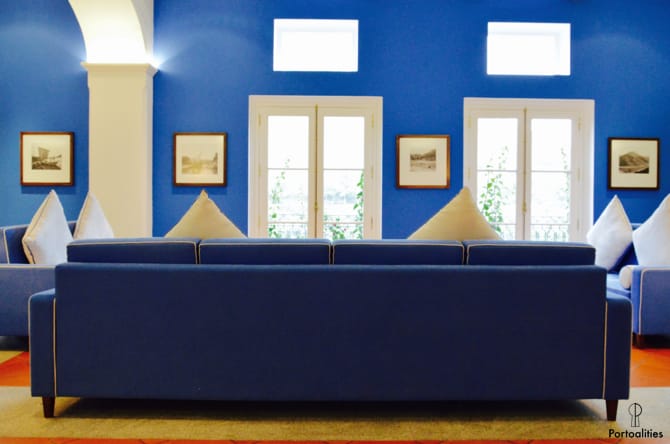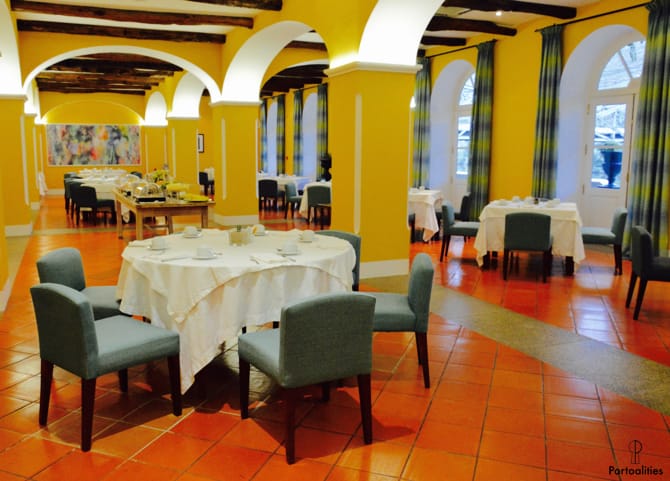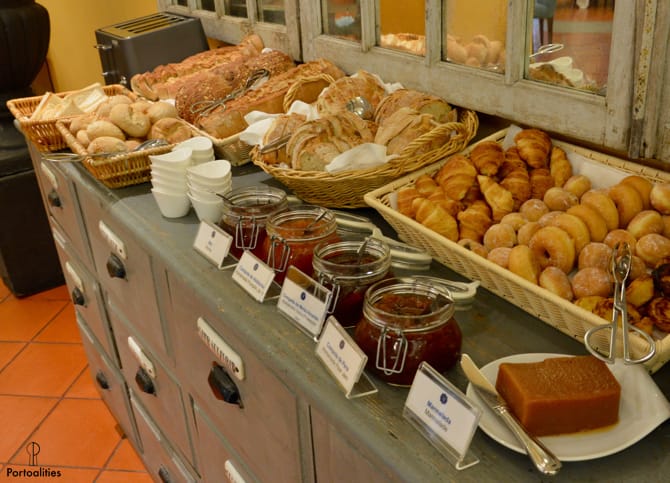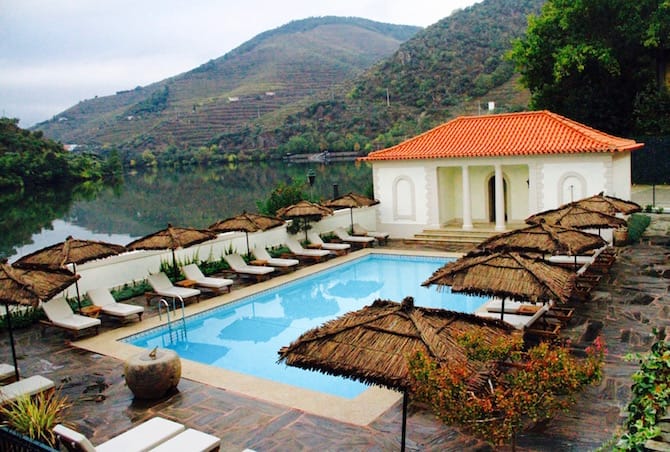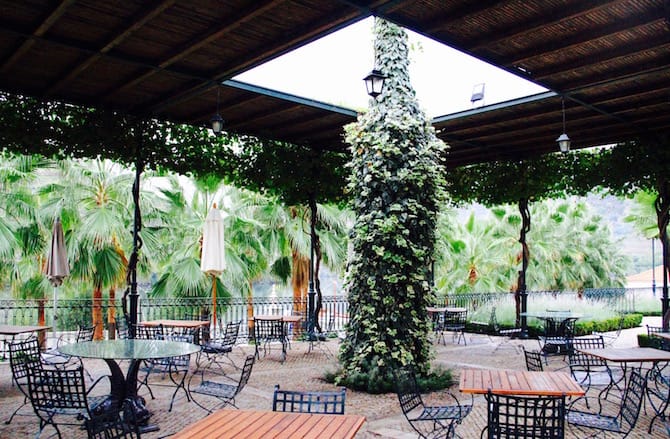 Let's focus on the Douro Valley now! As you know, it is my favourite region of Portugal (except Porto, of course), and I go there quite often. In my travels I had the opportunity to stay at The Vintage House Hotel – Douro, a luxury hotel in Pinhão, in the heart of the Douro Valley.
The Vintage House Hotel – Douro is a very spacious romantic hotel that invites you to enjoy its beautiful common areas besides your own bedroom. It has a bar decorated in English style, with comfortable leather sofas where the best Douro wines are served. On the shelves that cover the walls of the largest living room are antique books and objects that are an invitation to your imagination.
The pool has its own bar. There are also several gardened spaces, with terraces overlooking the Douro river. The breakfast (very complete, by the way) can even be served on the terrace, if the weather allows it. Otherwise, the breakfast room is very warm and welcoming, just like the other spaces of the Vintage House Hotel – Douro.
The room combines traditional elements with all the amenities of a romantic luxury hotel, and those little details that we do not resist, such as a welcome Port wine, accompanied by dried nuts. A delight!
What are you waiting to explore this paradise? You can make your reservation here.
What to do close to the Vintage House Hotel – Douro?
One of the best things of this hotel is its location in the Douro Valley. Just a few minutes away is Quinta da Roêda, a vineyard where I did a report about the harvest season.
You can also visit one of the Top vineyards in the Douro Valley, where not only the famous Port wine is produced but also the excellent Douro wines, which have a worldwide recognition as well.
And, because the Douro Valley is not only about its vineyards, check my guide on what to do in the Douro (besides drinking wine).
To complete a perfect romantic weekend in the Douro Valley with your better half, why not dine at one of its fabulous restaurants? These are two restaurants perfect for an intimate moment 😉
If you're enjoying this post, don't forget to pin it for later: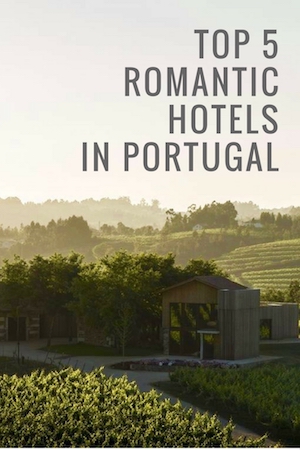 Celeirós do Douro, Sabrosa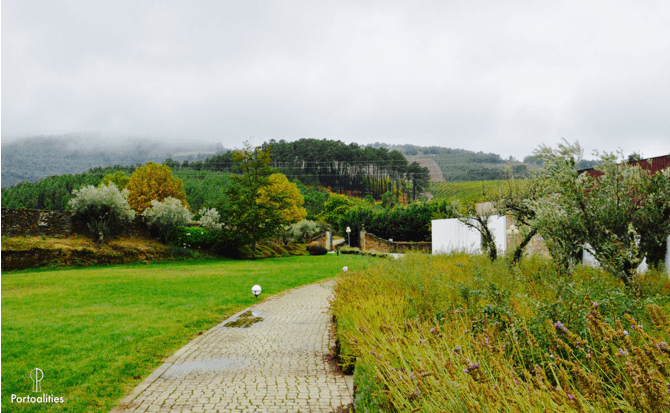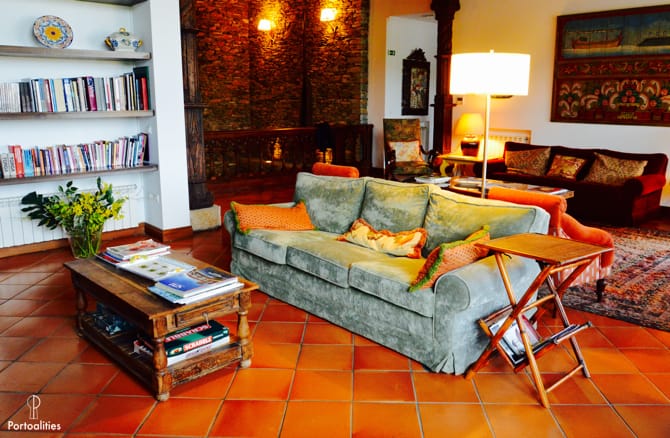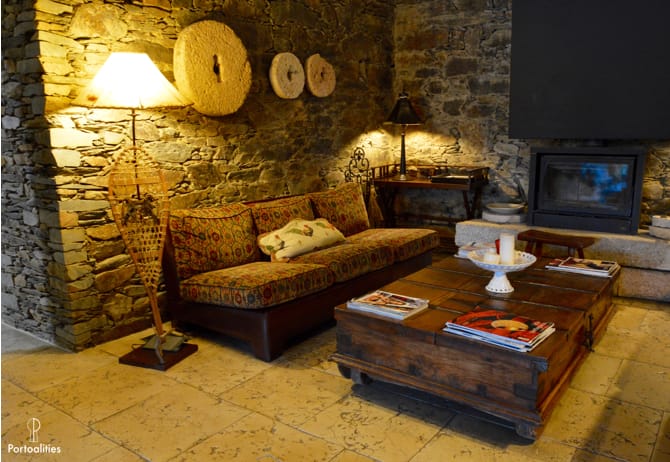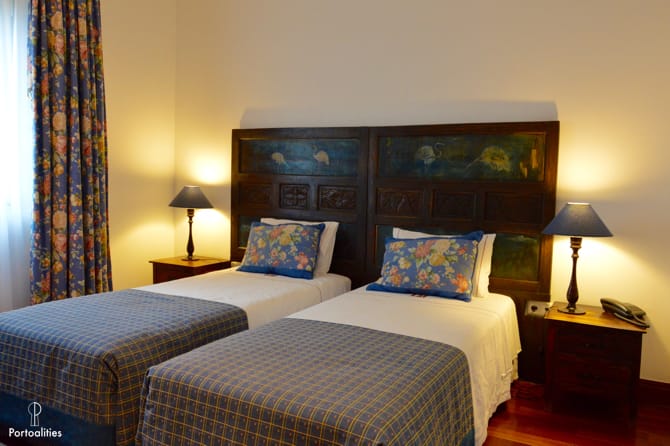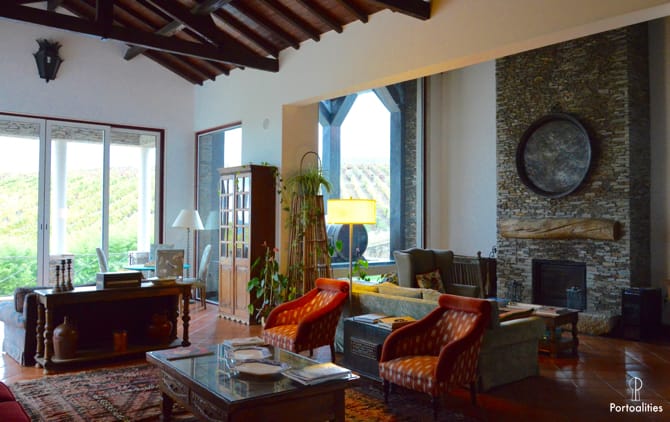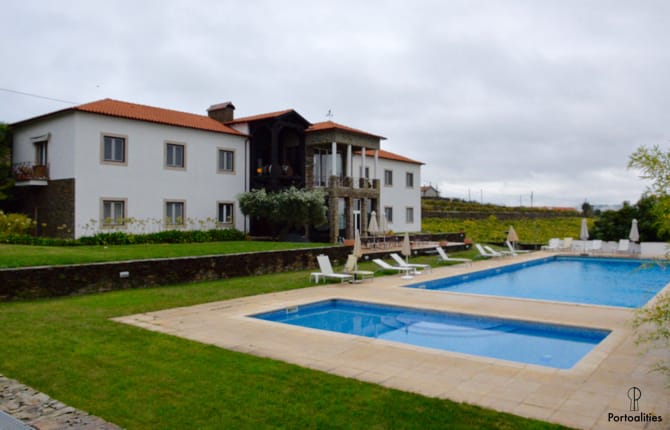 Casa das Pipas, inside the Quinta do Portal, was a pleasant surprise on my trips in the Douro Valley. The epicenter of this pleasant romantic hotel is its fabulous, spacious and cozy room, with a traditional decora, but where elements of many trips around the world are evident as well. The living room has a glassed wall leading to a terrace with a beautiful view over the Quinta do Portal's vineyards. And, when your gaze goes down a little, you will find a large pool with a porch and an ancient fountain. It's really romantic and peaceful!
You can check the availability and make your reservation here.
Where to dine when staying at Casa das Pipas / Quinta do Portal?
I highly recommend you dine at Quinta do Portal's restaurant. At this restaurant you have a menu (with a welcome drink, a starter, the main course and a dessert), which changes daily, and that is wonderfully harmonized with the wines produced in the vineyards of this estate. The price of the menu is € 40 / person – for guests of Casa das Pipas, this value is € 37.5. Children pay € 20.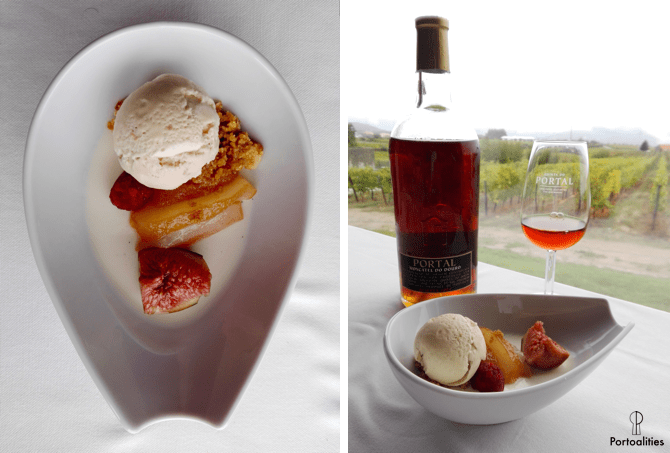 Just to give you an idea of what to expect from this meal, when I had lunch at Quinta do Portal the entrance was a tender beef pastry with olive mayonnaise, and a fabulous cream of chestnuts with chives and olive oil emulsion. Both entries were served with a Rosé Harvest 2015.
The main course was grilled bass over mashed potatoes, accompanied by shrimp, sautéed vegetables and seafood stew broth, harmonized with a Verdelho / Sauvignon Blanc 2015.
For a perfect ending, a vanilla panna cotta with pear cooked in muscat wine, crumbled walnuts, figs, blackberries and grape ice cream. I'm not a particular fan of panna cotta, and this was the only exception to my long list of attempts! It was divinely accompanied by a Muscat Reserve 2004.
What to do close to Casa das Pipas / Quinta do Portal: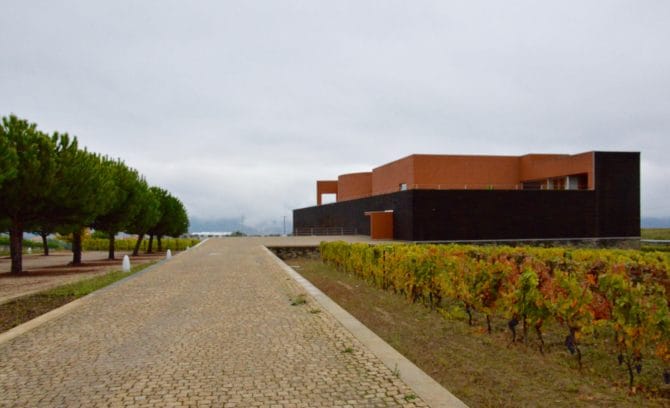 As Quinta do Portal is right in the Douro Valley, the recommendations I made for the Vintage House Hotel – Douro are equally valid.
However, I would like to add Quinta do Portal itself, whose main building was designed by the famous architect Álvaro Siza Vieira, from Porto. In addition to this architectural landmark, one of the reasons that made me choose Quinta do Portal was to know that in its basement there is not only Port wine but also Douro muscat, something that is not very common.
On the tour on its vineyards you will have the opportunity to sample its fabulous wines as well. And on that day, these were the wines I tasted (among them the 2011 Great Reserve, selected as the best wine in Portugal on that extraordinary year):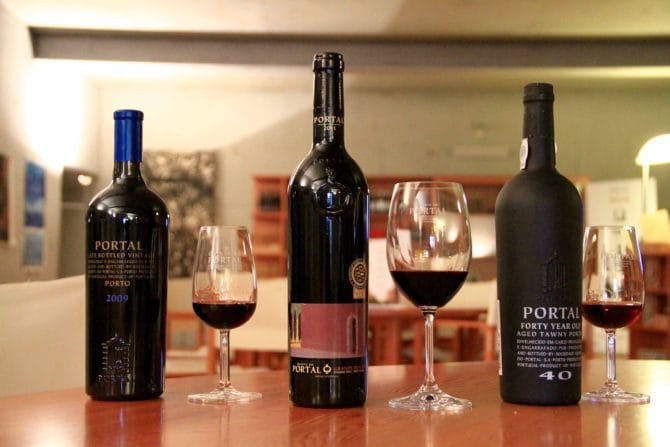 Castanheiro Redondo s/n, Telões. Amarante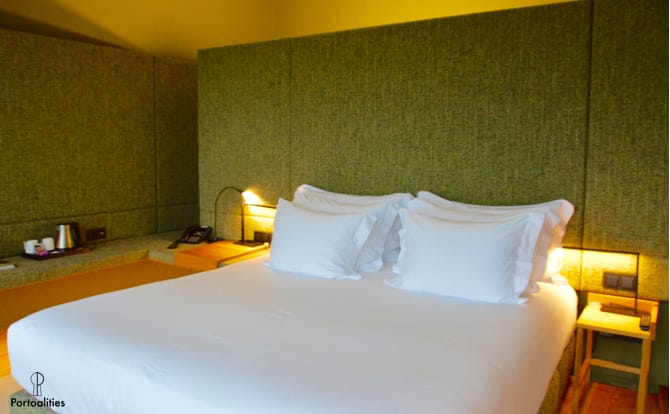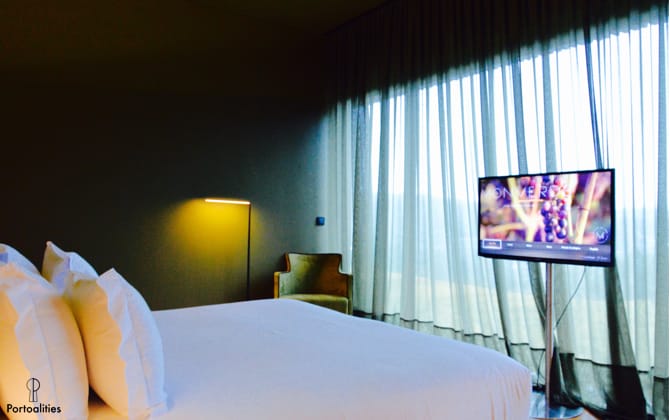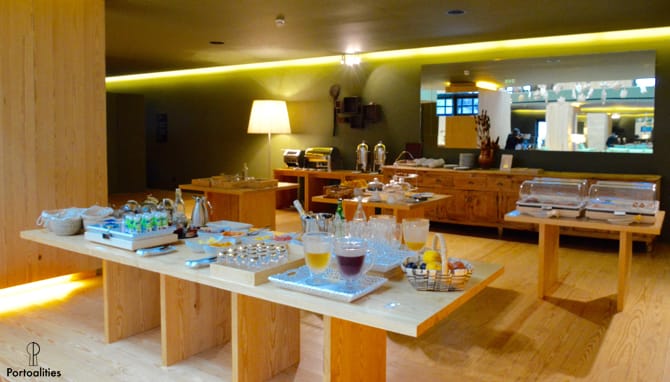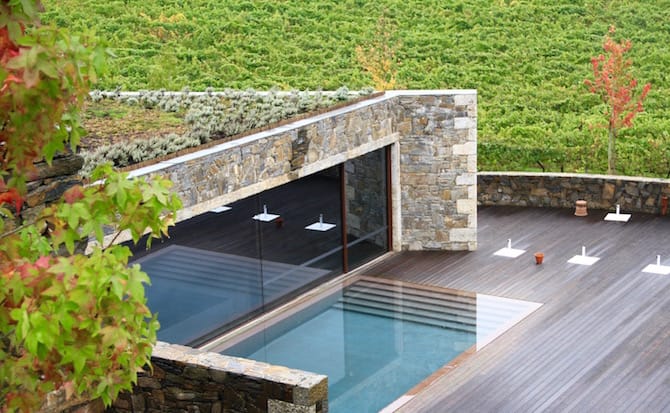 Finally, I suggest you Monverde Wine Experience Hotel, the first wine hotel on the Green Wine Route, and awarded in 2017 and 2016 as "Best of Wine Tourism 2016" by Great Wine Capitals.
The Monverde Wine Experience Hotel actively promotes accommodation as a part of the region's cultural and scenic heritage, and therefore has several independent houses scattered throughout its vineyards, which creates a romantic and discreet atmosphere. In these houses, you can expect a room decorated with the tones of the region, with a romantic beautiful view over the vineyards. Imagine waking up in this environment! 🙂
In the main building you will find the reception, a bar and several living rooms. And in one of them, a cozy fireplace waiting for you.
Convinced? You can check the availability and make your reservation here.
What to do close to Monverde – Wine Experience Hotel:
My first suggestion is to join the hotel's "Enologist for a Day" activity. It is a very entertaining program, where during 2h30 you will make your own green wine, from the beginning (tasting different single grape wine), to bottling and designing your own label!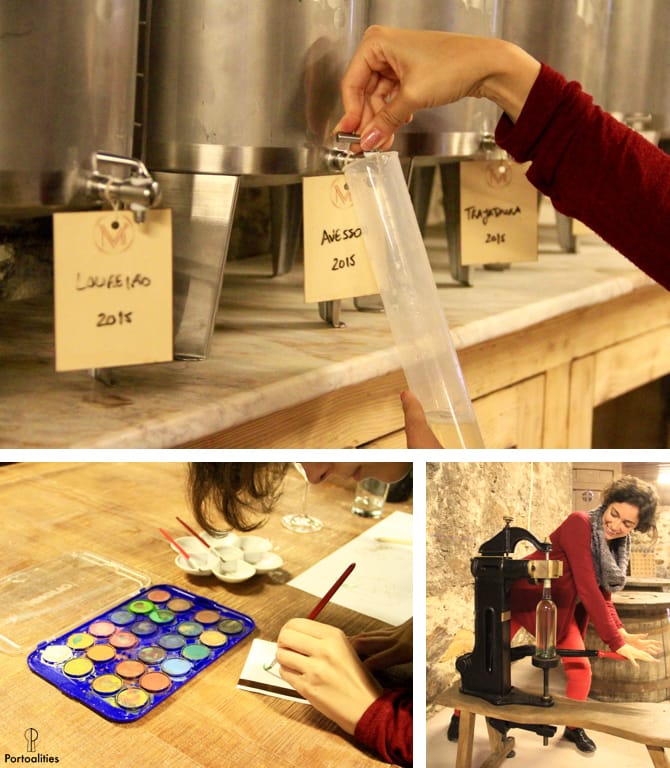 Given that Monverde is part of the Green Wine Route, I also recommend that you visit one of the wineries I recommend in my ultimate guide to green wines.
And don't miss the chance to discover Amarante, a charming small city. There, you will find the Museum Amadeo Souza Cardoso, the famous Impressionist painter of whom I have already told you about.
I hope you like my recommendations for romantic hotels in the North of Portugal. Each of them has been "tested" by me and I can assure you that you'll a good time there with your better half, celebrating a special occasion or simply going for some well deserved holidays 🙂
PS – All photos that do not have the watermark of Portoalities are from Clarissa Donda, a great traveling companion and blogger at the beautiful Dondeando Por Aí.
Extra: Go on a private tour in Douro Valley!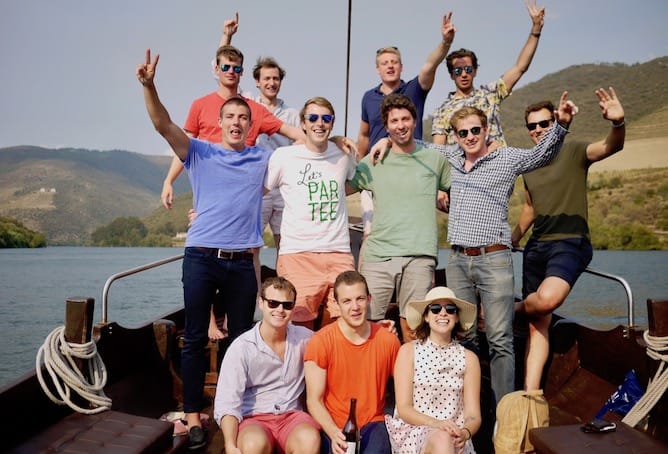 Instead of wasting time organising your day trip to Douro Valley, just send an email to sara@portoalities.com with the date you want to visit the region.
I will create an itinerary in Douro Valley that includes transport to & from Porto, tours in the best vineyards in the region, lunch at a typical Portuguese restaurant and some surprises along the way