Discover the top 10 romantic hotels in Portugal near Porto, for a lovely weekend with your better half, a romantic getaway or simply some perfect holidays.
You will need a car to get to most of these hotels (not all though), so you might want to discover everything you need to know about renting a car in Porto 🙂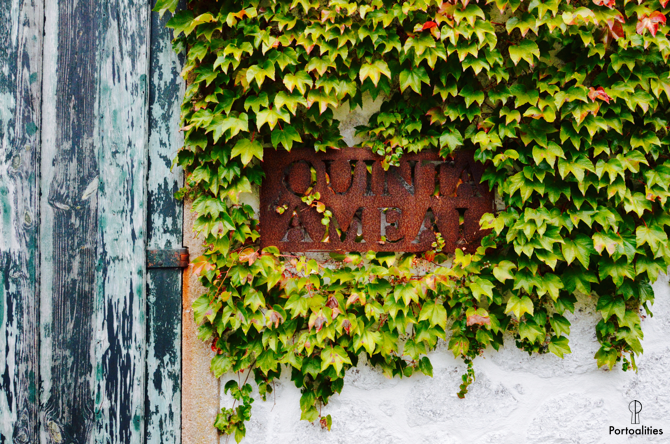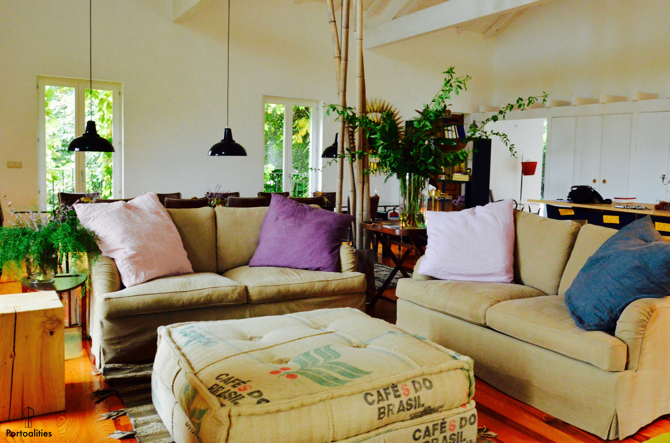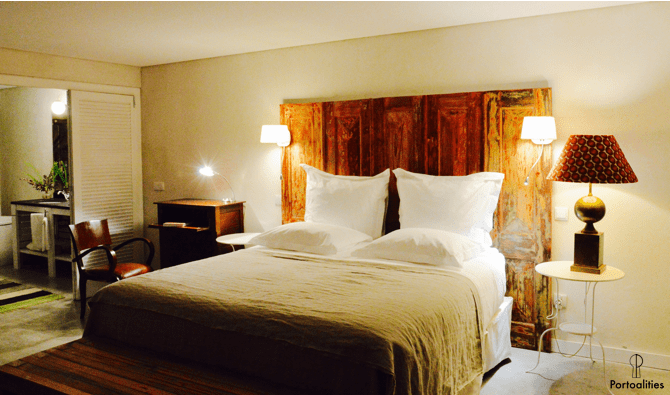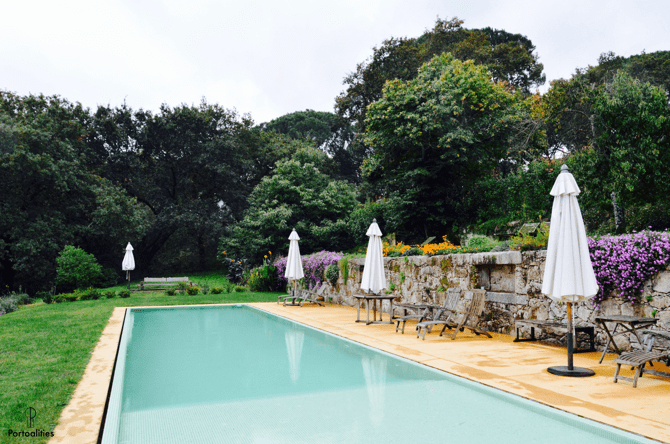 Quinta do Ameal is one of the most romantic hotels where I have had the pleasure of staying. The estate itself is quite large, with 3 suites in the main house, ideal to accommodate a couple each, and a double suite in a nearby house.
Each suite is equipped with a private bathroom and a spacious living room. All suites have access to a beautiful living room with lovely balconies overlooking the forest, and a fireplace that makes this romantic hotel in Portugal the perfect retreat for a winter weekend. It is really a paradise to be explored with your better half! Don't forget to book a room at Quinta do Ameal.
What to do near Quinta do Ameal:
I suggest you to explore the estate first, which, besides the woods and the various gardens, also has a swimming pool, ideal for summer days. You can also take a guided tour on the vineyards, where you will be able to taste the fabulous wines of Quinta do Ameal – for more information, read my guide to the Green Wine region.
Then, visit the village of Ponte de Lima, which is really beautiful 🙂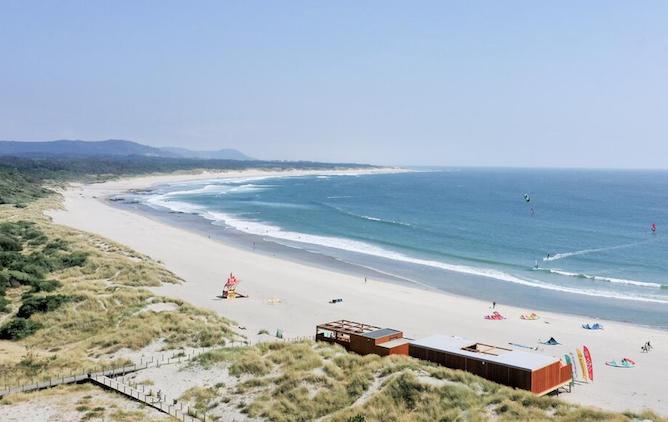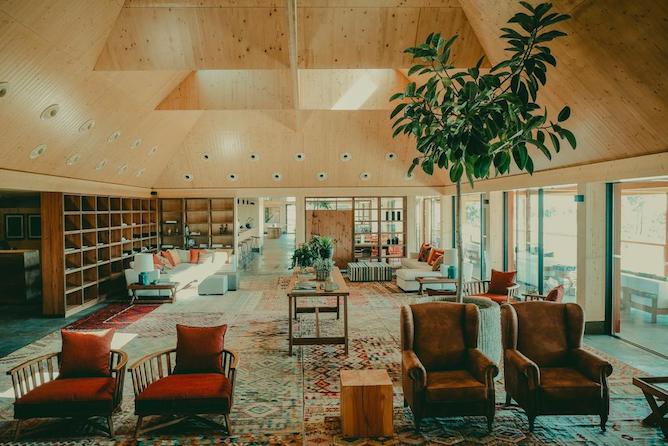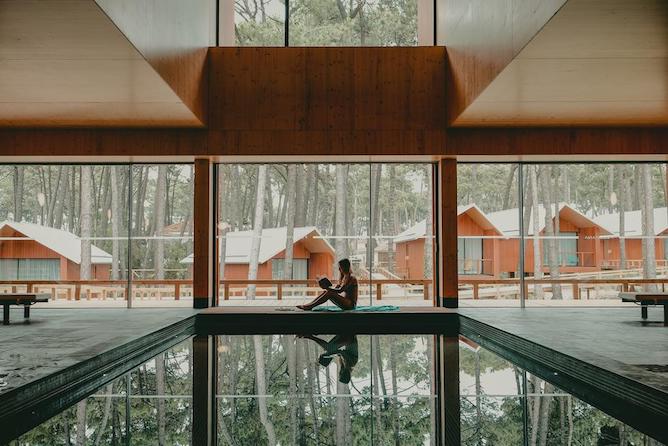 I first discovered the Hotel FeelViana on a yoga retreat and I fell in love with the place. Right in front of the beach of Canidelo, it combines the openness of the Atlantic Ocean with the intimacy of the forest that exists on its backyard.
Both the bedrooms and the living room are absolutely gorgeous, and the food served at the restaurant / bar is delicious. Moreover, if you feel like having a truly intimate and relaxing moment you can book a massage directly at the hotel – it is one of the best massages that I had in my life, which is why I consider FeelViana as one of the most romantic hotels in Portugal!
What to do near Hotel FeelViana:
If you are feeling lazy you can simply enjoy both the outdoors and indoors swimming pool, or book a massage. Otherwise you can rent equipment to do water sports like surf, kitesurfing and windsurfing. If you are not so found of water, rent a bike and ride ar Ecovia Litoral Norte, heading to Caminha.
You can also visit Viana do Castelo, one of the most beautiful cities near Porto.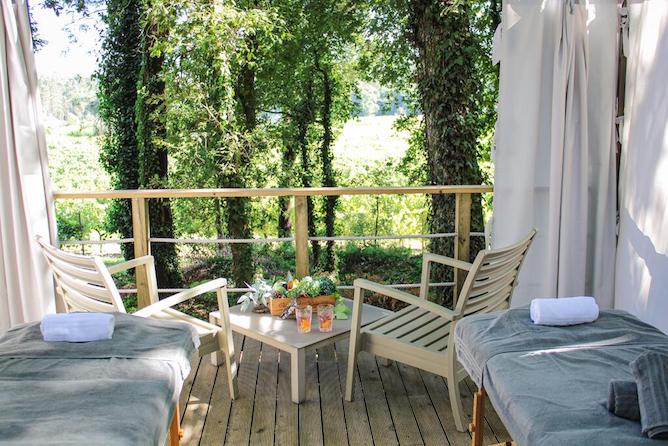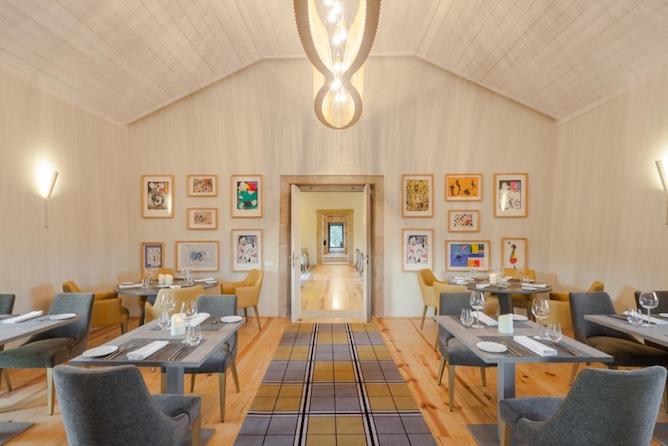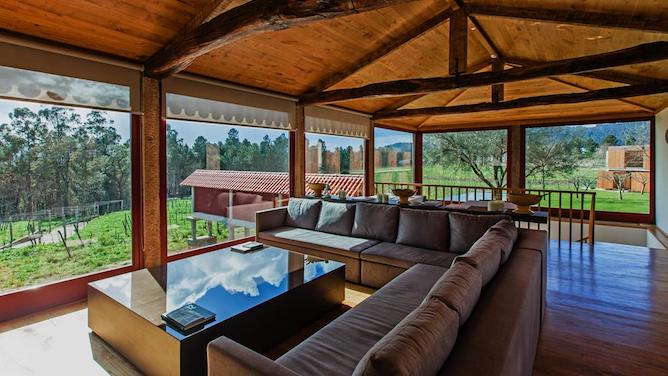 I am not even sure what I should mention first about Hotel Torre de Gomariz Wine & Spa: the best swimming pool I have experienced in a hotel, the lovely common areas, the amazing food at the estate, the very complete breakfast, the kindness of the staff… maybe I could just say that the mere fact that this is one of the best romantic hotels in Portugal surrounded by vineyards is a major win in my book.
The bedrooms have granite walls and are decorated in white and beige tones, so it is incredible peaceful. I particularly liked the Tower suite.
The prices are a bit salty (aka: quite high for Portuguese standards) but totally worth it, even for just one night. So go ahead and book your stay at Hotel Torre de Gomariz Wine & Spa, you won't regret it 🙂
What to do near Hotel Torre de Gomariz Wine & Spa:
This hotel is located in between Braga and Barcelos, so take this opportunity to visit this beautiful cities.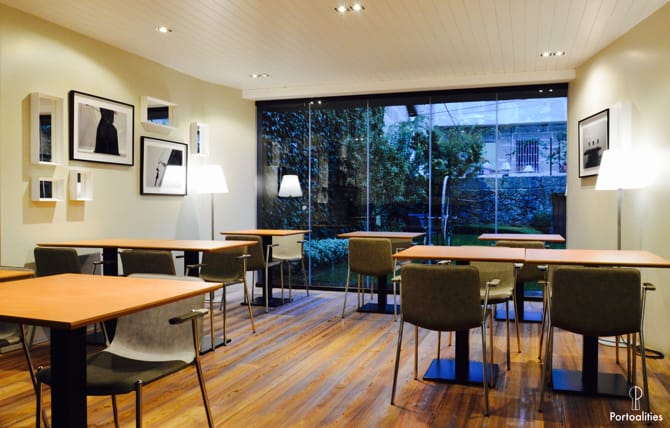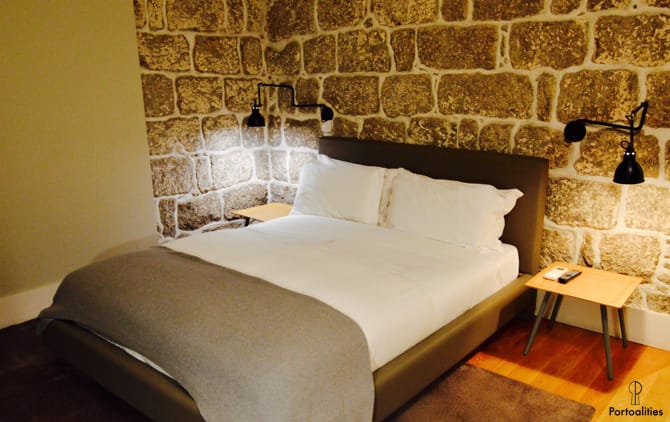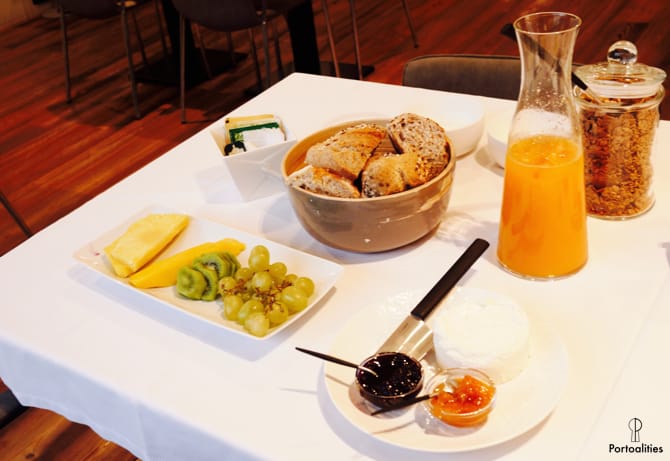 Casa do Juncal is another paradise in Minho, more precisely in Guimarães, with a very unusual concept of absolute confidence in its guests.
Just to give you some examples: at the entrance of this romantic hotel it's distributed a paper for you to select the food you want for breakfast, so that they have it ready in the morning. It is really convenient to have your breakfast served on the table, a treat I really enjoyed!
There is also an "honesty bar" in the living room: each guest writes down what they have drunk in order to make payment at the end of their stay.
Casa do Juncal has six suites in light tones that invite you to read and rest on the sofa, after a day well spent discovering Guimarães or Braga. And for those who prefer to stay by this romantic hotel, there is a nice garden on the backyard, perfect for a relaxed moment.
You can check the availability and make your reservation at Casa do Juncal.
What to do near Casa do Juncal:
I suggest that you start by exploring the beautiful city of Guimarães.
Braga, as well as the Sanctuary of Bom Jesus (both 25 km away) and the Sanctuary of Sameiro, are all excellent suggestions for visiting not only for those who appreciate history and religion, but also for those who are simply eager to get wonderful views of the region.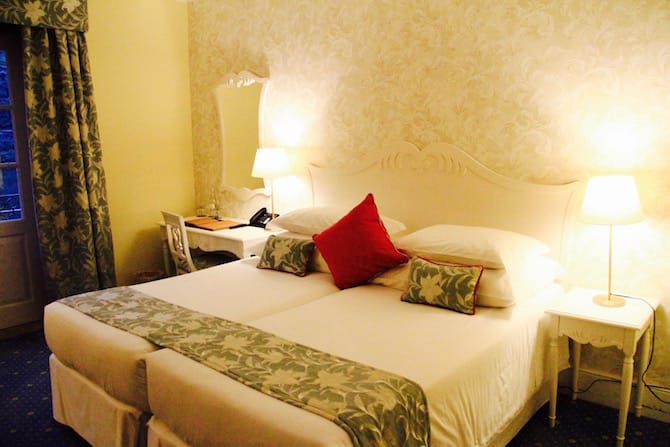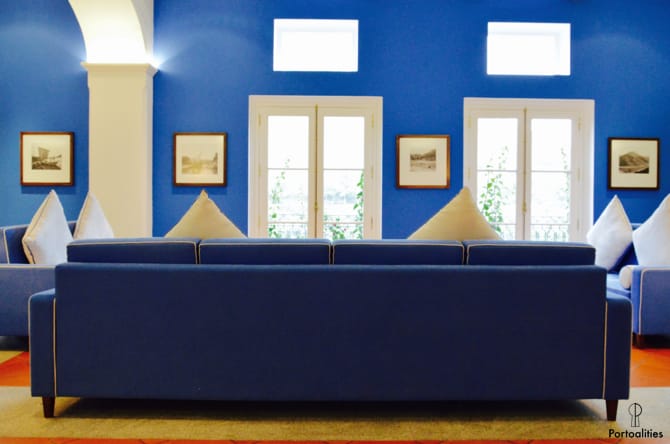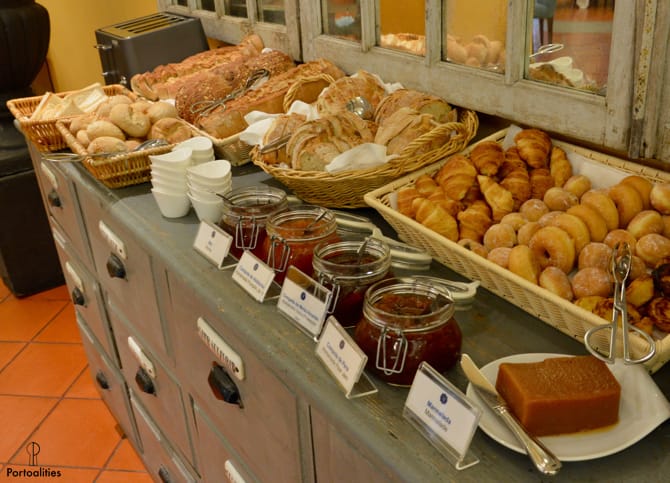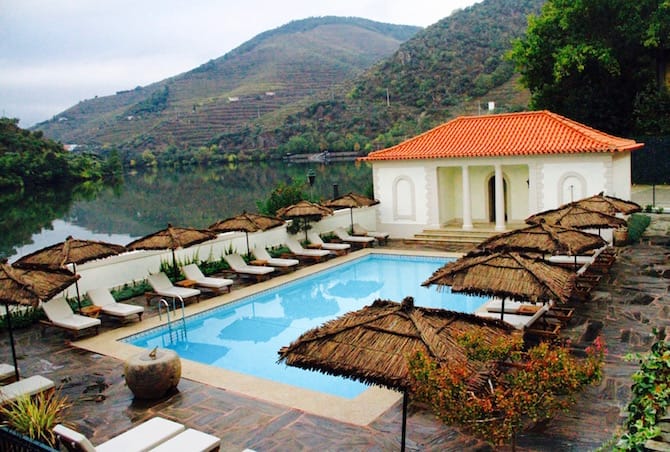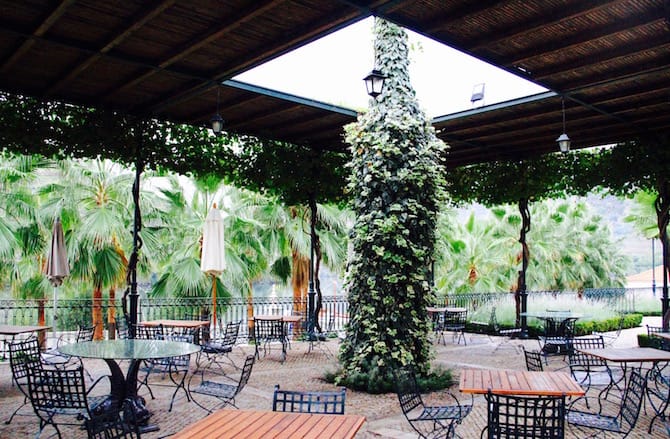 Let's focus on the Douro Valley now! As you know, it is my favourite region of Portugal and I go there quite often. In my travels I had the opportunity to stay at The Vintage House Hotel, a luxury hotel in the heart of the Douro Valley.
It is a spacious hotel that invites you to enjoy its beautiful common areas. It has an English style bar, with comfortable leather sofas where the best Douro wines are served.
There are also several gardened spaces, with terraces overlooking the Douro river. The breakfast (very complete, by the way) can even be served on the terrace, if the weather allows it. Otherwise, the breakfast room is very warm and welcoming, just like the other spaces of the Vintage House Hotel.
The room combines traditional elements with all the amenities of a romantic luxury hotel, and those little details that I can't resist, such as a welcome Port wine, served with dried nuts. A delight!
What are you waiting to explore this paradise? Make your reservation at The Vintage House Hotel.
What to do near the Vintage House Hotel?
You can visit one of the top vineyards in the Douro Valley, where not only the famous Port wine is produced but also the excellent Douro wines.
And, because the Douro Valley is not only about its vineyards, check my guide on what to do in the Douro (besides drinking wine).
To complete a perfect romantic weekend in the Douro Valley with your better half, why not dine at one of its fabulous restaurants? These are two restaurants perfect for an intimate moment 😉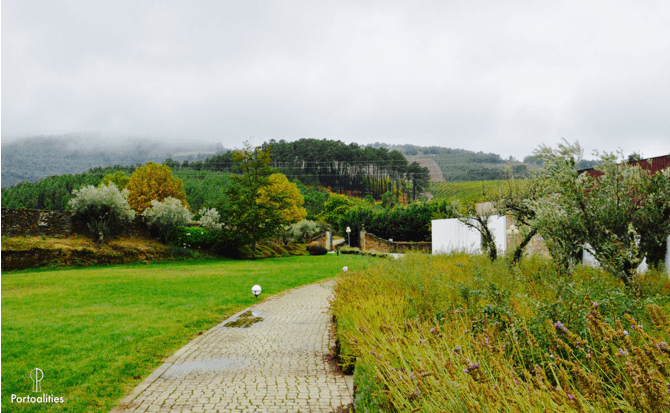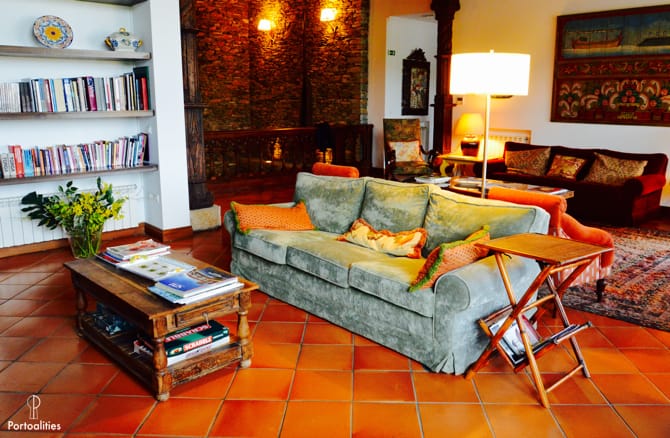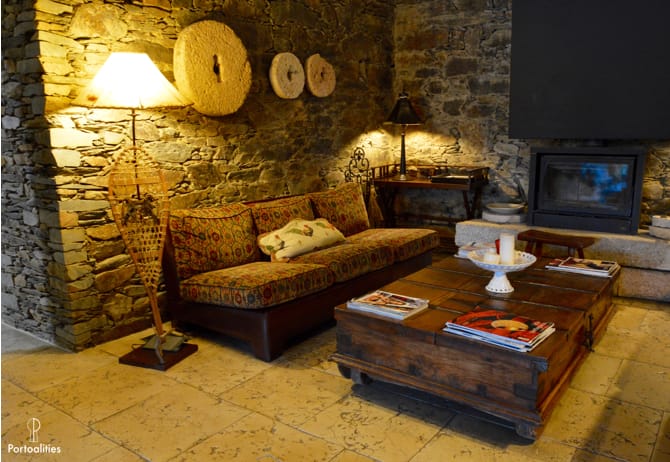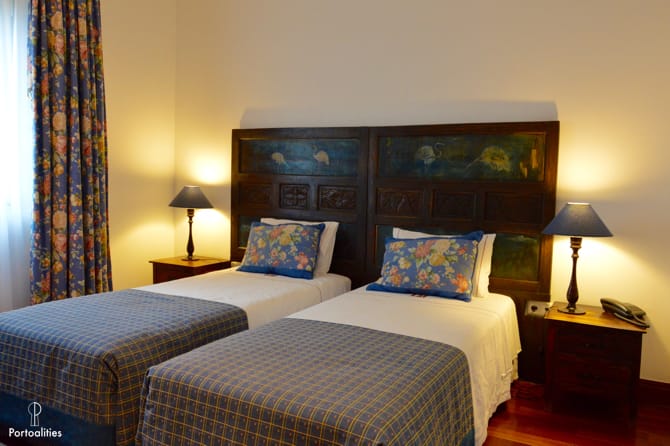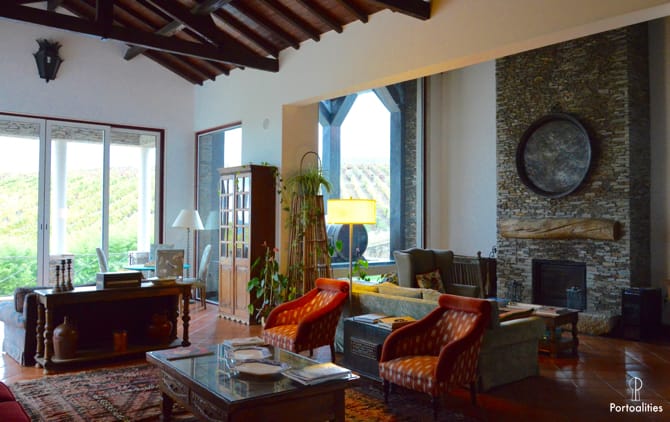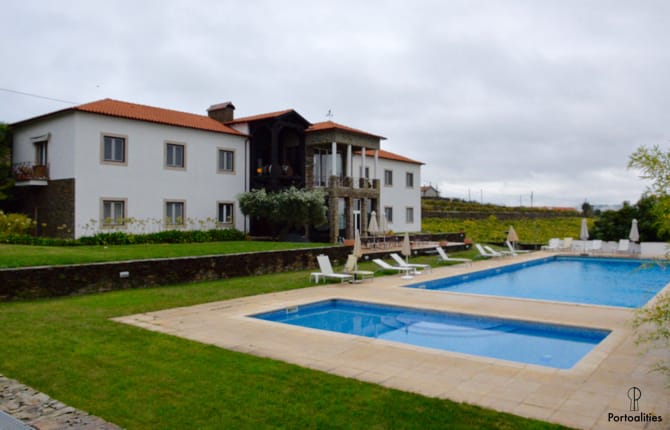 Casa das Pipas, at Quinta do Portal, was a pleasant surprise on my trips in the Douro Valley. The epicenter of this pleasant romantic hotel is its fabulous living room, with a traditional decoration but where elements of many trips around the world are evident as well. It has a glassed wall leading to a terrace with a beautiful view over Quinta do Portal's vineyards. And, when your gaze goes down a little, you find a pool with a porch and an ancient fountain. It's really one of the most peaceful and romantic hotels in Portugal!
Don't forget to check the availability and book your room at Quinta do Portal.
I also highly recommend you dine at Quinta do Portal's restaurant. At this restaurant you have a menu that changes daily, and that is wonderfully paired with the wines produced in the vineyards of this estate.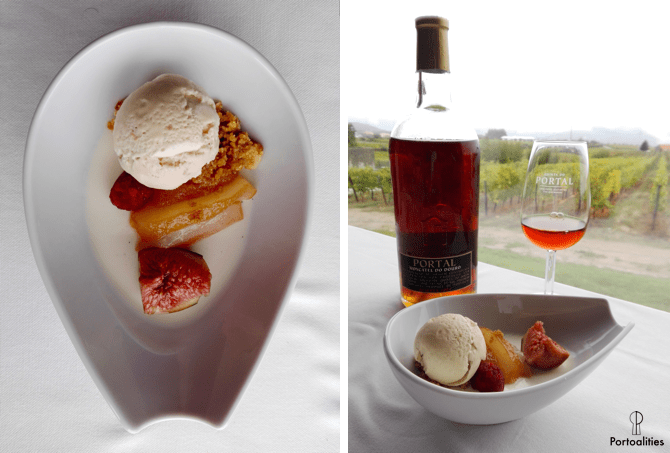 What to do near Casa das Pipas / Quinta do Portal:
As Quinta do Portal is right in the Douro Valley, the recommendations I made for the Vintage House Hotel – Douro are equally valid. Moreover, I would like to add Quinta do Portal itself, whose main building was designed by the famous architect Álvaro Siza Vieira.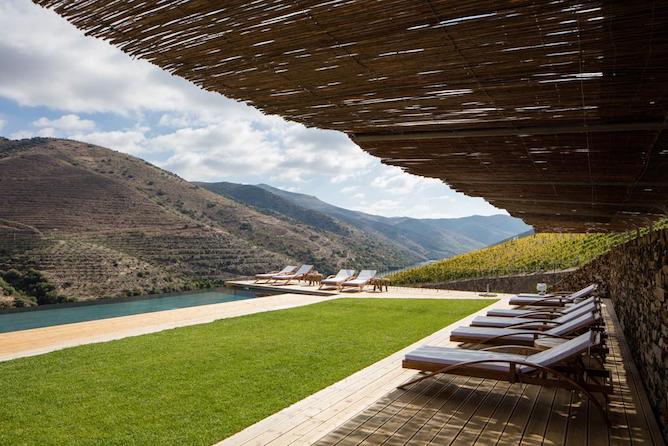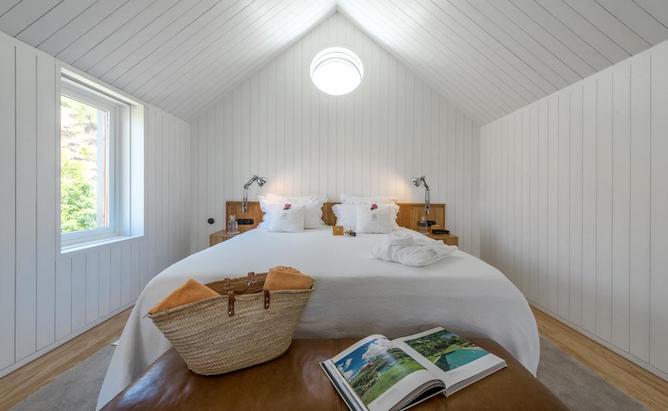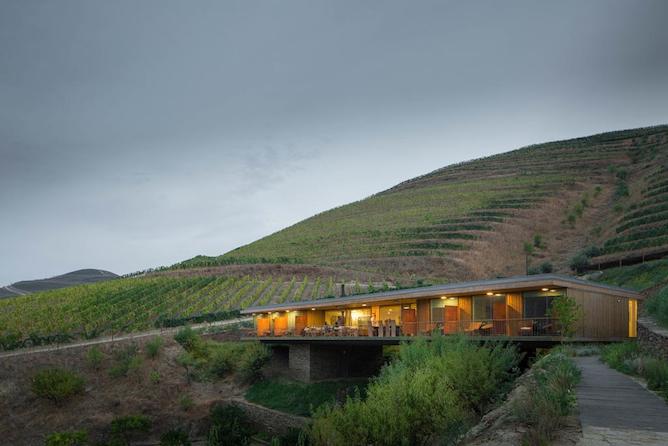 My last suggestion in the Douro Valley is only for the adventurous, as it is around 2h15 driving distance from Porto. But for those brave enough to face the windy roads of the Douro Valley, you will be rewarded with one of the most secluded romantic hotels in Portugal, Casa do Rio Wine Hotel. It is located literally in the middle of nowhere, surrounded by vineyards and overlooking the Douro river.
There, you can enjoy the swimming pool and a wine tasting. Spa treatments and delicious meals are available upon request.
What to do near Casa do Rio Wine Hotel:
The best thing to do is to either enjoy the swimming pool or go for some hikes in the vineyards (the staff can help you with that, they are really nice!).
You should definitely visit Museu do Côa, nearby, and visit Torre de Moncorvo – it has one of the most beautiful cathedrals in Portugal.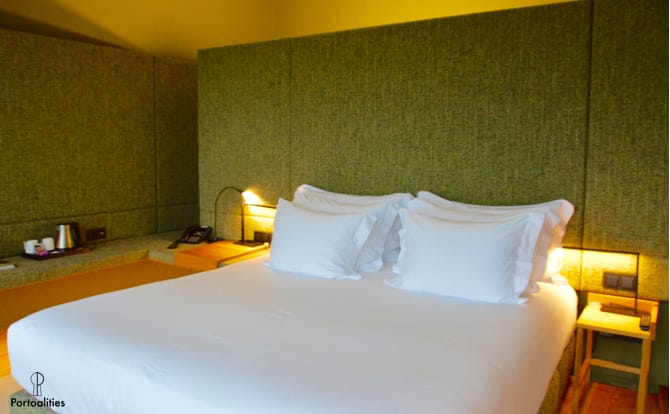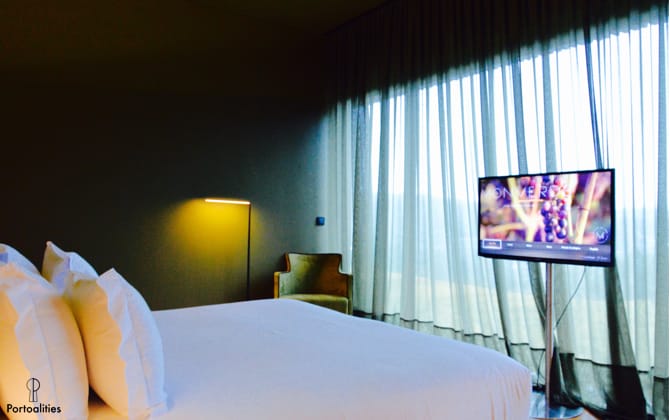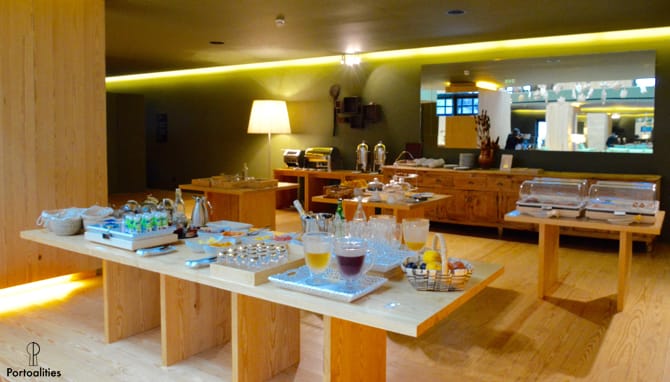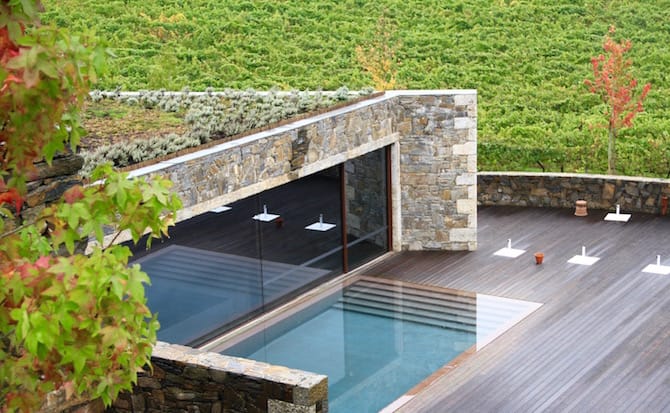 Another place that made it to this list of the most romantic hotels in Portugal is Monverde – Wine Experience Hotel, awarded as "Best of Wine Tourism 2016" by the Great Wine Capitals.
Monverde Wine Experience Hotel promotes accommodation as a part of the region's cultural and scenic heritage, and therefore has several independent houses scattered throughout its vineyards, which creates a romantic and discreet atmosphere.
In these houses, you can expect a room decorated with the tones of the region, with a romantic beautiful view over the vineyards. Imagine waking up in this environment! 🙂
In the main building you will find the reception, a bar and several living rooms. And in one of them, a cozy fireplace waiting for you.
Convinced? You can check the availability and make your reservation here.
What to do near Monverde – Wine Experience Hotel:
My first suggestion is to join the hotel's "Enologist for a Day" activity. It is a very entertaining program, where during 2h30 you will make your own green wine, from the beginning (tasting different single grape wine), to bottling and designing your own label!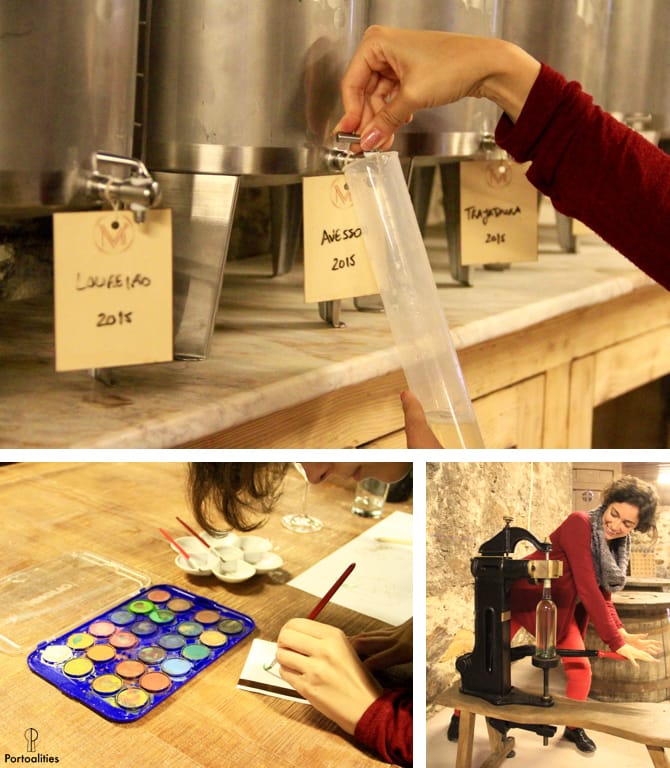 Moreover, you should visit Amarante, a charming small city. There, you will find the Museum Amadeo Souza Cardoso, a famous Portuguese painter.
I hope you like my recommendations for romantic hotels in the North of Portugal. Each of them has been "tested" by me and I can assure you that you'll a good time there with your better half, celebrating a special occasion or simply going for some well deserved holidays 🙂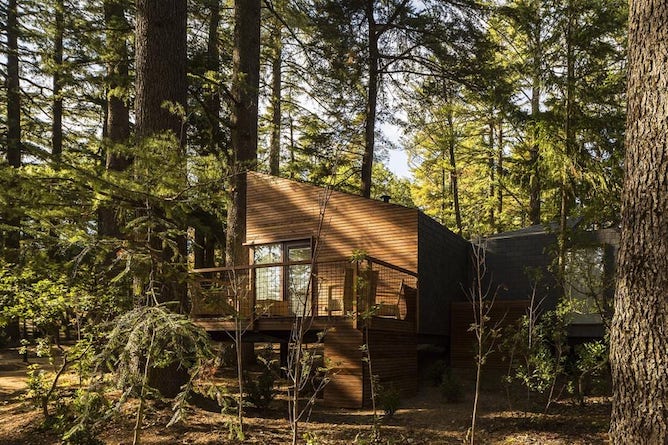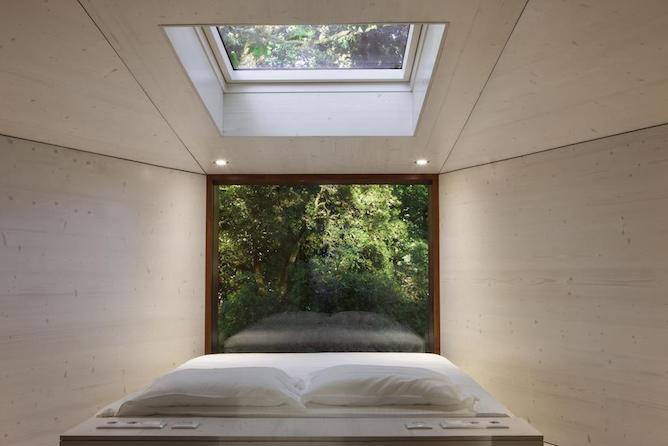 I was a bit unsure wether to consider Pedras Salgadas Spa & Nature Park as one of the most romantic hotels in Portugal near Porto because it is actually both suitable for couples and for groups as friends as well. But I can't think of many things more romantic than waking up in a bungalow in the middle of a silent park so here it goes 🙂
Pedras Salgadas has several bungalows (that can host from 2 – 4 people) in the middle of a gorgeous park. Moreover, it has a fantastic spa and a lovely restaurant called Casa de Chá.
It is a popular spot among locals, so don't forget to make a reservation at Pedras Salgadas Spa & Nature Park.
What to do near Pedras Salgadas Spa & Nature Park:
Honestly, this romantic hotel in Portugal was designed for people that are looking for peace and quiet and it is in a secluded place, so I recommend you to get the bike (for free) and explore it.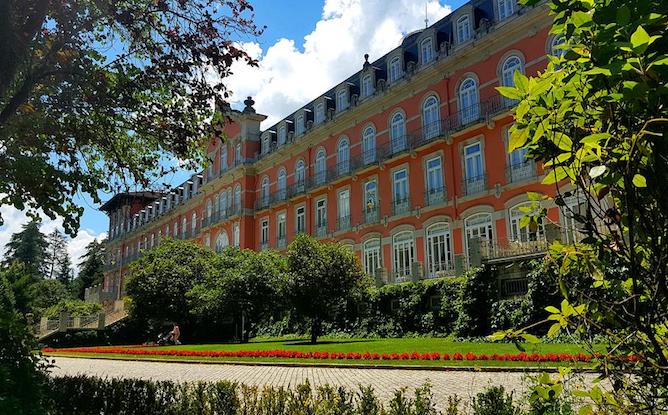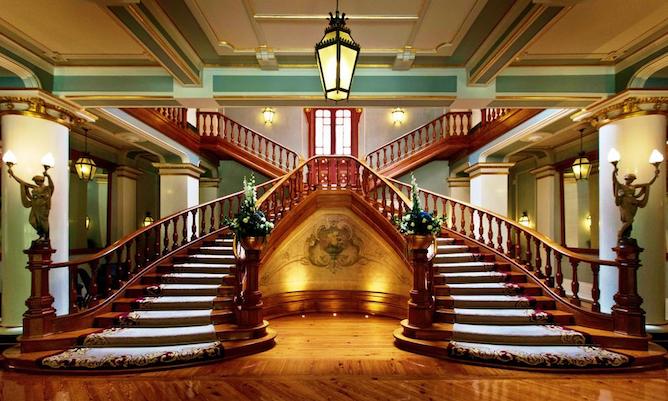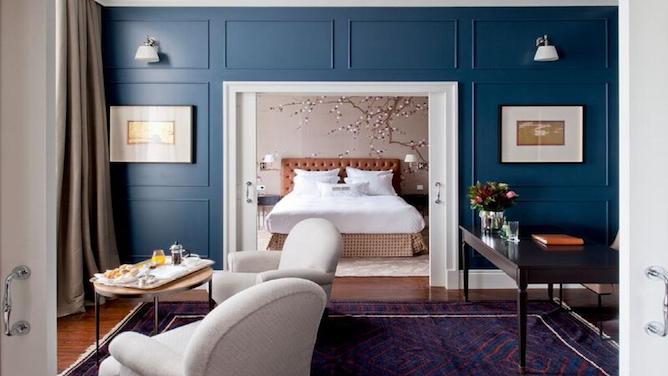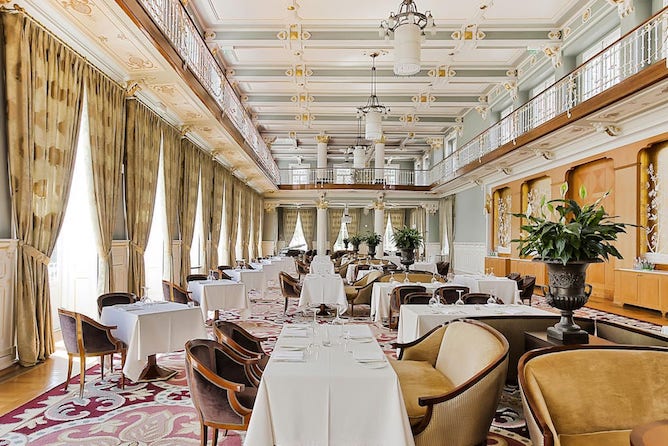 My last – and very classy – recommendation of romantic hotels in Portugal is the famous Vidago Palace. Everyone in Portugal knows this place as it opened in 1910 to quickly become one of the best luxury hotels in the country. In fact, the combination of a palace with thermal treatments and a luxury golf course, would place the Vidago Palace Hotel among the most prestigious European resorts during the World War II.
Besides the breathtaking decoration and the golf park, it also has a large spa famous for its therapeutical treatments, a good restaurant and a really nice park surrounds the facilities. All and all, a place to make you feel like a princess 🙂
Don't forget to book your stay at the fairytale Vidago Palace.
Save this article for later: