What to during Winter in Porto
It's not the end of the world if it's raining during Winter in Porto. Discover what to do and see on a rainy day in Porto!
Daniel Sassler
Full day Private tour in Porto
Traveling during winter in Porto is a great option for those of you looking to save money and to avoid the Summer crowds. Hopefully it will be sunny once you arrive in town, but if not, worry not! There's plenty to do even when it's cold, rainy or foggy in Porto 🙂
How is the Weather during Winter in Porto?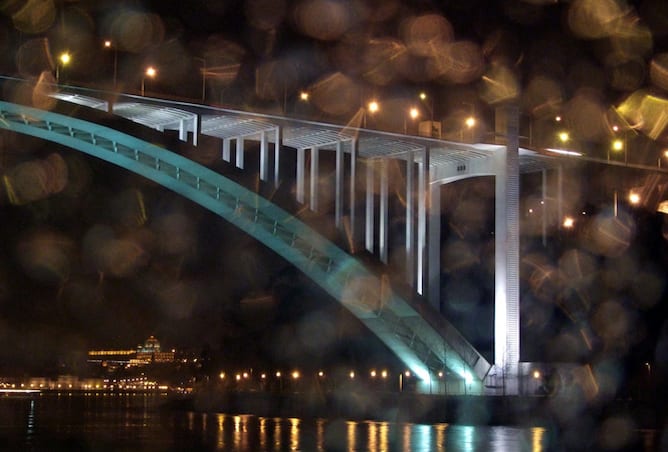 The first thing you should know is that the weather in Porto is… temperamental. It can be rainy in the morning and sunshine in the afternoon, and the temperatures dramatically drop and rise from one day to another.
We also have our fair amount of wind throughout the year, which is why I don't even bother to use an umbrella during the Autumn and Winter's months.
The temperatures, however, are usually pleasant even during Winter in Porto – at least compared to other European countries! We (the Portuguese people) like to complain a lot about the cold, but the truth is that in December we rarely get below 10º C / 50º F during the day and absolutely no snow ever (thanks God, or I'd migrate to another country).
Therefore, there is no excuse for not planning a trip during Winter in Porto, and on this article you'll discover the best things to do in the city even if it's rainy and (moderately) cold. Don't worry, I got you covered 🙂
What to do during Winter in Porto?
The answer is… shopping malls! 😀 (I AM KIDDING, ok? Everyone knows I hate shopping malls).
There are actually plenty of things to do during Winter in Porto, and these are my recommendations:
Visit a Port wine lodge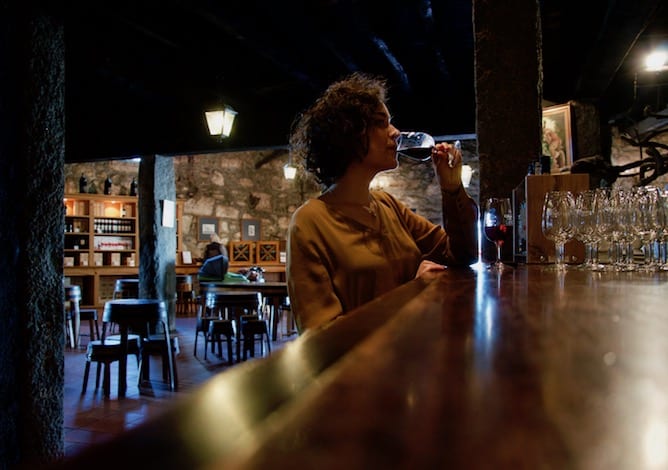 It would be a pity to visit Porto and don't go to the Port wine lodges. Whether you're a wine connoisseur or a humble appreciator, you should go there because a visit to a Port wine lodge is much more than about wine. It's about an industry that shapes an entire Portuguese region, that tells a lot about our history and hence is worth to know.
Usually a visit to a Port wine lodge includes a guided tour in the lodge itself, where you'll hear about the production process of the famous wine and see the beautiful barrels, followed by a wine tasting.
One of the cellars that I like the most, and that has the advantage of being cheap and easily accessible on foot, is Calém. You can take a guided tour with wine tasting in Calém, or take the opportunity to listen to a Fado concert while doing a wine tasting. If you like Fado it pays to buy the second ticket, because it only costs 7€ more than a simple visit to the cellars.
Listen to a Fado show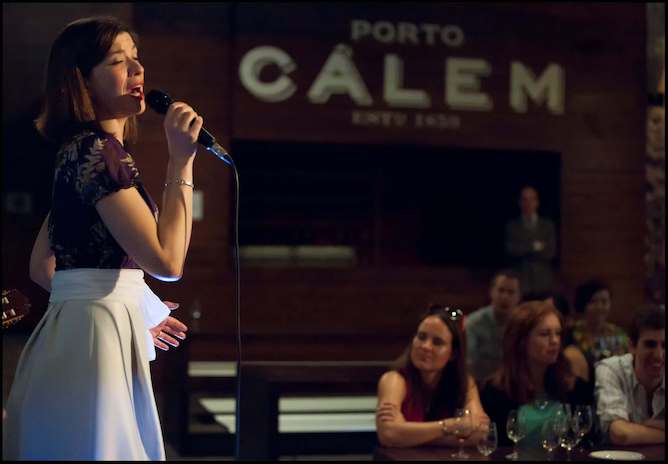 Another great thing to do in the winter in Porto is listening the the "music of the people". Fado is an UNESCO Intangible Cultural Heritage and one of the most intrinsically Portugueses things you can experience.
Why not kill two birds with one stone and watch a Fado show and visit a Port wine cellar at the same time? You get an online ticket for a Fado show at a Port wine lodge, which is a very interesting way to experience the music and you get to visit the cellar as well and a complimentary glass of port wine. 😉
I also recommend a more traditional experience – listening to Fado at a Fado house. You can buy the online ticket for the Fado show at Casa da Guitarra, which is very cheap – only 15€ / person. Casa da Guitarra is a proper Fado house, where the experience is at its absolute purest.
Visit the Stock Exchange Palace (Palácio da Bolsa)
Rua Ferreira Borges | Porto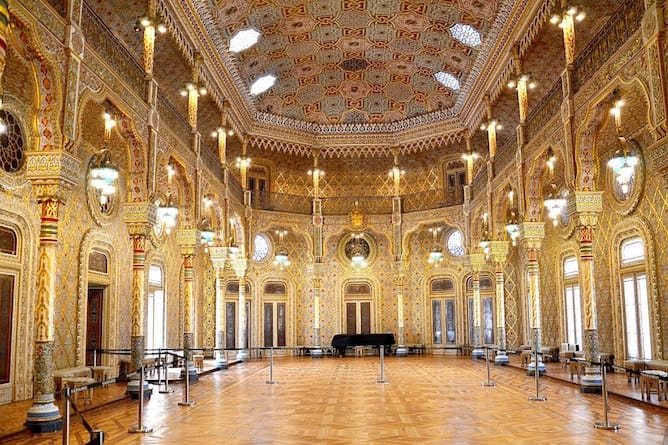 Palácio da Bolsa is not only one of the most beautiful buildings in Porto, but also one of the few that you can visit whether it's rainy or sunny. The guided tour is relatively quick but informative and you will have the opportunity to visit fabulous spaces, namely the Arab Hall. For security, I always recommend that you buy an online ticket to Palácio da Bolsa, securing your visit.
Climb the Clérigos tower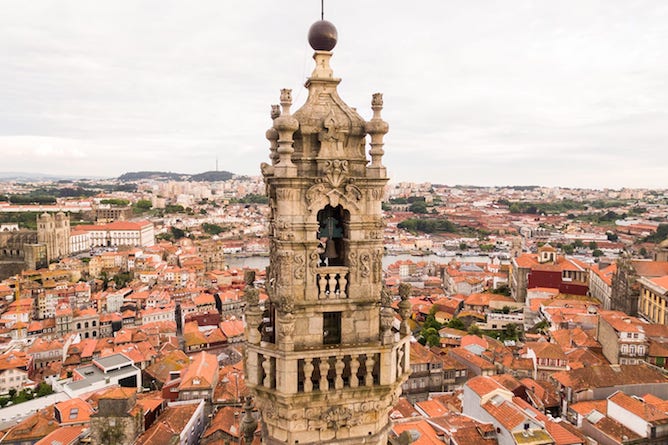 If the weather is not too bad (aka if it is not raining), then you should definitely climb the Clérigos tower in order to enjoy the best view of the city. The place gets packed quickly (especially during the Christmas season), so I recommend you to get the online ticket to the Clérigos tower in order to secure your spot.
Visit one of the interesting Porto's museums
I cannot think of a trip during Winter in Porto that doesn't include a visit to one of the city's fabulous museums. Usually the museums in Portugal are free or fairly inexpensive, so its an affordable activity that will keep you entertained whilst the rain falls outside. My favourite museums in Porto are: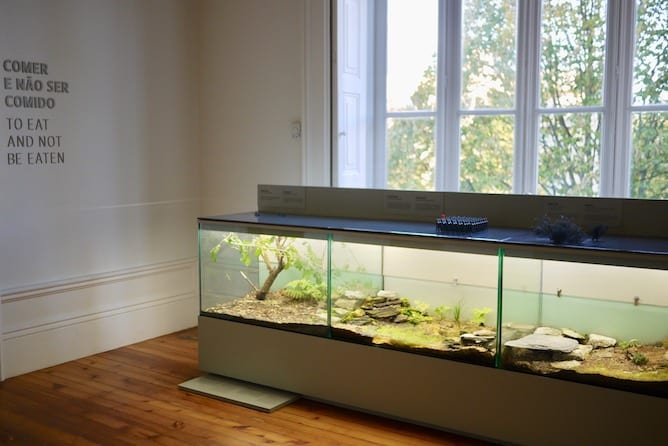 Hall of Biodiversity

– this amazing museum explain important ecological concepts in a fun and interactive way that is suitable for both adults and children. Therefore it's not only recommended for rainy days but for families travelling in Porto. Moreover, this museum of Porto sits beautifully side by side with the botanic garden which is also worth seeing.

Serralves Contemporary art museum – I've already written about this museum of Porto a gazillion times, because every time I go there I find something else to fall in love with. This elegant museum, designed by the famous architect Siza Vieira, always displays exhibitions from both national and internationally acclaimed artists. Moreover, it has a small bookstore, a tea house and the most stunning gardens in the city. You can buy the online ticket to Serralves' contemporary art museum, and this way you'll save time on the queues.
National Museum of Soares dos Reis – is the first public art museum in the country, founded in 1833. It was destined to collect the confiscated goods of the convents of Porto that were abandoned during the Civil War, and from the extinct convents outside the city. This museum of Porto is quite big as it has varied sections, ranging from painting to decorative arts, sculpture and archeology, jewellery and much more.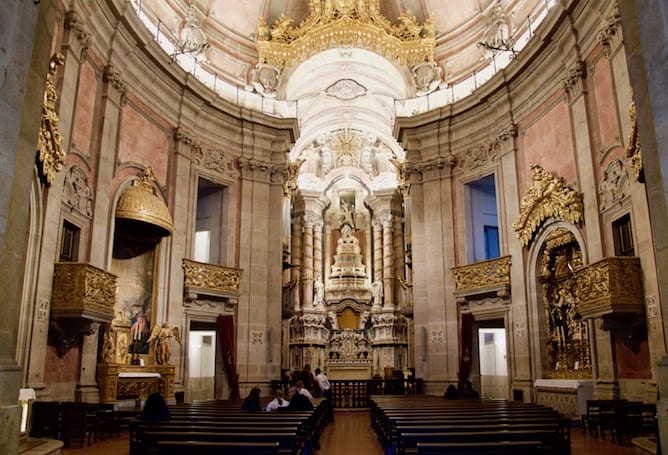 There are many churches in Porto (36, to be precise), but in my opinion there are three that easily stand out:
The cathedral of Porto – located precisely where the city started to be founded many centuries ago. It's free of charge.
The Clérigos church – it's simply stunning, in its pink marble and golden leaf tones, and plenty of natural light. The church is free of charge. You should try to get there at noon, as it has a free pipe organ concert every day. It's superb!
The St Francis Church – the only gothic building left in Porto. It's a remarkable example of gothic structure combined with a baroque decor. You can also visit the catacombs – don't forget to look down and see all the skeletons down below!
Watch a concert at Casa da Música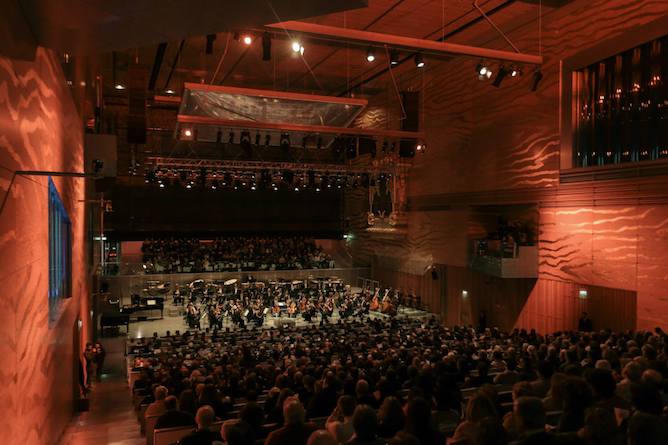 Casa da Música, designed by the Dutch architect Rem Koollhaas, it's a perfect combination between traditional elements (those blue tiles!) contemporary architecture. In my opinion you should try to watch a concert there as the acoustic is superb. Otherwise you can always go for a guided tour on the building, as they are very well structured and informative.
If you're not so much into cultural activities, you can simply go for brunch / beer / wine
Sometimes one just feels lazy and in the mood to sit down and quietly write postcards, or read a decent book (I do this on all my trips, much to the dismay of my friends. Savages!).
In Porto there are plenty of cute places to go for brunch, or to grab a beer, or to enjoy a glass of wine. Therefore, I suggest you to read my articles on:
If you're travelling with kids during Winter in Porto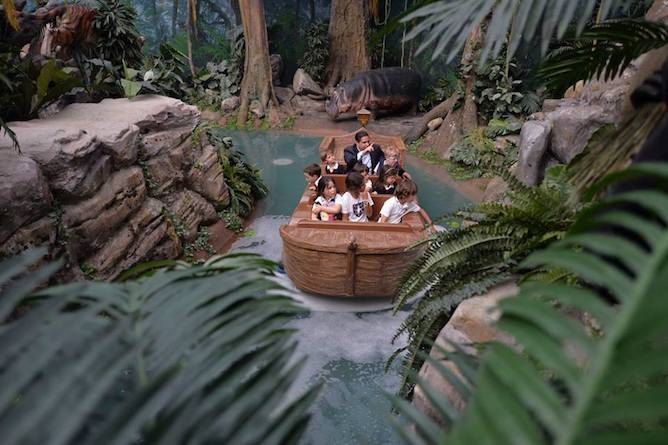 First thing: don't panic! Just because the weather doesn't look fantastic it doesn't mean that you cannot have a great time in Porto with your kids. You can start by reading about the best museums in Porto for families, but in general there are three great covered places for kids:
SEA LIFE Porto – the names says it all!
The World of Discoveries – where you and your family will be able to learn, in an interactive and fun way, about the Portuguese discoveries. Don't forget to get the online tickets to the World of Discoveries to avoid the queues outside.
The Hall of Diversity – that I've already mentioned above.
What to AVOID doing during Winter in Porto
There are things in Porto that I would definitely skip if it's raining or too windy. Please note that I specifically wrote raining, not cold. Naturally these are very personal thoughts, based on my experience, but I believe I should share them with you: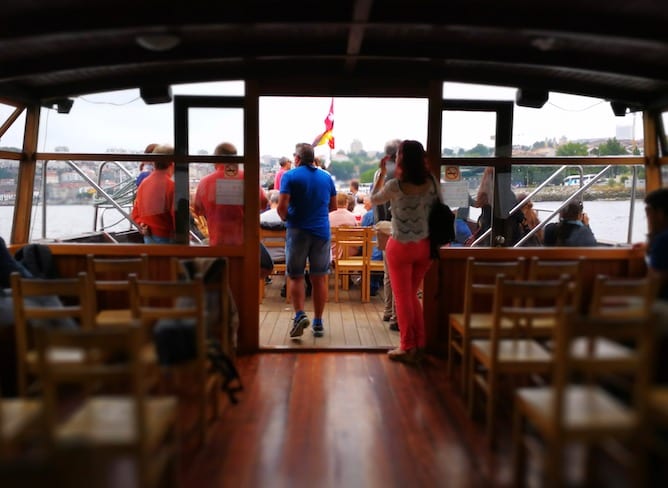 Don't go for the 6 bridges cruise! If it's rainy, foggy or windy them simply skip this activity in Porto as it will be very unpleasant. Yes, the boats have a covered deck, but it's very uncomfortable to stay inside and you'll miss most of the views, which is the main reason to take this cruise anyway.
Don't cross the upper deck of Luiz bridge – yes, it's super cute on warm days, but up there it's VERY windy and it can be a bit scary during Winter days.
Don't go all Indiana-Jones-like trying to take National Geographic pictures on Felgueiras lighthouse. It's dangerous people. The waves are gigantic and every year people are dragged into the water.
If you are short on ideas to face the rain, read my article about what to do in Porto during rainy days.
What to wear during Winter in Porto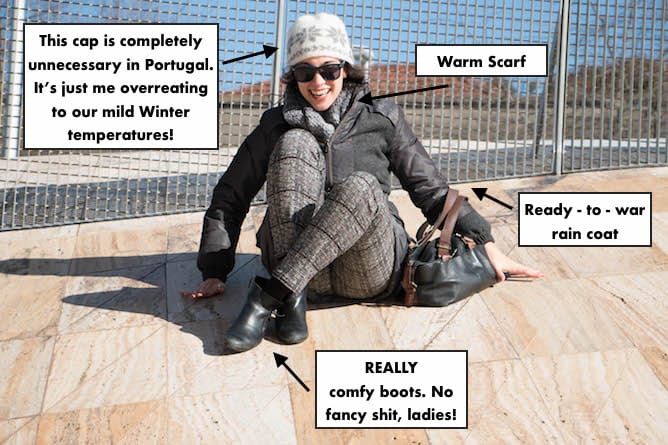 I like to keep it very simple: bring water proof shoes (no high wheels, ladies!), a warm scarf and a pretty rain coat. No umbrella, unless it's VERY resistant – trust me on this, the bad ones won't last a couple of hours in moody-rainy-Porto. Above all, have fun! 🙂
Save this article for later: