Northern Portugal is a pleasant surprise to anyone who visits it. It combines breath-streaking green landscapes with ancestral towns and villages. Moreover, its people are amongst the most sincere and genuine you may find anywhere.
There are many things to do in northern Portugal. I am going to give you some suggestions, that hopefully will inspire your next holidays in my beautiful country.
These are the best things to do in Northern Portugal:
1. Walking Trails
The walking trails are a great and safe way of enjoying some of the best landscapes in northern Portugal.
Paiva Walkways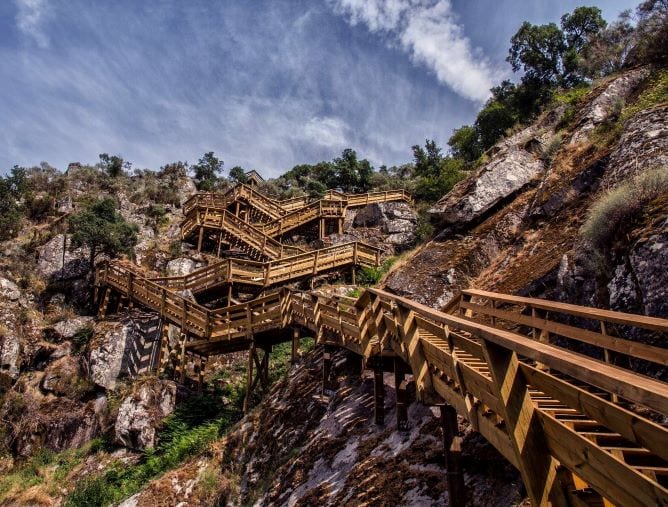 Paiva Walkways are an excellent option for those who love easy-going trails amid nature, and one of the best things to do in northern Portugal.
Located in Arouca (about one hour away from Porto), it provides an 8 km walk surrounded by breathtaking natural landscapes. The trail is a bit uneven and there are a lot of stairs at the beginning, but don't let that deter you! Take the day to relax with friends and family, and you won't even notice it. Don't forget to bring a bathing suit and some food to enjoy at the fluvial beaches along the way.
If you feel too tired to make the round-trip, take a taxi at the end of the 8 km to return to the starting point. You can either start at Espiunca or Areinho.
Recommended duration: Paiva walkways can be done in two hours, but, if you have the time, don't miss the opportunity of getting to know Arouca, the nearest village. Its center is very pleasant, with several points of interest (Santa Mafalda Convent or the view of Senhora da Mó, for example). Arouca owes nothing to other better known villages in northern Portugal, like Ponte de Lima. Therefore, I recommend you to stay for one or two days in the region.
Tip: the conventual sweets of Arouca are also renowned, especially the "pão-de-ló", a traditional moist sponge cake commercialized in slices.
How to get there: rent a car on AutoEurope to reach Espiunca (40°59'34.67″N 8°12'41.19″W) or Areinho (40°57'9.68″N 8°10'33.05″W).
Beach – Walk between Espinho – Vila Nova de Gaia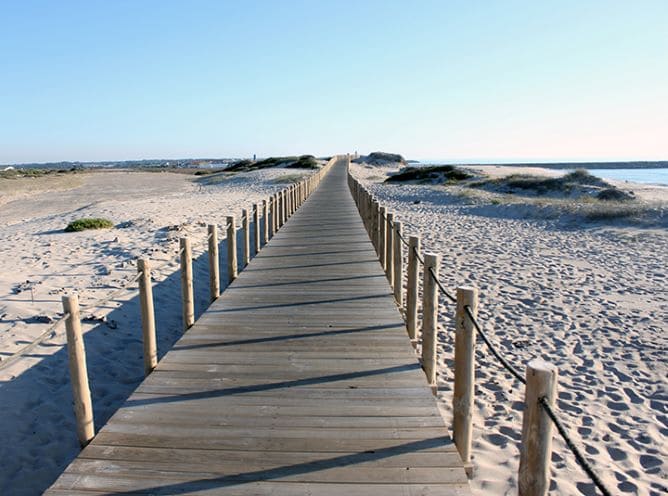 The northern beaches of Portugal are not necessarily tempting, due to the cold water and strong winds.
However, this trail, that connects the city of Espinho to the beach of Lavradores in Vila Nova de Gaia, will allow you to enjoy our beautiful coastal landscape.
This walkway covers a 15 km distance but offers no difficulties. On the way, you'll find several points of interest, such as the stunning Senhora da Pedra Chapel, built in the middle of the beach in Miramar, and the fishing village of Aguda.
Recommended duration: an afternoon, that can easily stretch itself for a day if you decide to have lunch by the sea or to sunbathe at the beach.
How to get there: there is a train line connecting Espinho and Porto. Take the train in direction to Aveiro from the São Bento train station and get off at Espinho.
Ecovia do Vez: up to Sistelo, the Portuguese Tibet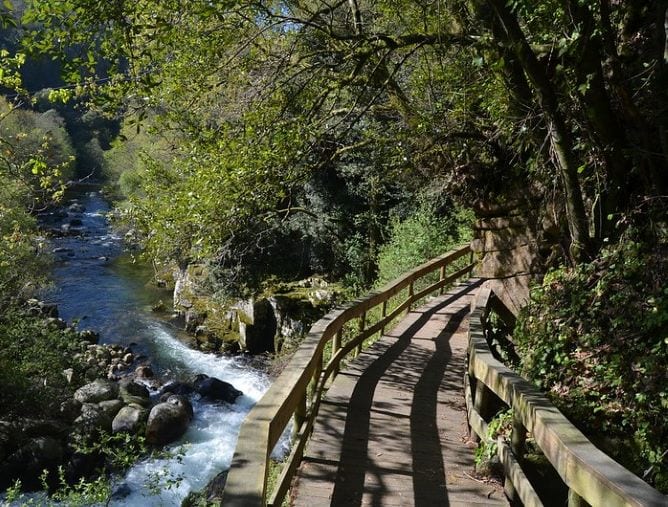 In Arcos de Valdevez you'll come across a 32 km-long walkway that ends at the medieval village of Sistelo, the so called little Portuguese Tibet. The slopes of Sistelo are impressive and were declared a national monument in 2017.
Although it is one of the most entertaining activities to do in northern Portugal, its distance may startle a bit at first. Maybe due to that reason, the trail is already divided into three stages:
Jolda de São Paio – Arcos de Valdevez: around 2h30.
Arcos de Valdevez – Vilela: around 1h50.

Vilela – Sistelo: around 2h.
Recommended duration: I recommend you to turn the Ecovia in a weekend plan, since it is quite long to do it all in a single day. Take one day to walk the first stage of the Ecovia and to explore Arcos de Valdevez. It's a typical northern village, rooted to the founding moment of Portugal, relatively absent from most touristic itineraries. The next morning, proceed to Sistelo. In the end, share a picnic in an idyllic setting.
How to get there: there are transports to Ecovia do Vez from Arcos de Valdevez, but you need to make a reservation. There is also a direct transfer from Porto Airport to Arcos de Valdevez, but renting a car would be easier.
2. Gerês National Park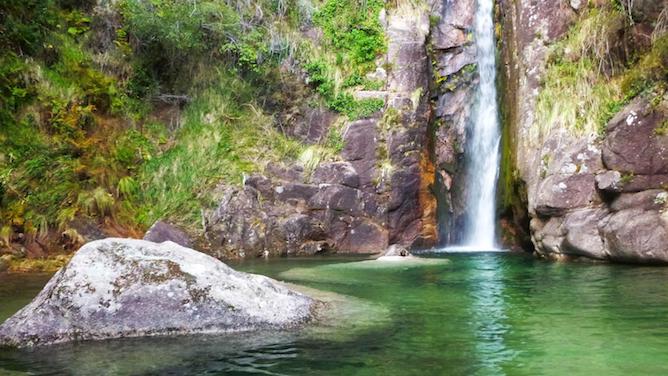 Peneda – Gerês National Park is the best known natural park in Portugal. Located in the north region, Gerês is the safest choice possible to escape the hectic pace of the city and to contemplate gorgeous natural landscapes.
There are many activities do to in Gerês. You'll be able to hike several trails among impressive lagoons, waterfalls and stunning viewpoints. If you're looking for a bit of adventure you can try some outdoor sports, such as cycling, canyoning or kayaking.
Recommended duration: exploring the park is at the top of any list of best things to do in northern Portugal. However, you need several days to do so, which makes Gerês an ideal place for a long weekend (of three or four days) with friends or family.
There are different kinds of lodging, depending on what you prefer. You can stay at one of the best hotels in Gerês or, if you are looking for something more original, go for one of the best bungalows in the park.
Nevertheless, if you are short on time, I recommend some daily excursions from Porto. There are many options: for example, explore Gerês with a jeep and a kayak or simply enjoy the views and take a dip in good company.
How to get there: there are no direct connections to Gerês so if you are serious about exploring this region, take your car or rent one.
[getyourguide ids='47543,95913′ data-gyg-cmp='things-to-do-northern-portugal-widget-1′ data-gyg-placement='content-middle' data-gyg-locale-code='en-EN']
3. Viana, Ponte de Lima and Valença
After Porto, Guimarães and Braga are the most known cities in northern Portugal (with justice!). We organize tours to these cities, if you are interested.
This being said, if you wish to venture yourself in this region, I recommend you a road trip up north: Viana do Castelo, Ponte de Lima and Valença.
Viana do Castelo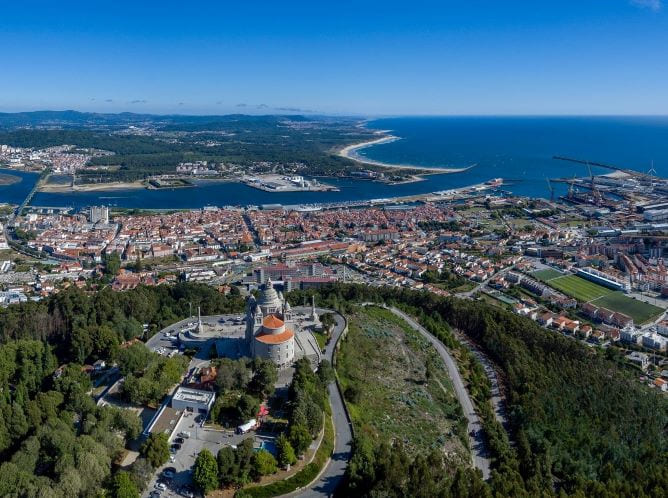 Located by the sea, Viana do Castelo can be seen from Santa Luzia hill, that houses the magnificent Basilica of the Sacred Heart of Jesus. The view is just extraordinary!
Viana has a special bond with the sea, and one of the most impressive religious festivities in the country in honour of Our Lady of Agonia, protector of the fisherman. Here, you'll also find Gil Eanes Boat Museum, built in the shipyards of the city. It represents the maritime traditions of this city and the Portuguese historical relationship with the Atlantic Ocean.
Recommended duration: Viana do Castelo deserves at least one day since it is one of the best things to do in northern Portugal.
Tip: Don't forget to taste the "Bolas de Berlim" (a custard doughnut) of Ze Natário Bakery. One will not be enough, I swear.
How to get there: there isn't a direct train connection from Porto to Viana do Castelo. I recommend you to rent a car on AutoEurope.
Ponte de Lima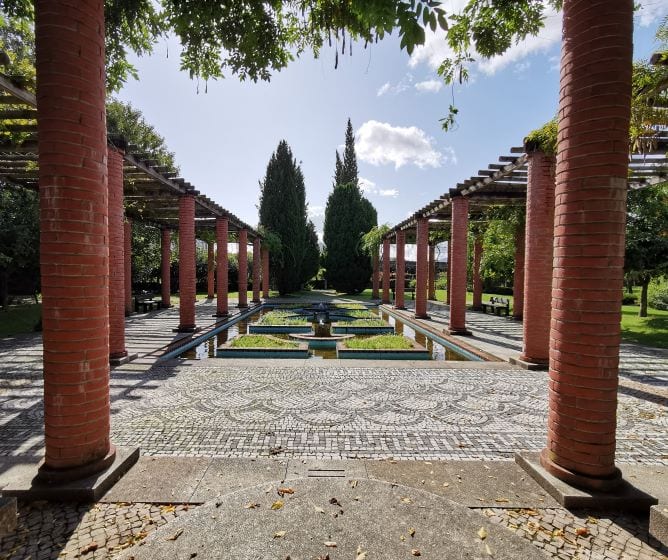 I am very fond of Ponte de Lima. Crossed by Lima river, it is one of the most beautiful villages of Portugal, and also the oldest. The historical center is a gem, and the iconic medieval bridge is unforgettable. It's the perfect spot to relax, be it walking by the riverside or by sitting while enjoying its reputed green wine.
Recommend duration: Ponte de Lima is small; you can see it in one day, but being so beautiful, it's the ideal setting to a romantic weekend.
Tip: next to the Roman Bridge, visit the Arnado Thematic Park. It's a journey through the history of the garden art: get to know the roman garden, the renascence labyrinth, the baroque garden and the greenhouse.
How to get there: the easiest way is to rent a car on AutoEurope.
Valença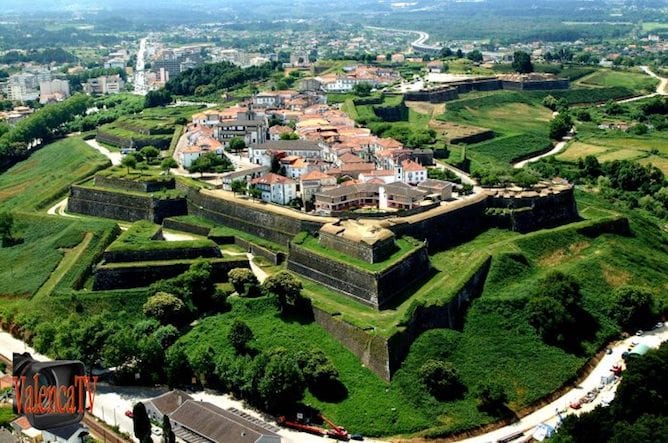 Quite honestly, this fortified city, next to the border with Spain, is probably my favourite in northern Portugal (excluding Porto).
Valença stands out on the landscape as it is located at the top of a hill, surrounded by two fortified walls. The northern view, over the Minho river, the railroad bridge (designed by Gustave Eiffel), and the Spanish city of Tui, is stunning.
The citadel in the interior is well kept, and there are many restaurants, coffees and craft shops that will keep you entertained during a few hours. Moreover, there is always a lot of people around, mostly due to the pilgrims on the Way to Santiago de Compostela.
This "traffic" of people is what makes Valença so magical, so visiting it is definitely among the best things to do in northern Portugal.
Recommended duration: it will only take a couple of hours to get to know Valença. You can do it in the morning, for example, and take the rest of the day to visit Tui, in Spain.
Tip: People say "In Valença, codfish is king", and for a good reason. Treat yourself to a dish called of "São Teotónio" (the first Portuguese saint, born in Valença). The codfish is fried and later baked in the oven with onions, and mayonnaise; it is served with mashed potatoes.
How to get there: renting a car on AutoEurope is the easiest way.
4. Douro Valley
We are always talking about the Douro Valley in here, but what choice do we have? The long slopes of vines alongside the Douro river are the postcard of northern Portugal. It would be impossible to write this article without making an honorable mention to this wonderful region.
Recommended duration: there are plenty of activities to do in Douro Valley. Nevertheless, if you are a first time visitor, I suggest the following: take a river cruise and do some wine tasting. You can actually do both: stay some days in the region, you won't regret it.
Douro river Cruises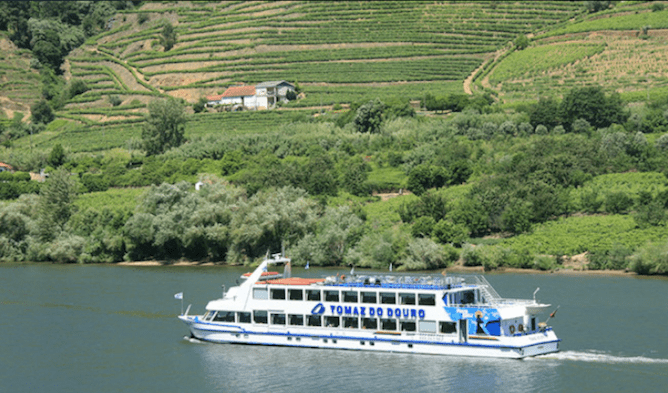 The Douro river cruises provide a general overview of the Douro valley. There are different types of cruises, depending on the trip you are looking for.
You can start in Porto, choosing a long-term river cruise, which takes you directly to the Douro region. There are online tickets for the Porto – Régua cruise, but also tickets for the Porto – Pinhão cruise.
You can also opt for a short cruise, starting in one of the small towns in the region (Pinhão or Régua), and combine with other activities during the day. In that case, you can take a 2 hour cruise on the Douro River or, if you prefer a shorter tour, take the 1 hour Douro river cruise.
If you want more detailed information, read our article on the best cruises to do on the Douro River.
[getyourguide ids='162399,162504′ data-gyg-cmp='things-to-do-northern-portugal-widget-2′ data-gyg-placement='content-middle' data-gyg-locale-code='en-EN']
Wine Tasting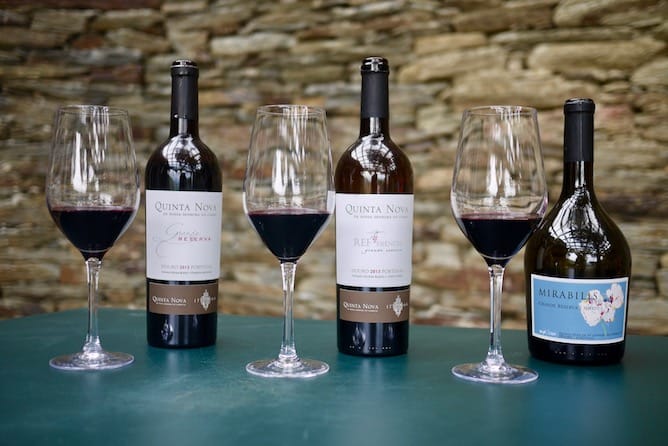 Porto is internationally famous for its Porto wine, and Douro valley is its place of origin. If you love Porto wine, getting to know the Douro valley is an excellent idea. The best way to do it is by visiting some of the best vineyards in the region. You may even discover some other wines from Douro (which are also great!).
Plus, spend the night at one of the wineries, and restore your energies at one of the most romantic settings in northern Portugal.
Tip: stay three days in Douro valley and choose one of them to visit the following point on my list, located at one hour and a half by car.
5. Coa Museum and Park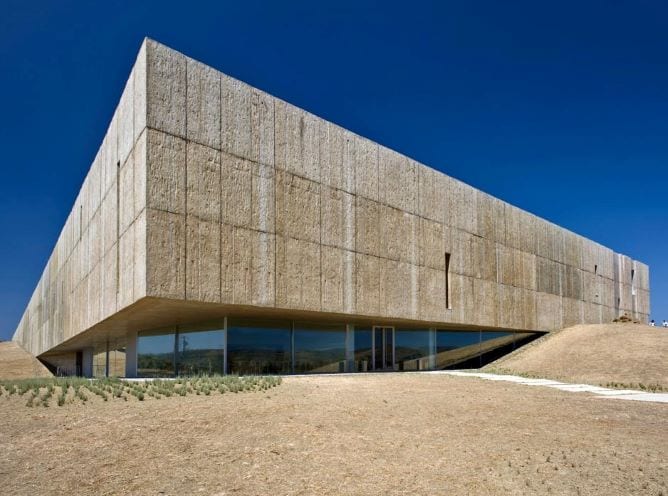 Côa Valley is a unique site in the world due to rock art from various ages from our planet, including Prehistory and Iron age. It preserves the most important collection of Paleolithic open-air figurations known today, that dates circa 25.000 years ago.
Designed by Siza Vieira, Côa Museum offers a first approach to the interpretation complexities of the rock art in the valley, but the most relevant exhibition is the valley itself.
The entrance to the museum costs 6€ and the guided tours to the valley 16€. However, you'll be given a complete explanation about all rock art you'll see in the valley. I know it sounds dull but I've already done it and it's SUPER cool – the exploration of the Côa Valley is both entertaining and educative, which makes it a really nice activity to do in northern Portugal.
How to get there: there are long-distance buses to Vila Nova de Fôz Coa. However, it's easier to rent a car on AutoEurope.
6. Weekend at Ria de Aveiro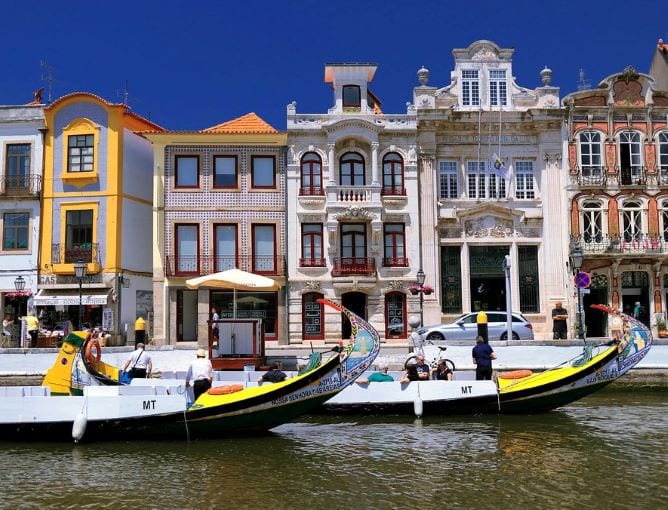 Aveiro is a small city known for being the Portuguese Venice, due to its canals. One of the most popular activities is to take a ride in the Moliceiro, the traditional boat of the city. Its historical center is equally deserving of an incursion, especially for the presence of Art Nouveau around every corner.
Recommend duration: It doesn't take more than an afternoon to explore Aveiro. Still, I suggest you spend the night in the city and head up in the next morning to Costa Nova, a village by the Atlantic Ocean about 20 minutes away.
I have a soft spot for Costa Nova but just picture it: a long avenue with palm trees, wooden huts painted in coloured stripes alternating with white, and the ever-present smell of the sea.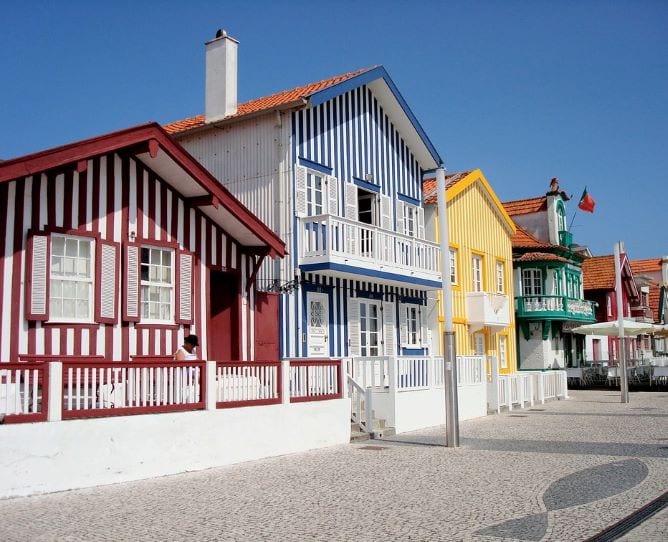 Surrounded by the estuary on one side, it has a bicycle path and a pedestrian walk. On the other side, by the Atlantic Ocean, there is another walkway, but on the beach. If you are into water sports, it may interest you to know that Costa Nova is popular among surfers, but its estuary is perfect for sailing and windsurfing.
A great way to explore both cities and to optimise your time is to take a half day tour in Aveiro and Costa Nova.
Tip: if you are travelling with children, know that there are several playgrounds and, even, a mini-golf place.
How to get there: the most economical and environmentally responsible option is to take the train at São Bento train station.
7. Vidago Thermal Waters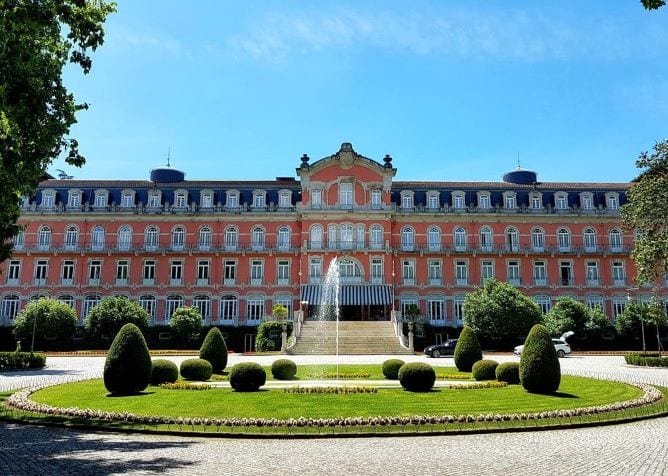 Northern Portugal is rich in thermal waters but few are so reputed as the ones in Vidago, a small city a few kilometers away from Spain. In the XIX century, they were the favourites of the Portuguese court and today, the thermal hotel, Vidago Palace, stands out in the landscape, in its grandeur and elegance, living up to its beginnings.
Surrounded by hectares of pine and cedar, the complex projects an extraordinary bellé-époque aura. It is an excellent choice for someone who fancies an experience worthy of royalty. The luxurious thermal spa, integrated into the hotel space, was designed by Siza Vieira and it uses the spring waters from Vidago, which is beneficial to mitigate digestive problems, allergies, asthma and migraines.
This being said, the spa can be used by anyone (pending on reservation), and trying out these waters may be one of the best activities to do in northern Portugal. However, if you do not wish to spend so much money, you can choose accommodation nearby Chaves.
Recommend duration: Chaves is a small town but it has several points of interest, like the Roman bridge, the archaeological site of the roman therms Aquae Fluviae, or the modern Contemporary Museum Nadir Afonso. I suggest you to spend a weekend there.
Tip: Don't forget to try out one of the famous "pastel de Chaves", a half-moon shaped pastry with a minced veal filling.
How to get there: there aren't train connections from Porto to Vidago or Chaves. You can rent a car on AutoEurope.
Save this article for later: